We may earn money or products from the companies mentioned in this post.
I first tried a version of this recipe in a Home Chef meal delivery box. It was actually a meal I hadn't planned on ordering, but it got delivered because I forgot to customize my box before the deadline. I am so happy it came though because it has become one of our go-to meals we make at home. I have slightly tweaked their original recipe and added some mushrooms. You can also make this without the mushrooms or water chestnuts if you have picky kids. It's an easy recipe to tweak to your liking.
By the way, if you haven't tried Home Chef yet, I highly recommend them. Right now you can score $90 off your first four Home Chef boxes (get $30 off your first 2 boxes & $15 off the 3rd and 4th box). We have loved all the meals we have tried and the convenience of prepping the meals is wonderful.
Thai Turkey Lettuce Wraps:
serves 4 people
1 lb ground turkey
Olive oil (to brown turkey)
3 green onions
1 can of water chestnuts (chopped)
6 shiitake mushrooms

(chopped into small pieces)

2 tsp sriracha
1/4 cup Hoisin sauce
2 tsp minced ginger
1 clove minced garlic

1 head butter lettuce
Asian Sesame dressing
Slaw Mix (bagged salad)
<
Chop water chestnuts and mushrooms set aside. Trim and thinly slice green onions on an angle, keeping white and green portions separate. Clean and separate lettuce leaves.
In a medium non-stick pan over medium-high heat 1 1/2 TBSP olive oil. Add ground turkey to pan. Stir often, breaking up with a spoon. Cook until no pink remains. Add mushrooms and water chestnuts and cook for 2 more minutes. Mix together hoisin sauce, Sriracha, white portions of green onions, garlic and ginger and then add to fully cooked turkey. Stir occasionally, 3-4 minutes.
In small bowl add 1 1/2 cup slaw mix, add 2 Tbsp of Asian dressing and green portions of green onions toss until combined. Fill lettuce with a few spoonfuls of turkey mixture and top with slaw mix. For a bit more heat top of with extra sriracha. Enjoy!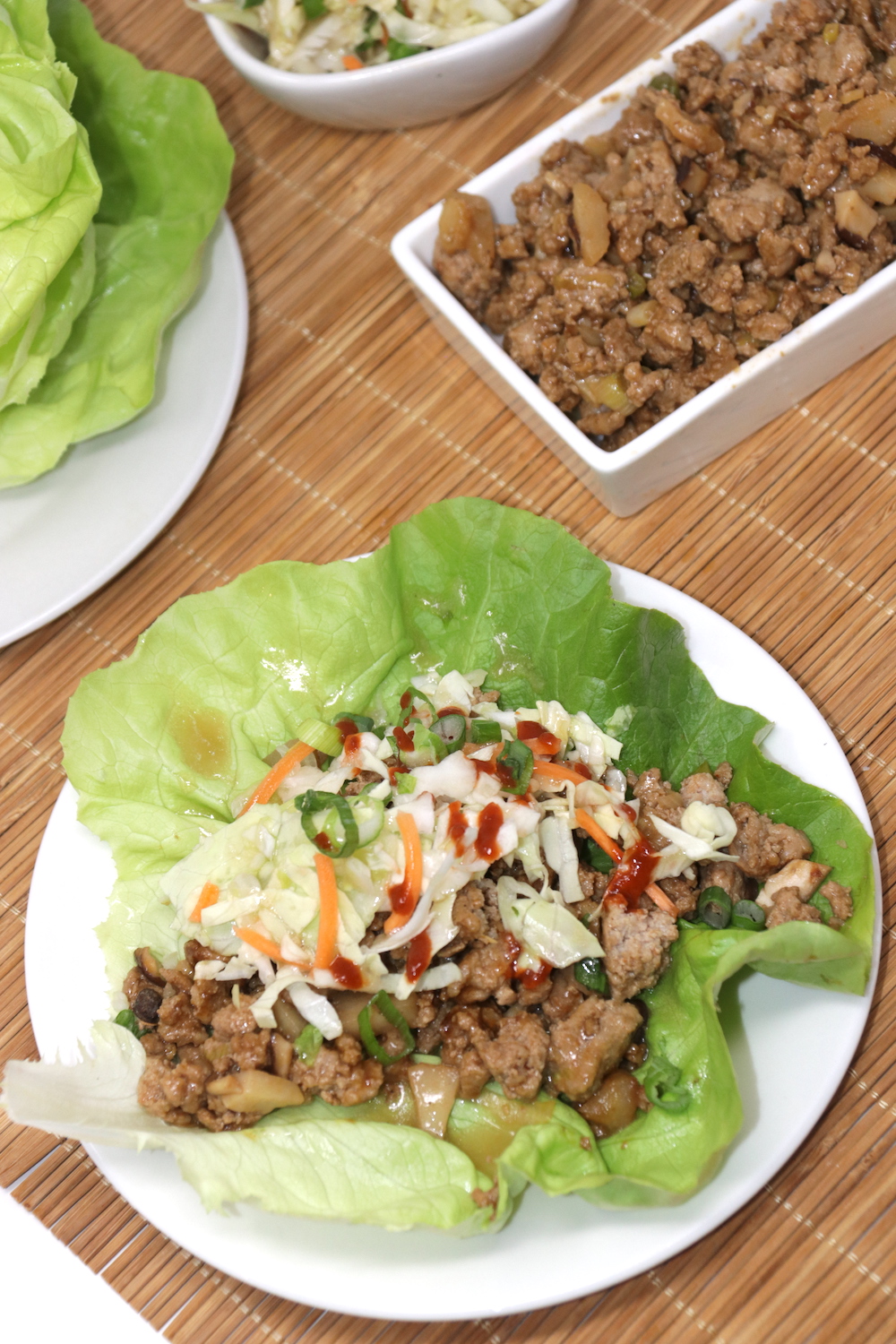 Print
Thai Turkey Lettuce Wraps
---
Description
These Thai Turkey Lettuce Wraps make a great go-to meal!
---
1

lb ground turkey
Olive oil (to brown turkey)

3

green onions

1

can of water chestnuts (chopped)

6

shiitake mushrooms

(chopped into small pieces)

2 tsp

sriracha

1/4 cup

Hoisin sauce

2 tsp

minced ginger

1

clove minced garlic

1

head butter lettuce
Asian Sesame dressing
Slaw Mix (bagged salad)
---
Instructions
Chop water chestnuts and mushrooms set aside
Trim and thinly slice green onions on an angle, keeping white and green portions separate
Clean and separate lettuce leaves
In a medium non-stick pan over medium-high heat 1 1/2 TBSP olive oil
Add ground

turkey

to pan, stir often, breaking up with a spoon
Cook until no pink remains
Add mushrooms and water chestnuts and cook for 2 more minutes
Mix together hoisin sauce, Sriracha, white portions of green onions, garlic and ginger and then add to fully cooked

turkey

Stir occasionally, 3-4 minutes
In small bowl add 1 1/2 cup slaw mix, add 2 Tbsp of Asian dressing and green portions of green onions toss until combined
Fill lettuce with a few spoonfuls of

turkey

mixture and top with slaw mix
For a bit more heat top of with extra sriracha
---