We may earn money or products from the companies mentioned in this post.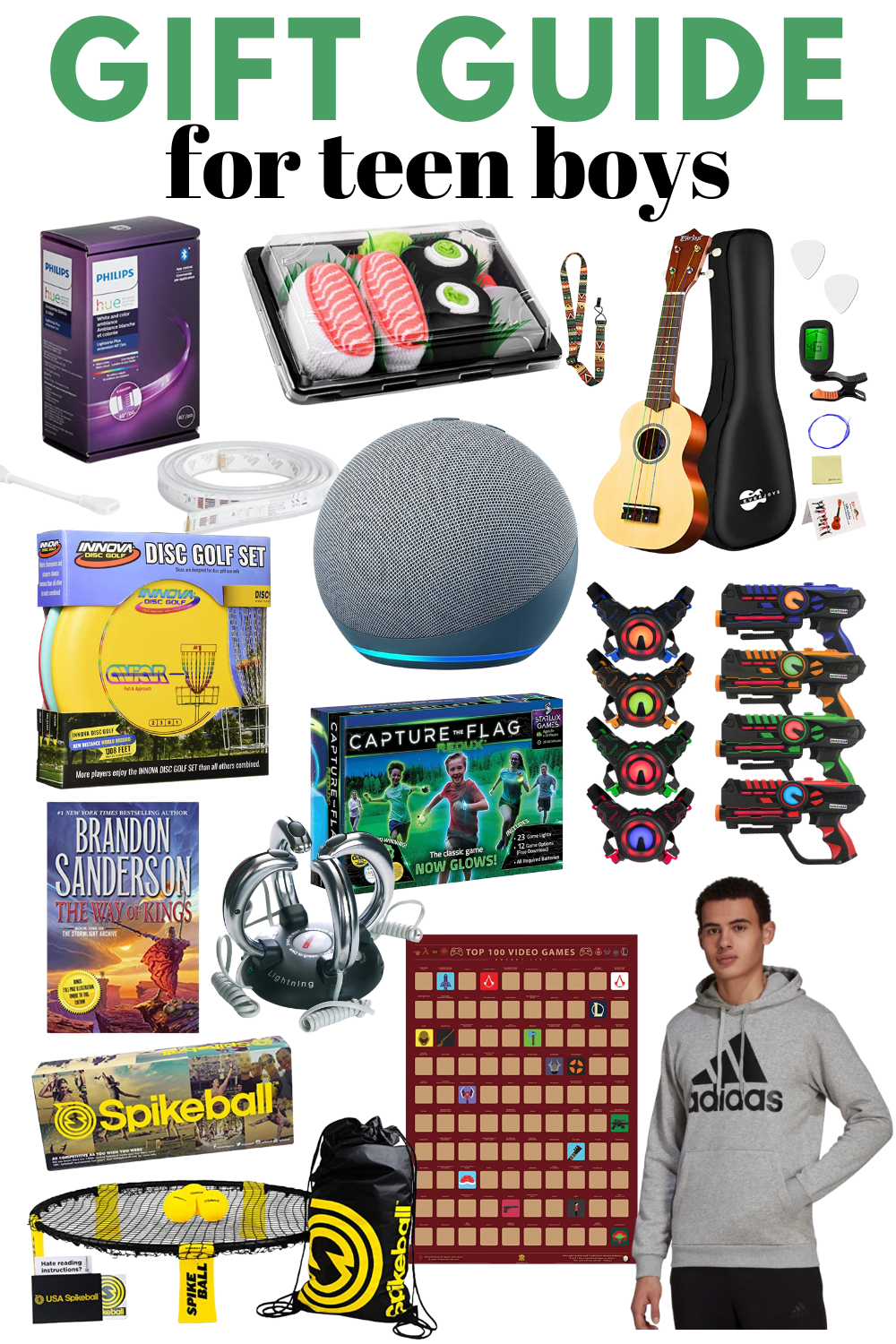 We've compiled this list of gifts for teen guys. With.four boys, I have years of experience buying gifts for teenage boys. Many items on this list our things that my boys have personally enjoyed that were a big hit and we've also added some newer items. Teen boys are some of the harder ones to buy for, so hopefully something on this list sparks an idea for you.
LED Strip Lights – The LED strip lights will add cool vibe to any teen boys room! These lights are compatible with Alexa, HomeKit and Google Home. They can sync their LED lights with gaming, music and more. These lights are actually on my teens list right now.
Spikeball – Our family loves Spikeball, its a ton of fun! This game promotes healthy competition and can be enjoyed indoors or outdoors! We bought this for one of our teens years ago and it still gets played on a regular basis.
Hoodies – In my opinion, you can't go wrong with gifting a teen boy a hoodie! I don't know a boy that doesn't enjoy a good hoodie. The Adidas Essentials Hoodie comes in a nice variety of colors and styles. The Vans hoodie is another great option. Really, a hoodie of any kind is good, whether it features they favorite team, video game or movie.
Disc Golf Set – My husband and my youngest teen have gotten into Disc Golf. I think it's a great option for all teens, so pick up a basic Disc Golf Set or this slightly larger Golf Starter Set. . I love that they've picked up this sport for so many reasons, it gives my son and my husband quality time together, in most cases it's absolutely free to play on disc golf courses & it's easy to take along with them wherever we go. They've packed their Disc Gold Sets along and played on on vacations in Hawaii, California and more.
Echo Dot – You can't go wrong with the Echo Dot (4th Generation) ! This compact devices is perfect for any teen boys room! They will enjoy listening to music, getting quick answers to their questions and more. We have the Amazon Music Unlimited Family Plan and it allows all of our teens to play whatever music they want via their Amazon devices. It's super cool!
Crazy socks – Maybe my kids are crazy, but socks always end up on their wish lists. My kids even enjoy basic plain socks, but these crazy socks would be great for any fun-loving teen.
Capture the Flag Redux – Capture the Flag Redux is a fun and active game that teen boys would have a blast playing with their friends and family. I"m all about gifts that get kids outside (especially teens). They can let loose and have some fun!
Ukelele – This Ukelele set includes everything they need to teach themselves how to play. Two of my boys have been gifted a ukelele and they still pick them up and play them on a regular basis. It's fun to see what they've been able to learn on their own.
Books – Books make an excellent gifts for anyone!. Here are a few books we recommend for teen boys. You can also check out our huge list of Clean Books for Teens for even more ideas.
Lightning Reaction Reloaded Shocking Game – OK, this game seems stupid to me, which means it's pretty much guaranteed that teens will love it. The Lightning Reaction Reloaded Shocking Game is a fun game that will put their reflex skills to the test! My son has a friend with this game and he said they played it and had a ton of fun.
Laser Tag – Laser Tag is a fun activity that is a blast to play in big groups, we have had years and years of laser tag games at our house. They have really improved over the years too. The Set of 4 Laser Tag Guns with Vests are great to get a fun game together with friends or siblings.
Games – All of my teenagers have loved playing games, not only with their friends but family too. Here are some great suggestions for some games that woudl make excellent gifts.
Graphic Tees – Graphic tees are a great idea because there are so many options. You can really find some fun and funky tees that match whatever their favorite things are. Do they love Star Wars, Harry Potter, Donkey Kong, Ketchup? There is a tee for whatever they love.
Top 100 Video Games Scratch off Poster – The Top 100 Video Games Scratch off Poster is a fun option for any teenager that loves to play video games. Each time they play a game, they can scratch it off the list. This poster give them a fun goal to try to achieve playing all the top 100 games!