We may earn money or products from the companies mentioned in this post.
Here is a peek at some of the new items, coupon savings and markdowns you can find at Costco in November. November brings lots of options for gift ideas. Since November is such a big month for new items and deals we decided to give you all a second Costco post this month! You can check out the Costco coupon book with savings valid through November 21st, There are some newly released deals that are valid 11/15-11/29. We will see even more savings for Black Friday with new deals valid Nov 26-29. Keep in mind that Costco prices may vary a little by region.
Here are couple of Costco tips for you: If an item ends in 7, it is Costco's version of a clearance item. Also, if you notice an asterisk in the top right hand corner of the sign with the price, that means it is a seasonal item and will not be stocked again (it may come back next year, but it won't be re-stocked after the current supply is depleted).
New Items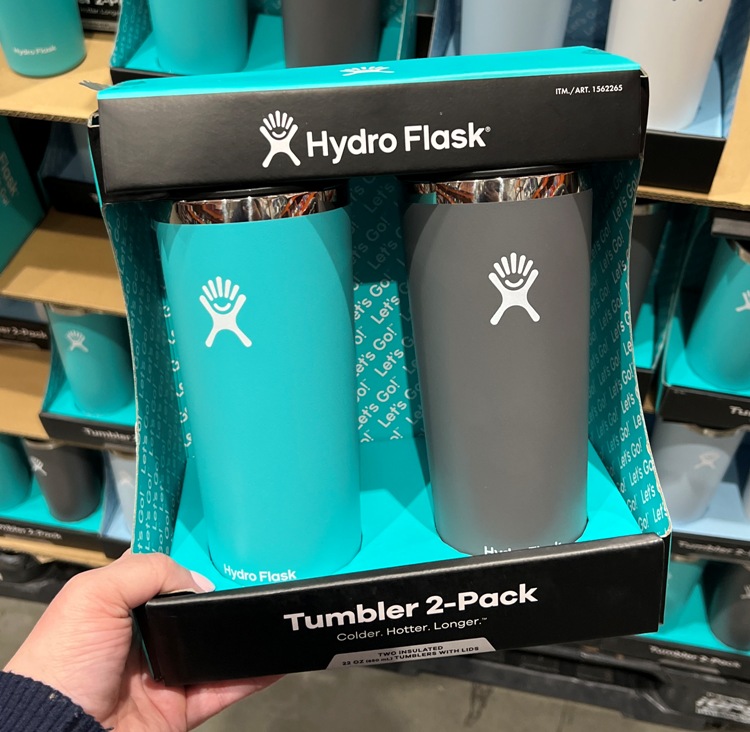 Exciting news! Hydro Flasks are now at Costco, you can get Hydro Flask Tumbler 2-Pack for $39.99.
There are some fun and festive new Pyrex Star Wars, Disney, and Nightmare Before Christmas 8-piece sets for $19.99.
Trudeau Pepper Mill & Salt Mill $14.99.
Real Christmas Wreaths were at my Costco. These are gorgeous and priced at $18.99.
Get 25 foot fresh Christmas garland for $18.99.
These Greenery Planters are $27.99. They are nice and big.
Get a 4-pack of Hallmark Disney Ornaments for $26.99.
This 32 Degrees Ladies Plush Jacket looks cute and cozy is $14.99.
A brand-new Makeup Eraser Pack is $19.99. This is such a great gift idea.
I love checking out the books, get the Drew Barrymore new Rebel Homemaker cookbook.
This Harry Potter Doll Pack would be a perfect gift for the Harry Potter fan, it's $48.99.
These are fun! Get Bom Bombs Hot Chocolate Bombs for $18.69.
The Gingerbread Mansion is back for $11.99.
These look yummy! Dolce Mia Chocolate Dream Flutes $13.69.
Everyone needs a cheese advent calendar. The 12 Days of Festive Cheese is $49.99.
The Cheesecake Factory Wheat Dinner Rolls are back at $4.99.
Monthly Savings
You can save $30 on the Ninja Foodi, it's $119.99 (reg $149.99). I own this and love it!
The ION Pathfiinder All Weather Speaker is $40 off and priced at $99.99.
You can pick up the Sharper Image Deep Tissue Massager for $64.99 when you instantly save $15. This is such a great gift idea!
The super cute Disney Junior Wet Brush set is only $12.99 (save $4).
You can score a yummy bag of Ghirardelli Peppermint Bark Squares for $8.99 (save $3.25).
The Limited edition Haagen-Dazs Cookie Squares are only $6.99 after you save $3.50. I bought these and they are SO GOOD!!!
Markdowns
Coleman Stainless Steel Tumbler 2-Pack $9.97.
Women's Joybees liend Clogs were marked down to $19.97.
LEGO Advent Calendar were marked down at my stores from $14.97-$24.97.
There was also a nice markdown on the the Crest 3D Whitestrips, these were $29.97.