We may earn money or products from the companies mentioned in this post.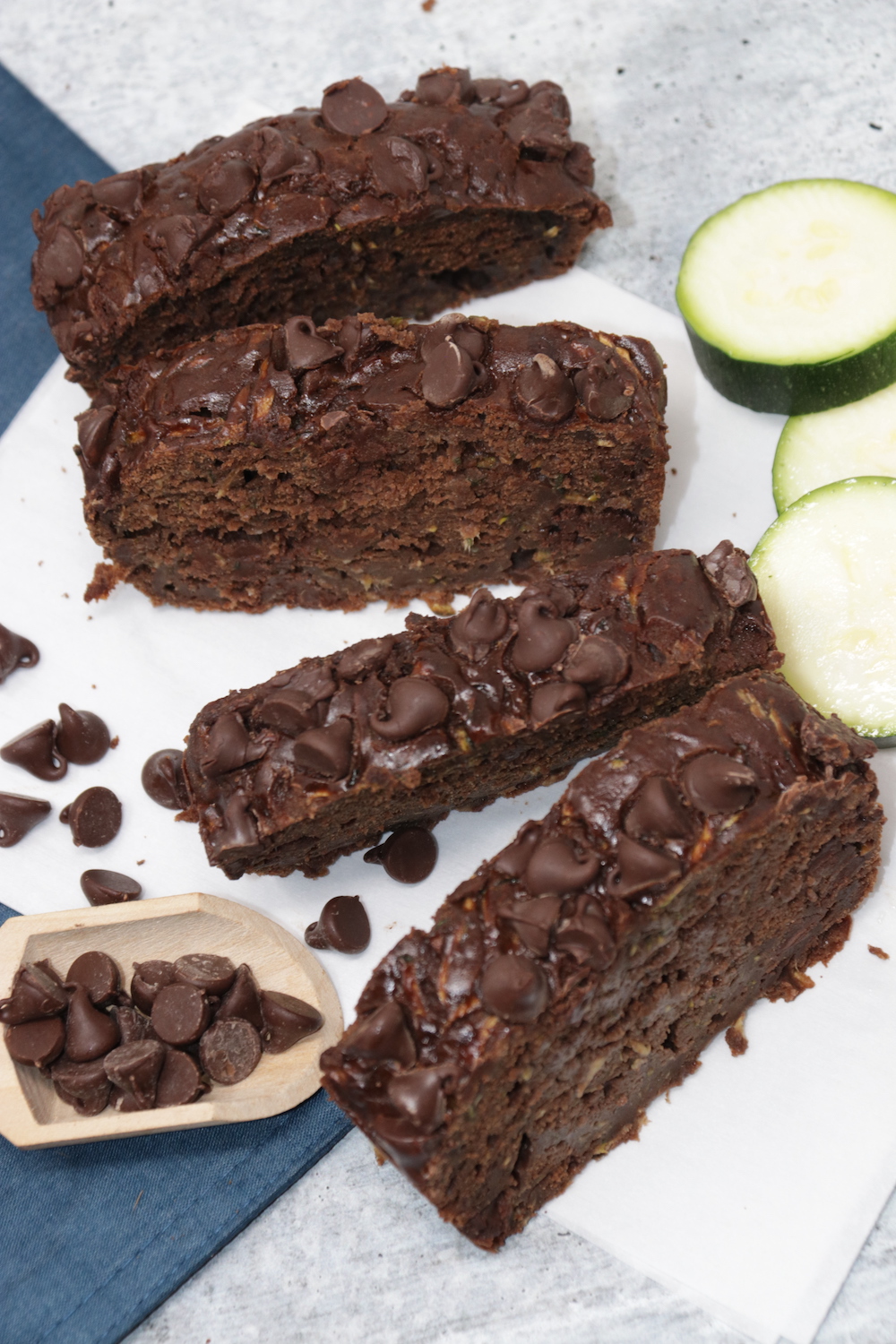 When I was younger I had a neighbor that always made Zucchini Cake with all the extra Zucchini from her garden. She would always invite our family over for cake, so I have fond memories associated with Chocolate Zucchini Cake. This is such a yummy recipe that gives you your cake and your veggies in the same bite.
Chocolate Zucchini Cake
1/2 cup butter
1/2 cup packed brown sugar
1/2 cup sugar
2 eggs
1 tsp vanilla
1

1/2 cup grated zucchini (drain the liquid)
1 cup flour
1/2 cup unsweetened cocoa powder
1 tsp baking soda
1/4 tsp baking powder
1 /2 tsp salt
1 cup chocolate chips (3/4 cup + 1/4 cup reserved for top)
Preheat oven 350 degrees. Spray a 9×5 loaf pan with non stick cooking spray.
In mixing bowl add butter and sugars and beat until mixed well. Add eggs and vanilla. Add flour, cocoa powder, baking soda, baking powder, and salt. Mix until combined, next stir in zucchini and then the chocolate chips. Make sure to reserve 1/4 cup of the chocolate chips for topping.
Pour batter into prepared loaf pan. Sprinkle top with remain chocolate chips and bake 45-55 minutes.
Set aside and cool for at least 15-20 minutes. Slice and enjoy.
Print
---
Description
This Chocolate Zucchini Cake gives you your cake and your veggies in the same bite.
---
1/2 cup

butter

1/2 cup

packed brown sugar

1/2 cup

sugar

2

eggs

1 tsp

vanilla

1

1/2 cup grated zucchini (drain the liquid)

1 cup

flour

1/2 cup

unsweetened cocoa powder

1 tsp

baking soda

1/4 tsp

baking powder

1

/2 tsp salt

1 cup

chocolate chips (

3/4 cup

+

1/4 cup

reserved for top)
---
Instructions
Preheat oven 350 degrees

Spray a 9×5 loaf pan with non stick cooking spray
In mixing bowl add butter and sugars and beat until mixed well
Add eggs and vanilla
Add flour, cocoa powder, baking soda, baking powder, and salt, mix until combined
Stir in zucchini and then the chocolate chips (make sure to reserve 1/4 cup of the chocolate chips for topping)
Pour batter into prepared loaf pan

Sprinkle top with remain chocolate chips and bake 45-55 minutes
Set aside and cool for at least 15-20 minutes
---