We may earn money or products from the companies mentioned in this post.
Here is a peek at some of the new items, coupon savings and markdowns you can find at Costco in February. February brings lots of items for spring. A new Costco coupon book was released and the coupon savings are valid now through February 28th, 2021. Keep in mind that Costco prices may vary a little by region.

Here are couple of Costco tips for you: If an item ends in 7, it is Costco's version of a clearance item. Also, if you notice an asterisk in the top right hand corner of the sign with the price, that means it is a seasonal item and will not be stocked again (it may come back next year, but it won't be re-stocked after the current supply is depleted).
New Items

We are starting to see some patio furniture show up!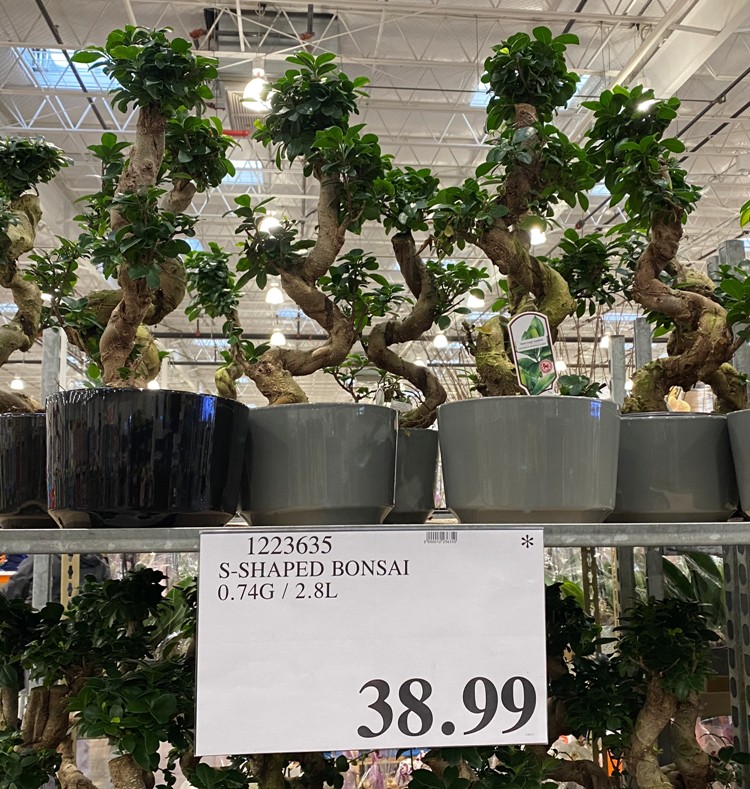 How cool are these Bonsai Trees I spotted at my Costco?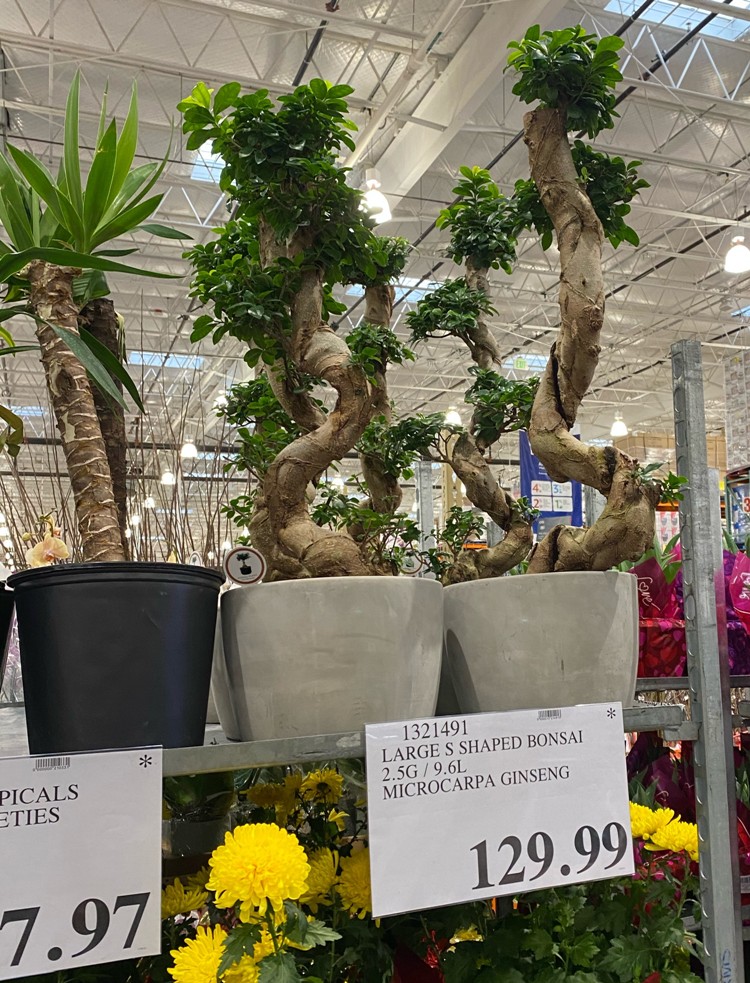 This self watering elevated planter is so cool, but also so expensive!

Costco always seems to have a new wind catcher every year, this is this years model. It's priced at $39.99.

Wow! We are even starting to see summer items showing up. These Tommy Bahama chairs are $34.99


I love this wooden two piece tray set for $29.99.

I love the Nordic Ware brand and I found a new set of pizza pans for $19.99

New set of Tritan Water bottles for $11.99, that's only $4 per bottle.

New set of Cuisinart shears for the kitchen, these are $16.99.

Is is weird to love a laundry basket? Because I seriously love this one! It is $39.99/

If your house is anything like ours this painting set will come in handy, it's $19.99. We are in the process of painting our entire downstairs walls and ceilings. Oh joy!

Great kids shirts for spring, $12.99 for a 3-pack.

This cool Baby Yoda LEGO set is $64.99.

There is still quite a bit of furniture right now. It will start to disappear in March so they can make room for more spring and summer merchandise. This piece is $349.99.

I own an older version of this Sit & Stand desk and I love it! This is $299.99. I would watch for a sale on this one, it usually happens at some point.

Welly bandages are now at Costco. Get this 3-pack for $15.99.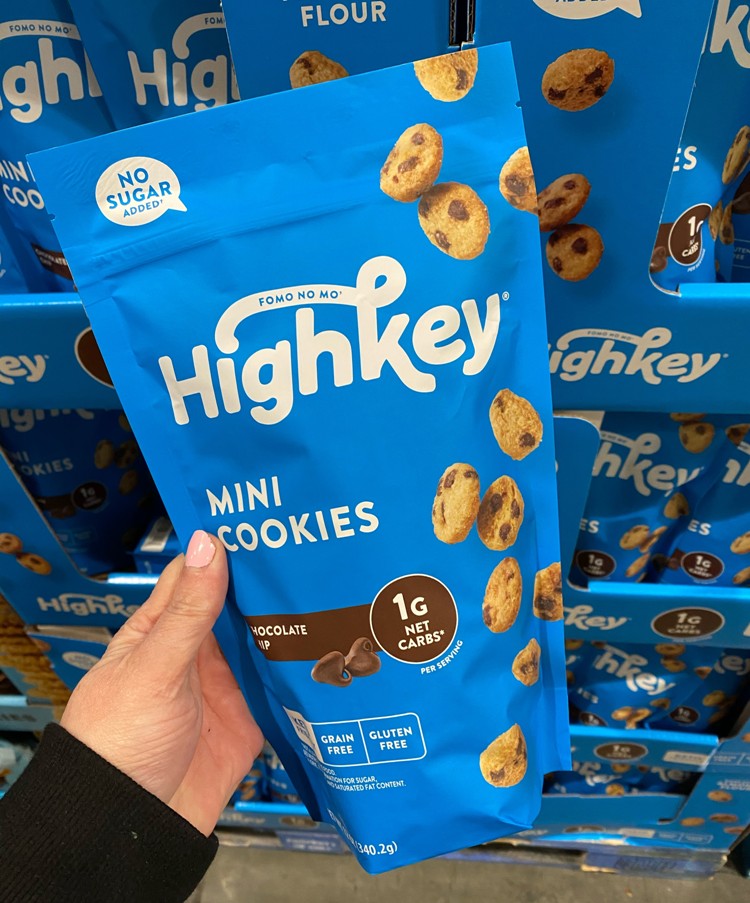 Have you tried these HighKey mini cookies? I'd love to hear your thoughts. These are $12.99.

New honey mustard snack mix from Costco's own Kirkland Signature brand. These are $8.99.

This looks interesting, Solely Organic Fruit Jerky for $13.89.

Yum! These Keto trail mix with Coconut & Dark Chocolate looks yummy! It's priced at $13.99.

New flavor of Brookside Dark Chocolates are now at Costco. These are $10.69.

Costco now has Strawberries & Cream Popcornopolis gourmet popcorn. This is $6.99

Here is something new and interesting. Caplico Mini cream filled wafer cones are $7.99.

These single-serve upside down Lemon Cheesecakes are $11.59, but they are made in ceramic ramekins that you can reuse. I kind of love this idea!

Hallelujah!!! Costco is now carrying our absolute favorite fruit spread! Bonne Maman is made in France and it is so good! We aren't too brand loyal at our house, but when it comes to jam and this is it for us! This is $7.69 and quite a bargain compared to the price at grocery stores.

While Costco butter isn't anything new, the price is! The 4-pack of butter was priced at only $6.99 at my Costco. Check to see if your Costco has lowered the price too.
Monthly Savings

This is not included in the month long savings book the discount on this one is only through 2/14, but it's an awesome deal so I wanted to mention it. I own this set and I love it! You can get this set for only $23.99 through 2/14 (reg $29.99).

There is also a temporary markdown on this set of Ello glass containers, get them for $ through 2/14. (reg )

Save $5 and get this ThermoFlask set for only $17.99.

These women's Weatherproof Vintage Ran Slickers are only $14.99. Save $5 off the regular price. They come in 3 different color and pattern options.

These women's Adidas pant are on sale for $14.99, you save $5.

Save $4 and get this Glide floss pack for only $9.99. This is a pretty great deal for this brand.

Save $3.50 and pick a big box of Kokiak Cakes for $8.49.

The Bark Thins are are $6.89 with $3 savings.

Veggie Straws are on sale for $5.79 with $2 savings.
Markdowns

I wouldn't hesitate to scoop this set up if you see it! My store had them marked down to $12.97.

These 2-pack of Thermos cups were marked down to $16.97.

These color changing tumblers are so cute and at my store they were down to only $6.97.

These Booties were marked down to $14.97

These women's Skechers are marked down to $19.97.

These Adidas women's pants (which look VERY similar to the ones on sale this month) are marked down to $9.97.