We may earn money or products from the companies mentioned in this post.
Here is a peek at some of the new items, coupon savings, and markdowns you can find at Costco in April. A new Costco coupon book was released and the coupon savings are valid through May 7th. Keep in mind that Costco prices may vary a little by region.
Here are a couple of Costco tips for you: If an item ends in 7, it is Costco's version of a clearance item. Also, if you notice an asterisk in the top right hand corner of the sign with the price, that means it is a seasonal item and will not be stocked again (it may come back next year, but it won't be re-stocked after the current supply is depleted).
New Items
Costco is full on getting ready for summer, this Lifetime Folding Picnic Table is $179.99. I love that it folds and it's made by a great brand.
You can pick up snorkeling great at Costco, this Oceanic Adult Snorkeling Set is $39.99.
This Noodle Sling Pool Float looks cool, it's priced at $21.99.
Have you caught on to the pickle ball crazy. Get this Latitude Pickleball Bundle for $89.99. It included 2 pades, a bag and 3 balls.
Step 2 Pump & Splash Shady Oasis Water Activity Center is $179.99.
A water table was a big hit with my kids when they were younger, they would play with it for hours. This Step 2 Double Showers Splash Water Table is $68.99.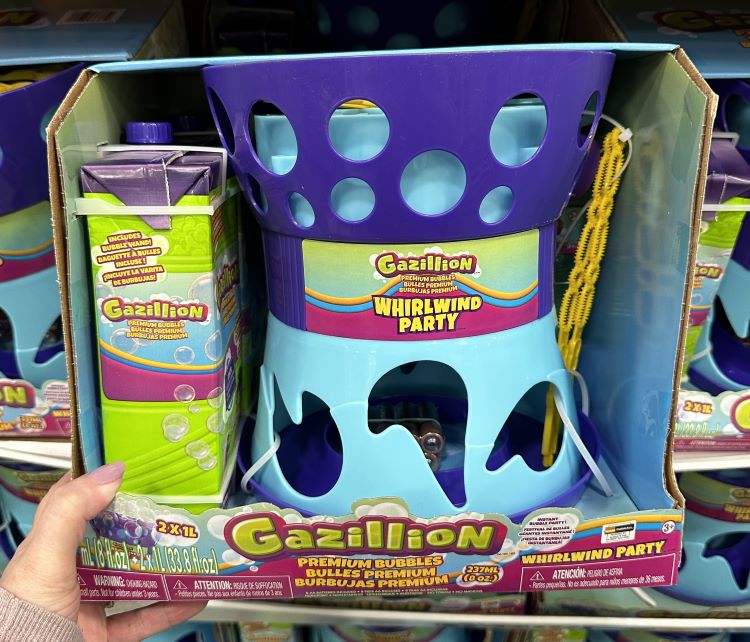 Perfect for summer fun this Gazillion Whirlwind Party with bubble solution is $21.99.
If you a a fan of Rae Dunn, Costco has this cute 5-piece Serving Set for $21.99.
4-pack of Nordic Ware Sheet Pans $17.99
I'm a sucker for candles, this Simply Indulgent 3-piece Candle Set is $19.99. You can break this set up and gift them individually too.
Another great home fragrance option is this set of 3 Sea & Sand Reed Diffusers for $19.99.
Oh my goodness! If your dog is in need of their own sofa, you can grab the L-A-Z-Boy Pet Sofa for $174.99.
I'm all about charcuterie boards right now and The Charcuterie Cookbook looks like a fun one, it's $21.99.
If I could get paid to build LEGOs all day, that would be my dream job. This LEGO Wildflower Bouquet is so pretty, it's $44.99.
This LEGO Disney Up House is SO FREAKING CUTE! It's $47.99, it retails for $59.99 so it's is a super price.
I noticed Target is now carrying Method body wash, get a 2-Pack of larget 28 oz size for $17.99.
2-pack of Bondi Sands Self Tanning Foam $34.99.
We love the Wet brush! Get the Wet Brush Rainbow Fantasy Set for $16.99.
Here's a peek at some of the new food I spotted, get Mama Mancini's Jumbo Meatballs for $11.99.
One of my stores has these Roasted Chicken & Swiss Roller Tray for $6.99.
YUM! This Cheesecake Factory Grand Assortment is $22.49. Only drawback for me is there is a Banana Cream Cheesecake option. I'm not a fan of Banana flavored anything.
Have you seen this Peanut Butter Chocolate Pie at your store? It' looks amazing and is priced at $19.99.
I picked up these Sconza Dark Chocolate Pistachios with Sea Salt for $12.99. They are pretty good, but not good enough that I'll at the entire bag. : )
YUM! More chocolate goodness in these Chocolate Covered Caramel Cookies for $10.99.
These Danish Puff Pastries look so good. It's puff pastry filled with strawberry and vanilla creme for $13.99.
Monthly Savings
These are the best fans! Grab the Woozoo Air Circulator for $29.99 (reg $39.99). Save $10. You'll want one now while they are in stock and on sale!
There is a great deal on a 2-Pack of ThermoFlask Stainless Steel 40oz Water Bottles for $19.99 (reg $26.99). Save $7.
We love these Pendleton Outdoor Packable Blankets and right now you can save $5 and get it for $21.99 (reg $26.99).
There is a nice price on this Eddie Bauer Ladies 4-piece Pajama Set, it's $15.99 (reg $19.99). Save $4.
Get a 2-pack of Mondetta Men's Performance Tees for $9.99 (reg $14.99). That makes each tee only $5, Super deal!
Save big on the StriVectin Super-C Dark Circle Brightening Eye Serum. It's $39.99 (reg $58.99). Save $19.
3-Pack of Olay Essential Botanicals Body Wash $11.49 (reg $15.99). Save $4.50.
Buy now for summer! Get a 3-pack of Banana Boat Sport Sunscreen for $12.99 (reg $17.99). Save $5.
Save $5 on the Kind Nut Bars Variety Pack and get it for $15.69 (reg $21.69).
These are new and on sale! The Blue Diamond Chile 'N Line or Korean BBQ Almonds are $10.49 (reg $14.99). Save $4.50.
This is a staple at our house, so I am happy to see it on sale this month. The Kirkland Signature Parmigiano Reggiano cheese is $9.99 (reg $13.99). Save $4.
If you are a fan of this sauce you can save on the 2-pack of Don Pancho Cilantro Lime Crema Everything Sauce, it's $10.39 (reg $12.89). Save $2.50. I love this type of sauce, but I personally like to make my own using this recipe from Our Best Bites, it's soooo good!
Markdowns
I found this Cuisinart 5-piece Knife Set marked down to $19.97.
This Cangshan 3-piece Cleaver Block Set was $49.97.
I found a screaming deal on this Lucky Brand Ladies 4-piece Sleep Set, they were only $7.00. That's only $1.75 per piece!
These Puma Ladies Sneakers were marked down to $15.
And these IZOD Men's Slip-on Shoes were only $9.97.