We may earn money or products from the companies mentioned in this post.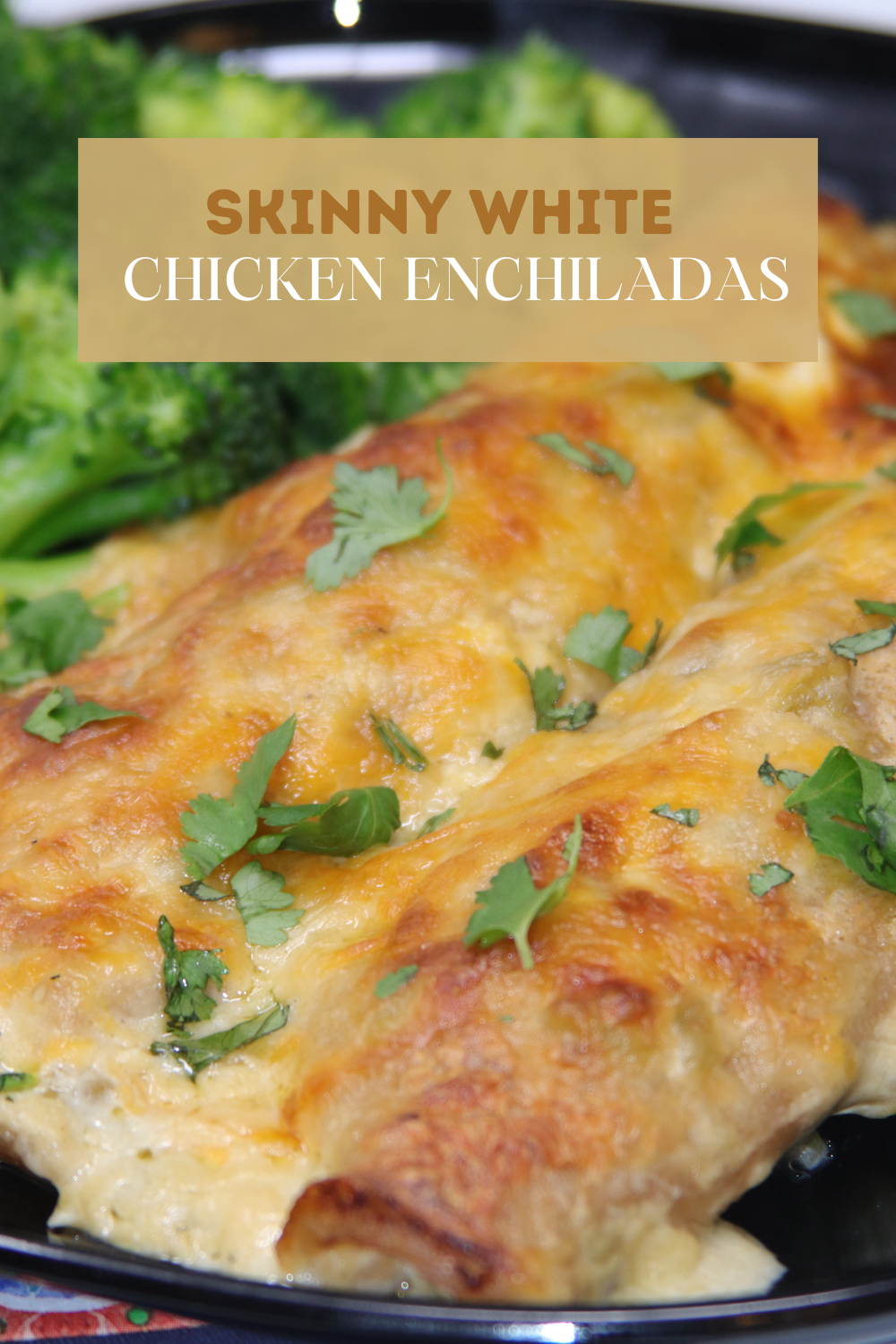 This recipe has become a staple in our household! To me, there's nothing cozier than a light, creamy white sauce. Bring in the melted cheese and chicken, and you've created the ultimate comfort meal! These enchiladas take about 45 minutes in total to prep and cook and are the perfect week night dinner! Especially considering that this recipe is lighter than most enchilada recipes. With a few flavorful swaps like the reduced fat cheese, this is an indulgent meal you can feel good about!
Recipe from Skinny MS
Skinny White Chicken Enchiladas:
2 cups shredded, cooked rotisserie chicken
1 tsp cumin divided
1 tsp chilli powder
1/2 cup verde salsa
1 1/2 cup of Mexican-style cheese
2 TBSP butter
2 TBSP flour
2 cups chicken broth
4 oz can diced green chilis
8 oz sour cream, reduced fat
1/2 tsp sea salt
1/2 tsp pepper
8 whole grain flour tortillas 6″
1/4 cup cilantro chopped


Preheat oven to 375. Combine shredded chicken breast with 1/2 tsp cumin, chili powder and salsa.

Add chicken mixture to center of 6″ tortilla, roll and place in 9×13 pan, seam-side down.

In a large pot, melt butter over medium heat and sprinkle with flour. Cook for 1 minute while stirring continuously. Slowly pour in chicken broth. Stir until mixture starts to thicken, this should take about 6 minutes. Add remaining cumin, 1 cup of cheese, green chilies, sour cream, and salt and pepper to taste. Stir until cheese is melted.

Pour white sauce over the enchiladas, sprinkle with 1/2 cup cheese and bake for 25 minutes. Sprinkle chopped cilantro over the top. Serve and enjoy!

Print

Skinny White Chicken Enchiladas
---
Description
These Skinny White Chicken Enchiladas are a lighter version of regular enchiladas and make a yummy meal you can feel good about!
---
2 cups

shredded, cooked rotisserie chicken

1 tsp

cumin divided

1 tsp

chilli powder

1/2 cup

verde salsa

1 1/2 cup

of Mexican-style cheese

2 TBSP

butter

2 TBSP

flour

2 cups

chicken broth

4 oz

can diced green chilis

8 oz

sour cream, reduced fat

1/2 tsp

sea salt

1/2 tsp

pepper

8

whole grain flour tortillas 6″

1/4 cup

cilantro chopped
---
Instructions
Preheat oven to 375
Combine shredded chicken breast with 1/2 tsp cumin, chili powder and salsa
Add chicken mixture to center of 6″ tortilla, roll and place in 9×13 pan, seam-side down
n a large pot, melt butter over medium heat and sprinkle with flour
Cook for 1 minute while stirring continuously
Slowly pour in chicken broth
Stir until mixture starts to thicken, this should take about 6 minutes
Add remaining cumin, 1 cup of cheese, green chilies, sour cream, and salt and pepper to taste
Stir until cheese is melted
Pour white sauce over the enchiladas, sprinkle with 1/2 cup cheese and bake for 25 minutes
Sprinkle chopped cilantro over the top
---