We may earn money or products from the companies mentioned in this post.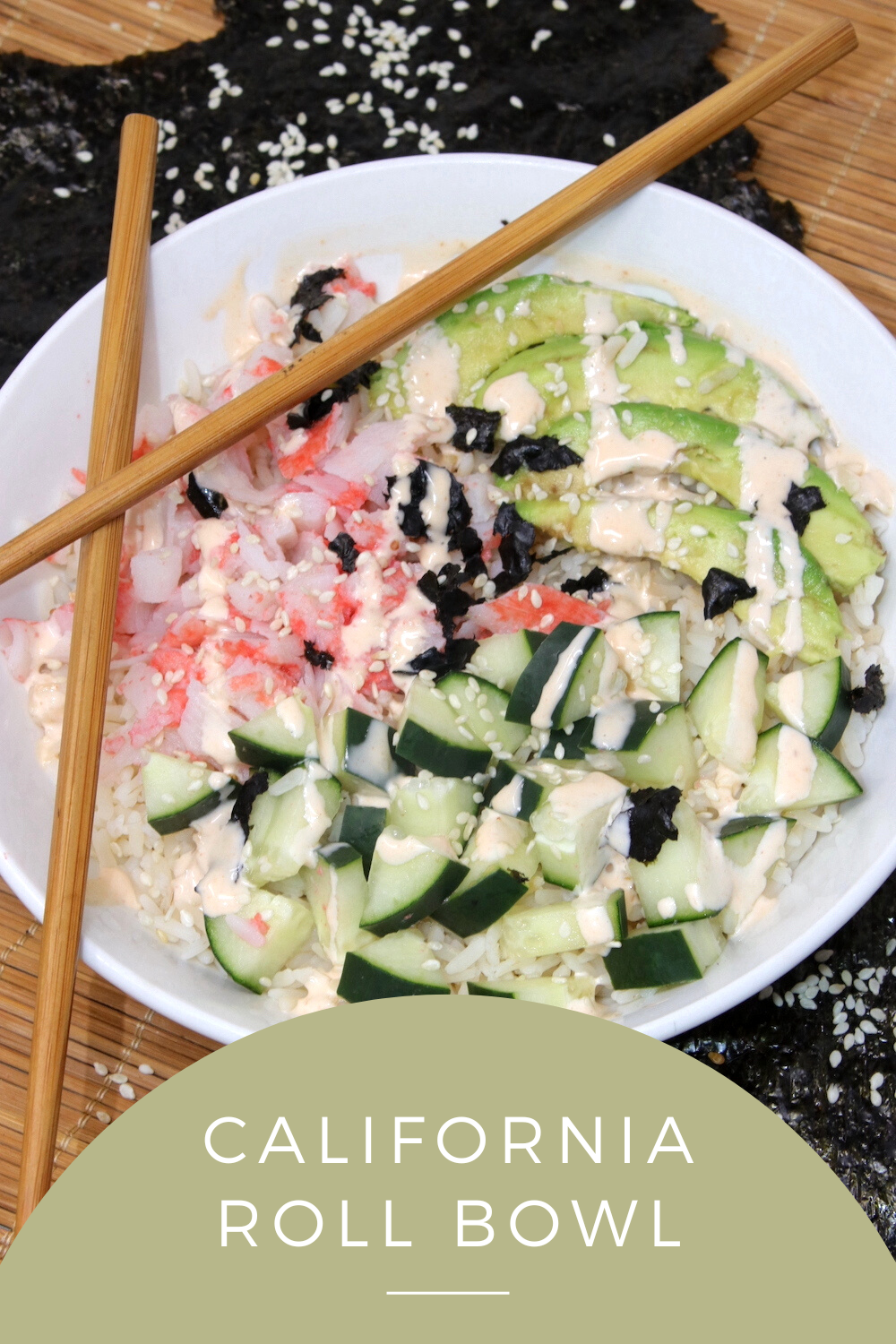 When people ask me to grab sushi, I always have to warn them that I'm that friend that claims to love sushi, but only ever orders a California Roll. The funny thing is that I like other rolls, but it's just never as much as I love a good California Roll. This recipe is such a fun and unique way to enjoy the fresh flavors of the most popular sushi roll. It's a great meal to make and pack for lunches, for large gatherings, or a quick solo meal
California Roll Bowl:
Recipe found at simplyhomecooked.com
1 1/2 cup of sushi rice
2 cups water
1/4 cup rice vinegar
1/4 cup mayonnaise
2 tsp sriracha
8 oz imitation crab
1/2 english cucumber
1 sheet of nori
1 large avocado
1/4 cup soy sauce
Sesame seeds
Cook sushi rice as directed on box, using 1 1/2 cups of rice and 2 cups of water.

When rice is cooked, transfer to jelly roll pan. Pour 1/4 cup of seasoned rice vinegar over rice and fold in gently. Let rice cool completely and prepare the spicy mayo. Mix mayonnaise and sriracha and stir until combined.

Next, prep your toppings platter. Cut the imitation crab, dice 1/2 cup of English cucumber, slice avocado, and break up a few pieces of Nori.

To assemble, add the rice to a bowl, topping with crab, cucumber, sliced avocado, nori, and sesame seeds. Drizzle with spice mayonnaise. Enjoy!

Print
---
Description
This California Roll Bowl is great for lunch or dinner!
---
1 1/2 cup

of sushi rice

2 cups

water

1/4 cup

rice vinegar

1/4 cup

mayonnaise

2 tsp

sriracha

8 oz

imitation crab

1/2

english cucumber

1

sheet of nori

1

large avocado

1/4 cup

soy sauce
Sesame seeds
---
Instructions
Cook sushi rice as directed on box, using 1 1/2 cups of rice and 2 cups of water
When rice is cooked, transfer to jelly roll pan

P

our 1/4 cup of seasoned rice vinegar over rice and fold in gently
Let rice cool completely and prepare the

spicy mayo
M

ix

mayonnaise and sriracha and stir until combined
Next, prep your toppings platter
Cut the imitation crab, dice 1/2 cup of English cucumber, slice avocado, and break up a few pieces of Nori
To assemble, add the rice to a bowl, topping with crab, cucumber, sliced avocado, nori, and sesame seeds
Drizzle with spice mayonnaise
---