We may earn money or products from the companies mentioned in this post.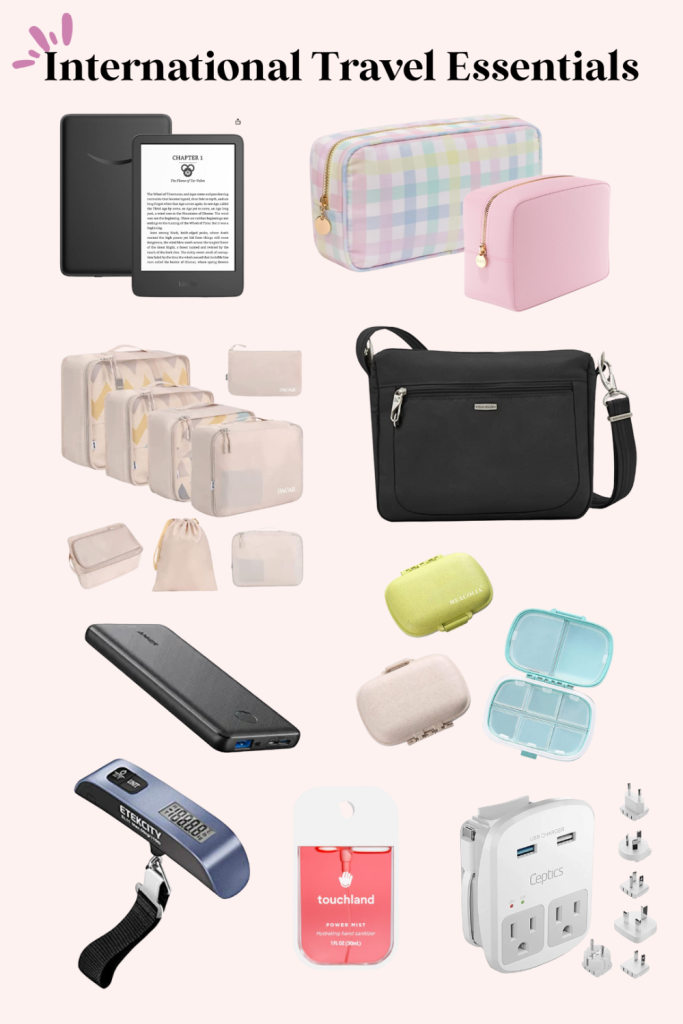 If I had a dollar for every time I received a text that sounds like: "Can you help me plan my trip?", I would have… approximately eight dollars? Which doesn't sound like a lot, but I honestly don't have that many friends, so just trust me when I say that fact is statistically relevant. When it comes to travel, I've learned a lot about how to best prepare for a trip. It's hard to "recharge" or even just "have fun" if you're dealing with incessant headaches or the anxiety of a dead phone. As I've traveled over the years, I've become (painfully) aware of the kinds of things that might catch you by surprise and (thankfully) learned how to prepare for them. Here are a few of my favorite products that help me do just that!
International Travel Essentials
Travelon Bag – We have been victims of pickpocketing in Paris, so I take the safety of my wallet and passport very seriously! The Travelon bags are specifically designed with travel in mind! Made with locking compartments, an RFID-blocking pocket, and slash-resistant straps, theft is one thing you will almost never need to worry about with these bags. You can find backpacks, crossbody bags, totes, belt bags, and laptop bags!
Kindle – When it comes to packing, simplifying is the name of the game. And while I still very much consider reading material an absolute necessity, I can't exactly bring a stack of hardbacks and expect there to be room for things that are actually necessities. (i.e. snacks, obviously?) This is why my kindle is one of my favorite purchases ever! You can load tons of books onto a single device and slip it in your bag for long plane rides or those days at the beach.
Packing Cubes – I don't know why, but nothing says "I am the superior traveler" like packing cubes. I don't travel anywhere without packing cubes anymore. It not only streamlines the packing process and helps you maximize space, but it's just nice to be able to have some form of structure and organization in your suitcase.
Power Adapter – When it comes to Power Adapters, this one feels deserving of the title "total package". For me, personally, it's one of those things you almost forget to consider when creating a packing list, but it can create a real headache if you do end up forgetting it. This one from Amazon is the perfect investment if you plan on regularly traveling internationally as it helps you plug in your devices in Europe, the UK, China, Australia, and Japan. It has ports for both standard outlet plugs and USB as well. PLUS! There's a built-in USB-C cable as well. The amount of outlet options you get for the size is seriously amazing, it's compact and so easy to travel with. The insane amount of 5-star reviews are well deserved, I would highly recommend this Power Adapter if you're planning on traveling internationally! You can also shop travel adapters for individual countries too.
Luggage Scale – If you're anything like me and tend to imagine worst case scenarios when traveling, this Luggage Scale is a huge help! There's nothing more embarrassing that sitting on the airport floor, trying to 'Jenga' your way into a bag under 50 pounds. If you're doing it right, you'll typically come back from a vacation with a few more things than you left with. And while souvenirs are such a fun way to remember your trip, I would like only positive memories associated with my souvenirs and if they are the reason that I'm holding up the line because my bag no longer meets the weight requirements, I'm throwing that thing out. This is all to say that having the ability to test your weight before you leave can help make for a seamless trip to the airport, and this portable device allows you to do just that in a way that's quick and easy.
Pouches – Very similar to the packing cubes, I love to use pouches like these to organized my outlet adapters, power cords, make up and so much more. The pouches come in a variety of sizes and colors and are very similar to the popular Stoney Clover pouches, but at a much better price.
Travel Pill Organizer – There's a reason why we say "the comforts of your own home." When we're in our own space, we have access to anything we might need. And that includes medications in the case of unexpected pain or discomfort. I don't know if it's just me, but a headache when I'm out and about is somehow just worse than a headache at home, which makes the importance of access to pain relief all the more real. I do not want to be caught without medication while traveling. A headache or cold can happen at anytime and I love that these keep several different types of medicine organized and accessible without taking up a bunch of space.
Portable Charger – The holy grail of travel essentials…the Portable Charger! If you're out and about, especially in a different country, where you may not speak the language or intuitively know how to get around, your phone is your lifeline…literally. Which is why traveling with a backup form of power is so important. This one is slim and sleek and works for both Apple and Android phones!
Touchland Hand Sanitizer – If there's anything that we've learned about traveling in the past few years, it's the importance of personal health. Our family loves carrying around these Touchland Hand Sanitizers because they not only kill germs, but also help hydrate your skin, and make it smell so good. Plus, I love that it's slimmer than a traditional bottle of hand sanitizer and packs so well. And there is even a fun Disney version that would be great to bring along if you are visiting the Disney Parks.
Neck Pillow – When thinking about that big trip coming up, it's natural to focus on everything you need for when you get there, and sometimes we forget to account for the essentials in getting there. While the destination itself is always magical, the flight there is…not. Especially if you're booking more affordably, and don't have a ton of personal space on the plane, taking a few extra steps to ensure your comfort can make a big difference. This is why we recommend investing in a good neck pillow, like this napfun Memory Foam Neck Pillow. This one is great because it comes with a compact-able travel bag and is specially designed to relieve neck pain while traveling!