We may earn money or products from the companies mentioned in this post.
This is an easy no fuss meal that tastes amazing. It's an excellent choice for a weeknight meal because it's so quick and easy..
Pan Baked Greek Chicken
Recipe found at Every Last Bite
12 mini sweet peppers (red, orange, yellow) cut in half, seeds removed

1 red onion, cut into eighths
2 cups cherry tomatoes
1 lemon, cut into 6 wedges
2 large chicken breasts, cut in half.

(or use

4 chicken thighs)
2 cloves garlic crushed
1/4 cup olive oil
1 1/2 TBSP balsamic vinegar
1/2 tsp paprika
1 tsp dried oregano
1/4 tsp salt
1/2 tsp pepper
2 TBSP chopped fresh basil
1/2 cup Kalamata olives
1/3 cup chopped feta cheese
Preheat oven to 400 degrees. In large baking dish (15 inch works great) add chopped peppers, red onion, lemon wedges, and tomatoes.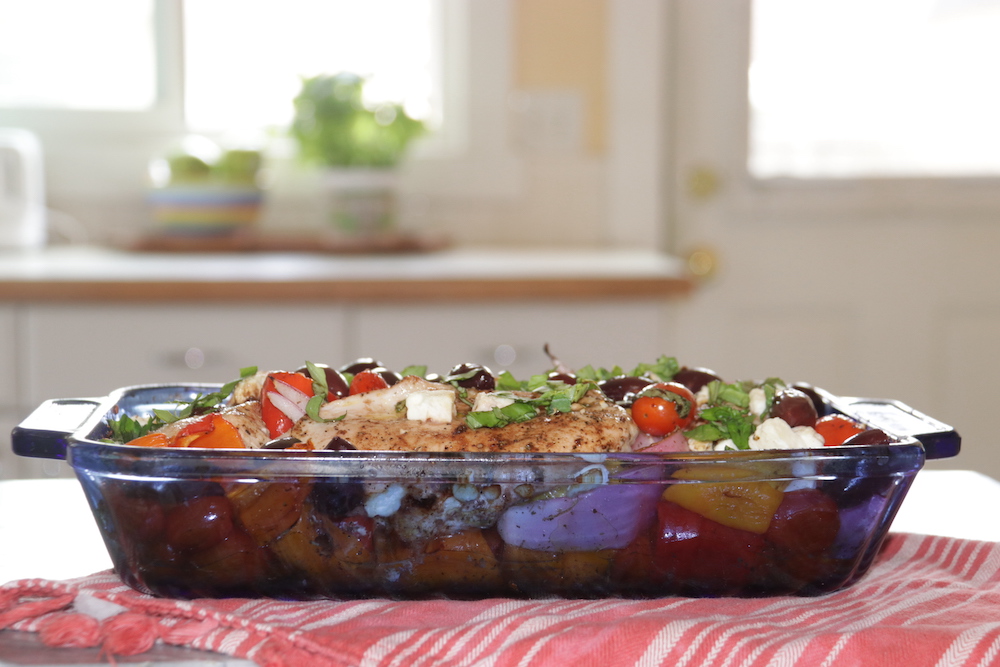 In a bowl whisk together garlic, olive oil, vinegar, paprika and oregano. Pour 1/3 of sauce over veggies and season with salt and pepper and toss until mixed and coated well. Place the chicken on top of the vegetables and brush with sauce. Bake in oven for 25 minutes.
After 25 minute, add feta cheese, fresh basil and olives. Pour the remaining sauce over the dish and return to oven and bake for another 10 minutes. Check and make sure chicken is cooked throughout. Sprinkle with fresh basil and enjoy!
Print
---
Description
This Pan Baked Greek Chicken is an easy no-fuss meal the whole family will enjoy!
---
12

mini sweet peppers (red, orange, yellow) cut in half, seeds removed

1

red onion, cut into

eight

hs

2 cups

cherry tomatoes

1

lemon, cut into

6

wedges

2

large chicken breasts, cut in half.

(or use

4 chicken thighs)

2

cloves garlic crushed

1/4 cup

olive oil

1 1/2 TBSP

balsamic vinegar

1/2 tsp

paprika

1 tsp

dried oregano

1/4 tsp

salt

1/2 tsp

pepper

2 TBSP

chopped fresh basil

1/2 cup

Kalamata olives

1/3 cup

chopped feta cheese
---
Instructions
Preheat oven to 400 degrees
In large baking dish (15 inch works great) add chopped peppers, red onion, lemon wedges, and tomatoes
In a bowl whisk together garlic, olive oil, vinegar, paprika and oregano
Pour 1/3 of sauce over veggies and season with salt and pepper and toss until mixed and coated well
Place the chicken on top of the vegetables and brush with sauce
Bake in oven for 25 minutes
After 25 minute, add feta cheese, fresh basil and olives
Pour the remaining sauce over the dish and return to oven and bake for another 10 minutes
Check and make sure chicken is cooked throughout
Sprinkle with fresh basil
---