We may earn money or products from the companies mentioned in this post.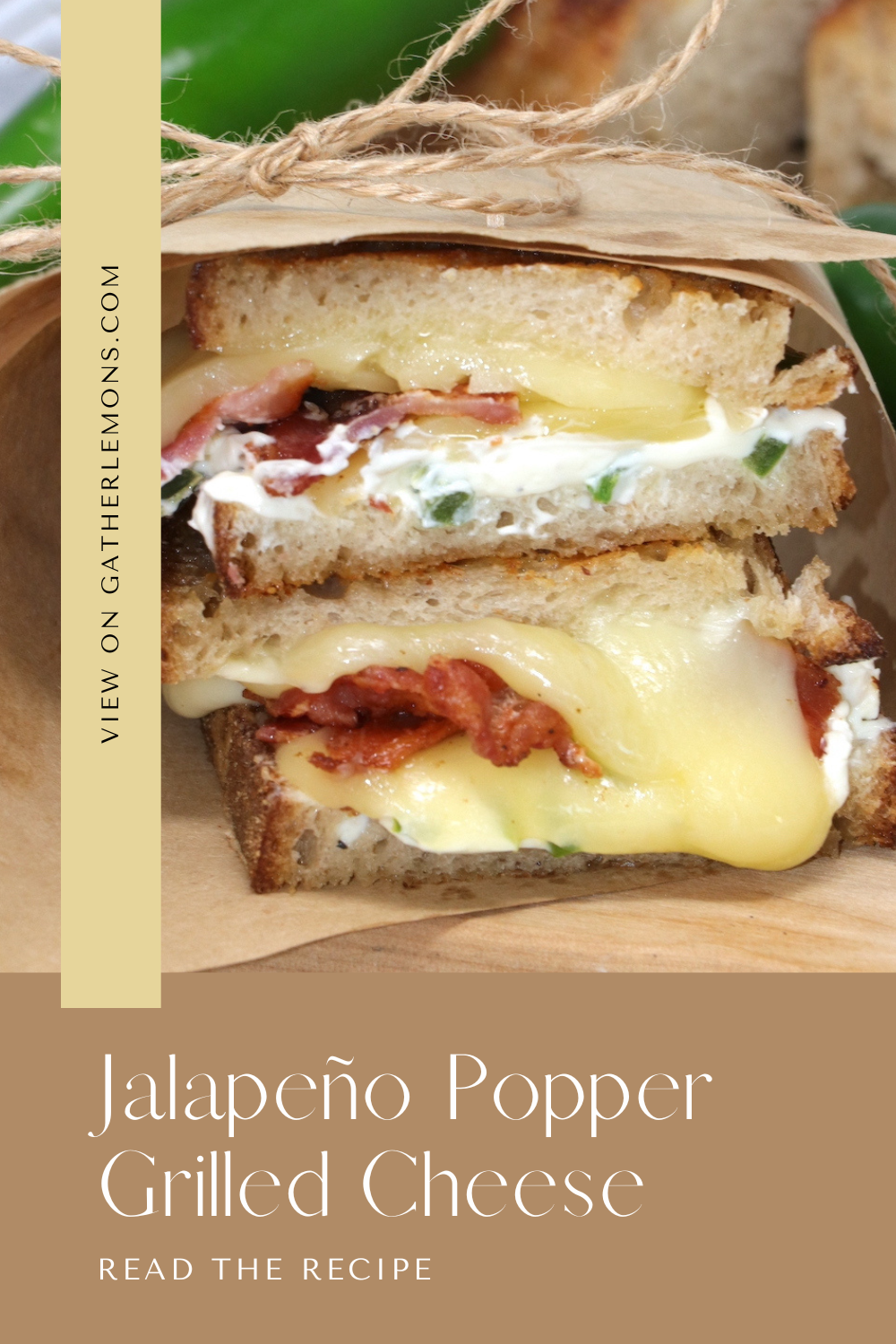 For most of us, grilled cheese sandwiches are a staple of childhood cuisine. Whether you can remember the weeks on end where all you wanted for lunch was a buttery, crispy grilled cheese or it's your current specialty with your own little ones, there's a reason that this meal is such a crowd favorite. But let's be honest, despite it's nearly universal appeal, it is a bit simplistic and sometimes you're in the mood for something a little more elevated. Which is why I decided to create a grilled cheese sandwich recipe that has me hooked, even as an adult! Read through this post to learn how to make a Jalapeno Popper Grilled Cheese!
Jalapeno Popper Grilled Cheese:
2 TBSP butter
4 slices bacon, cooked crispy
4 slices of Italian or french bread
2 slices sharp cheddar
4 oz cream cheese (room temperature)
1 slice monterey jack
2 jalapeños (Feel free to adjust to your taste.)
Garlic powder, to taste
Salt and pepper, to taste

I recommend using gloves when working with Jalapeños. Cut Jalapeños in half lengthwise and bake in the oven for 15 minutes at 425. While jalapeños are roasting, cook your bacon and set aside.

Remove the seeds from the jalepenos and then dice them and add to a small mixing bowl. In the same bowl, add in cream cheese, garlic powder, salt and pepper. Mix until combined. (For easier spreading, ensure that the cream cheese is at room temperature!)


Spread the jalapeño filling on 1 slice of bread and top with sharp cheddar cheese. On the other slice of bread, add a slice of Cheddar and Monterey Jack cheese. Add your bacon and stack sandwich slices together. Generously butter the outside of the sandwich on both sides.

If cheese is not completely melted, just pop in the oven at 400 degrees until cheese is melted. Enjoy!
Print

Jalapeno Popper Grilled Cheese
---
Description
The Jalapeno Popper Grilled Cheese sandwich takes ordinary grilled cheese to another level!
---
2 TBSP

butter

4

slices bacon, cooked crispy

4

slices of Italian or french bread

2

slices sharp cheddar

4 oz

cream cheese (room temperature)

1

slice monterey jack

2

jalapeños (Feel free to adjust to your taste.)
Garlic powder, to taste
Salt and pepper, to taste
---
Instructions
Cut Jalapeños in half lengthwise and bake in the oven for 15 minutes at 425 (Irecommend using gloves when working with Jalapeños)
While jalapeños are roasting, cook your bacon and set aside
Remove the seeds from the jalepenos and then dice them and add to a small mixing bowl
In the same bowl, add in cream cheese, garlic powder, salt and pepper
Mix until combined (For easier spreading, ensure that the cream cheese is at room temperature!)
Spread the jalapeño filling on 1 slice of bread and top with sharp cheddar cheese
On the other slice of bread, add a slice of Cheddar and Monterey Jack cheese
Add your bacon and stack sandwich slices together
Generously butter the outside of the sandwich on both sides
---
Notes
If cheese is not completely melted, just pop in the oven at 400 degrees until cheese is melted