We may earn money or products from the companies mentioned in this post.

Homemade Ramen
(servings 2 large or 4 small)
2/3 cup carrots shredded
2 cloves garlic minced
1/2 cup green onions thinly sliced
1 jalapeno
1 cup sliced shiitake mushrooms
4 cups chicken broth
1 cup cooked chicken or turkey
2 packets of ramen (discard seasoning packets)
1 healthy squirt of sriracha
3 TBSP low sodium Soy Sauce
3 TBSP Olive Oil
2 tsp sesame oil
2 eggs, soft boiled
sesame seeds and cilantro for garnish if desired
In large pan, heat olive oil on medium heat. Add sliced mushrooms and cook for 2 minutes, then add shredded carrots and cook for 2 more minutes. Add minced garlic, ginger and sesame oil cook for a few minutes.

Add broth, Soy sauce, and siriacha and bring to boil then simmer on low for a 6-8 minutes. Add cooked chicken or turkey and two packets of ramen noobles. (discard seasoning packets). Simmer for 2 to 3 minutes. Add ramen to serving bowls and top with Jalapeño slices, fresh cilantro, sesame seeds and soft boiled eggs.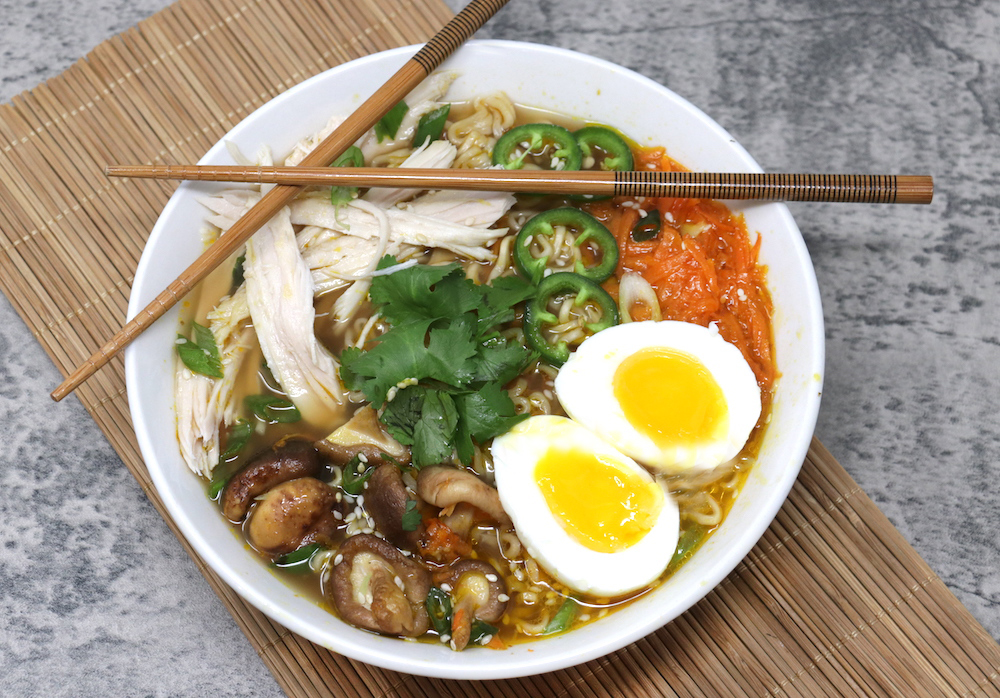 To make soft boiled eggs:
Bring water to boil, add 2-3 eggs and simmer for 5 minutes. After eggs are finished cooking transfer into bowl of ice water. Let cool for 3 minutes. Then gently peel egg. Add to your ramen & enjoy!

Print

---
Description
Add chicken or turkey to this homemade ramen and turn it into a delicious meal!
---
2/3 cup

carrots shredded

2

cloves garlic minced

1/2 cup

green onions thinly sliced

1

jalapeno

1 cup

sliced shiitake mushrooms

4 cups

chicken broth

1 cup

cooked chicken or turkey

2

packets of ramen (discard seasoning packets)

1

healthy squirt of sriracha

3 TBSP

low sodium Soy Sauce

3 TBSP

Olive Oil

2 tsp

sesame oil

2

eggs, soft boiled
sesame seeds and cilantro for garnish if desired
---
Instructions
In large pan, heat olive oil on medium heat
Add sliced mushrooms and cook for 2 minutes
Add shredded carrots and cook for 2 more minutes
Add minced garlic, ginger and sesame oil cook for a few minutes
Add broth, Soy sauce, and siriacha and bring to boil then simmer on low for a 6-8 minutes
Add cooked chicken or turkey and two packets of ramen noodles (discard seasoning packets)
Simmer for 2 to 3 minutes
Add ramen to serving bowls and top with Jalapeño slices, fresh cilantro, sesame seeds and soft boiled eggs
To make soft boiled eggs:
Bring water to boil, add 2-3 eggs and simmer for 5 minutes
After eggs are finished cooking transfer into bowl of ice water
Then gently peel egg and add to your ramen
---