We may earn money or products from the companies mentioned in this post.
Here is a peek at some of the new items, coupon savings and markdowns you can find at Costco in September. September brings the start of items for the holidays. A new Costco coupon book was released and the coupon savings are valid September 1-26th. Keep in mind that Costco prices may vary a little by region.
Here are couple of Costco tips for you: If an item ends in 7, it is Costco's version of a clearance item. Also, if you notice an asterisk in the top right hand corner of the sign with the price, that means it is a seasonal item and will not be stocked again (it may come back next year, but it won't be re-stocked after the current supply is depleted).
New Items
Hunter boots are back at Costco and priced at $84.99.
There are new varieties of the Star Wars Pyrex 8-piece Food Storage containers for $19.99.
They also have a new Disney & Hello Kitty Pyrex Food Storage Set too.
I love this Universal Broadmoore bookcase, you can set this either sideways or upright. It's priced at $169.99. It's just so cool!
We are already seeing Christmas decor, this lighted wreath is $44.99.
This Disney Animated Tree w/music is $99.99
Of course there is some Halloween decor too. This large Halloween Pumpkin is $39.99
This fun Pre-Built Chocolate Halloween House you can decorate is $11.99
These Brookstone Heated Throws are new and priced at $24.99.
This Ladies Shirt Jacket seems extra cozy with the sherpa lining, it's $14.99
32 Degrees Ladies Vest $12.99. There were lots of great colors to choose.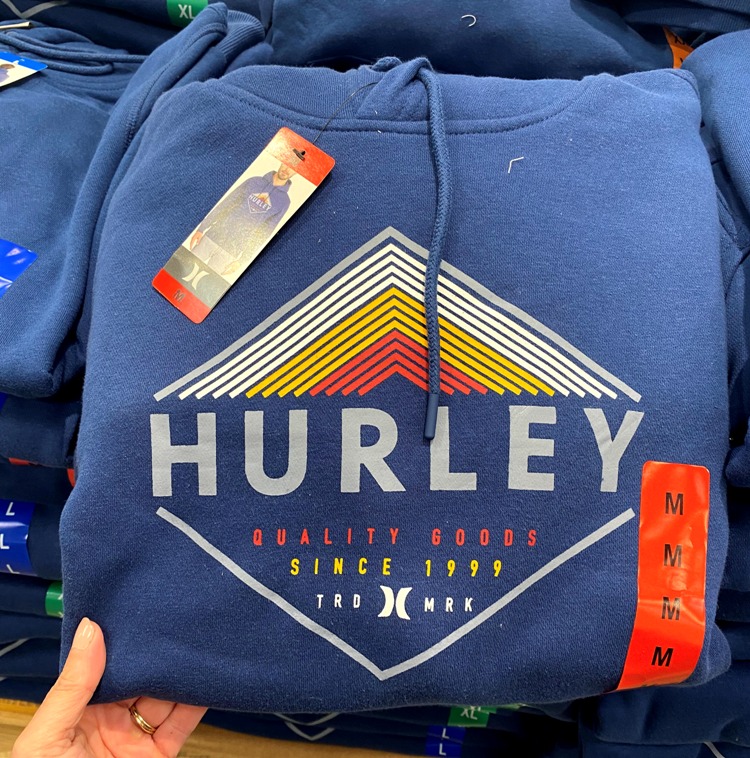 Men's Hurley Hooded Sweatshirt are $19.99, my store had 3 different designs.
Lot of new LEGO sets on of them is the Star Wars The Mandalorian The Child for $62.99.
We are starting to see more toys for the holidays, this Magformers set is $37.99.
These J'adore 3-piece Wooden Gift Sets are so cute and priced at $24.99. These would make great gifts for little ones!
Cute Care Bears Hooodie Friends set is $20.99.
Another cute sets of dolls, these Cabbage Dolls are $19.99 for a set of three.
My store had a ton of these Star Wars The Child Plush for $21.99.
These 16″ Squishmallows are only $9.99.
I found this new Pro-Form Rowing machine for $399.99.
I was thrilled to find the Eva NYC 10-in-1 Hair Primer back, this HUGE bottle is $18.49.
Pumpkin Pie are back and priced at $6.99. These are so big.
I don't recall seeing Reese's Pieces at Costco before, these are $9.99.
These Tam Tam French Cakes are new, these are $7.99. If you've tried these before I'd love to hear your thoughts.
This Chicken Katsu would be a quick and easy dinner idea for $5.79 a lb.
Everyone is raving about these Just Bare Boneless Chicken Breast Chunks, they say they are very similar to Chik Fil A nuggets. I bought these and I think they are actually pretty good. It's $14.49 for the bag.
Monthly Savings
Ninja Foodi Air Fryer is $40 off and priced at only $139.99. This really is a screaming deal for this product. I own this and I absolutely love it. It heats up super quick (like in a minute) and I love that it folds up so it doesn't take up your precious counter space. I highly recommend!
Nordicware 3-piece baking sheets are $5 off, you can get this set for only $16.99.
Natrol Biotin supplements are only $7.99 (save $4). We use these and they actually taste really good and are super easy to take, they dissolve quickly. This is a super price!
The Babybel cheese is a staple at our house and it's currently $4 off and priced at only $7.99. Love that price!
OK, here's something you don't want to miss!! When you spend $100 on P&G products you will get $25 back. You don't have to buy the items all at once, you can submit multiple receipts that total $100, but they do need to be purchased between 8/30-9/26. You can find out how to submit your receipt and get all the details over at Costco.com. This deal gets even better because so many of the P&G items are on sale this week. Take a peek at just a few of the deals below:
Mr. Clean Magic Erasers are on sale for 6.99 ($3 off).
You can save a whopping $12 on Crest 3D Whitestrips and get these for $32.99.
Oral-B Glide floss is our favorite floss and it's on sale for $9.99 (reg $13.99).
Stock up on Oral-B toothbrushes for only $9.99. You save $5. I like having a pack of these on hand for when visitors (or college kids come home) and they forget their toothbrush.
Pantene shampoo & conditioner is included and it's on sale for $6.99. Don't forget, you will also get $25 back when you spend $100 on these brands, there are tons of great participating brands.
Markdowns
This Lourdes bathroom Vanity has been marked down to $299.97.
This is a steal! These Mikasa Nesting Trays were only $12 (reg $29.99).
I found the OXO SoftWorks Salad Spinner for $19.97.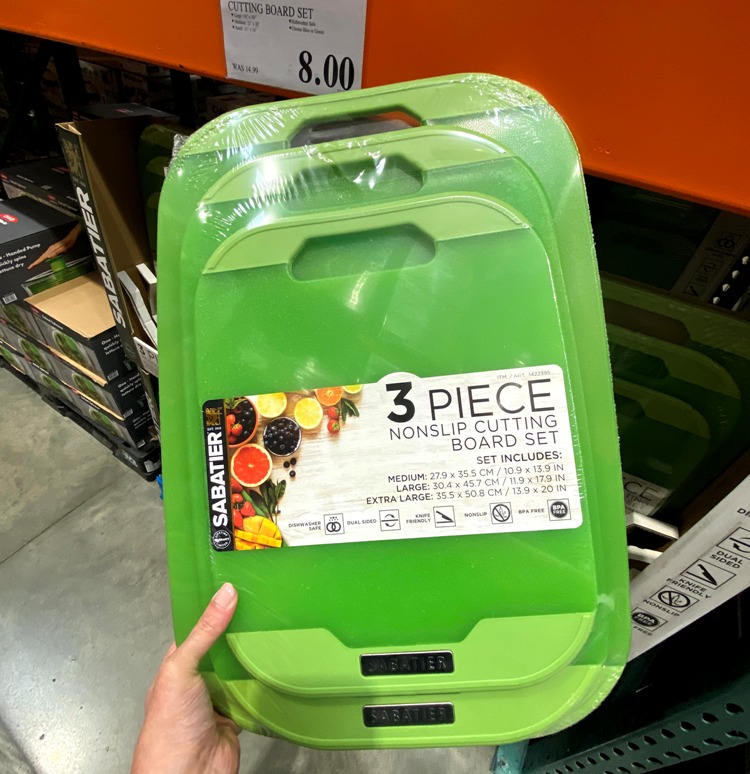 I own these Sabatier 3-piece cutting board set and it's a steal for only $8.
There are always some great deals in the clothing department, especially when a new season approaches. These Gloria Vanderbilt pants are only $8.00. Most of the markdowns in the clothing department with end with $.00.