We may earn money or products from the companies mentioned in this post.
Here is a peek at some of the new items, coupon savings and markdowns you can find at Costco in March. March brings more items for spring and summer. A new Costco coupon book was released and the coupon savings are valid now through April 4th. Keep in mind that Costco prices may vary a little by region.

Here are couple of Costco tips for you: If an item ends in 7, it is Costco's version of a clearance item. Also, if you notice an asterisk in the top right hand corner of the sign with the price, that means it is a seasonal item and will not be stocked again (it may come back next year, but it won't be re-stocked after the current supply is depleted).
New Items

Look what I just found at my Costco store! Hot Chocolate Bombs with pretty spring colored wrappers. It was $17.99 for a 16-pack.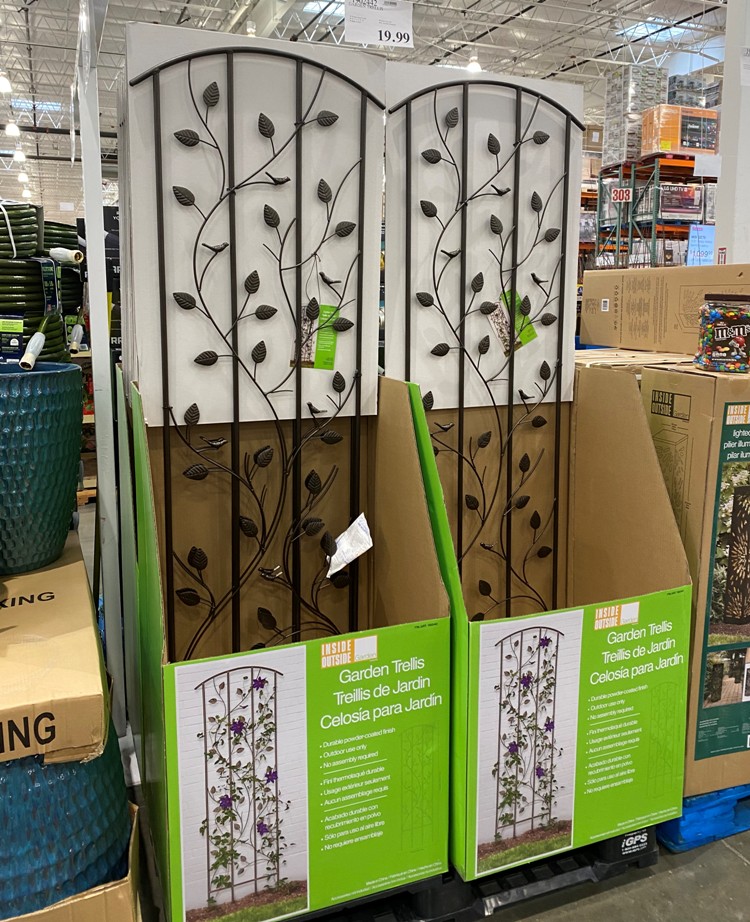 Lots of new outdoor and garden items are now as Costco stores. This garden trellis is $19.99.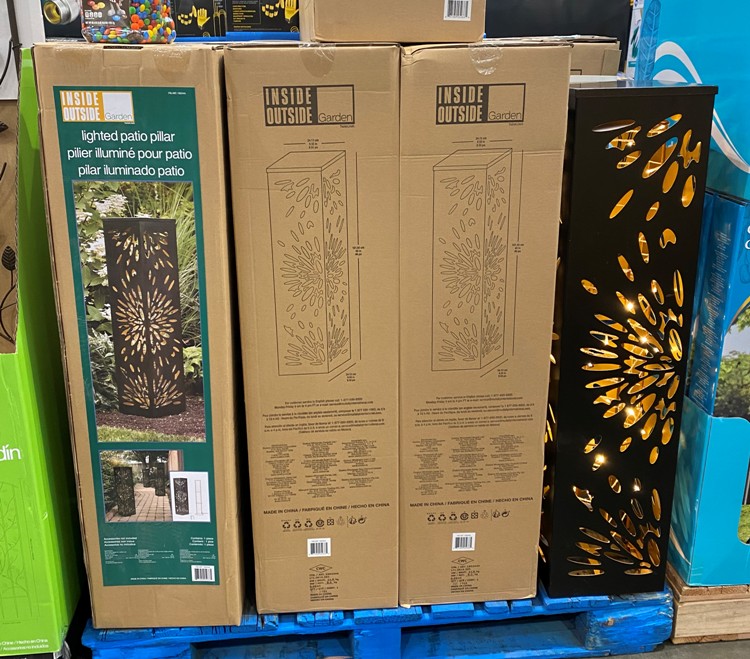 This lighted patio pillar is so pretty and priced at $59.99

These Tommy Bahama Solar Light 6-pack is priced at $49.99.

Get a 2-pack of Vinyl Raised garden beds for $64.99/

Kayaks and paddle boards are now in-stock at Costco. We bought these kayaks a couple of years ago and we love them. Once of the best purchases we've made. The Pelican kayak is $299.99, but it usually goes on sale at some point.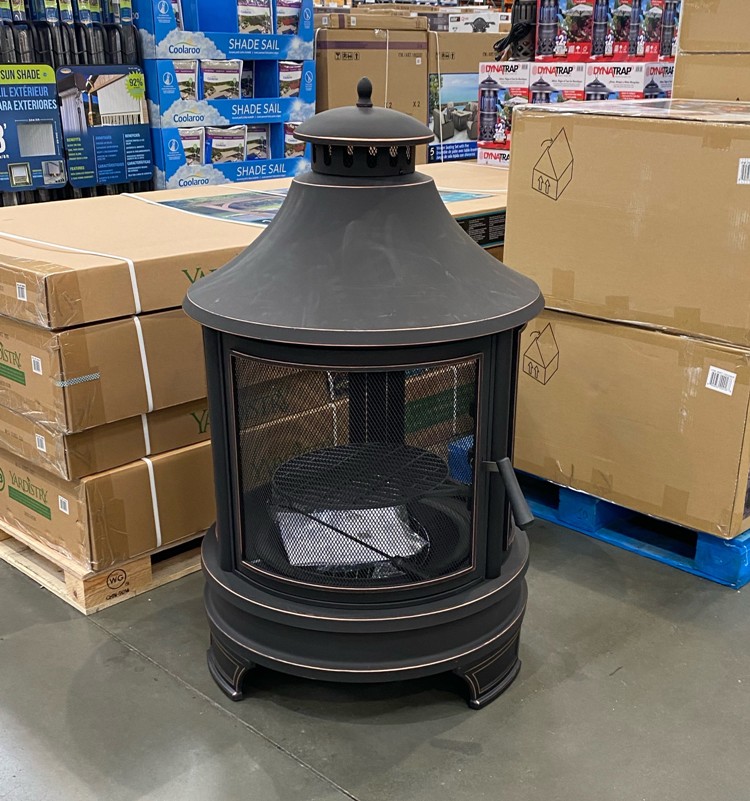 This Outdoor Cooking Pit looks fun, it's priced at $129.99.

There are some new versions of the outdoor hanging lights that are so popular. This set is solar powered and priced at $39.99.

My husband was totally impressed with this set, he said once ours die we need to replace ours with these. These are LED and have a remote so you can change the colors. The bulb and base are all one piece so they are super sturdy. These are $49.99 through 3/28 (the regular price is $69.99).

I found some new Simplehuman trash cans at our store. I love this brand. These are priced at $99 for the large can and a mini can.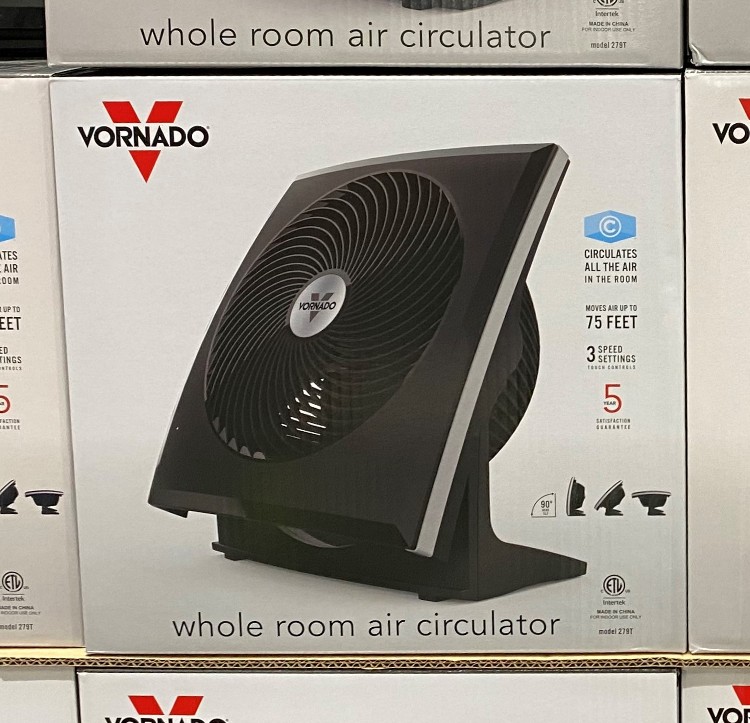 Fans and air conditioners are showing up at Costco.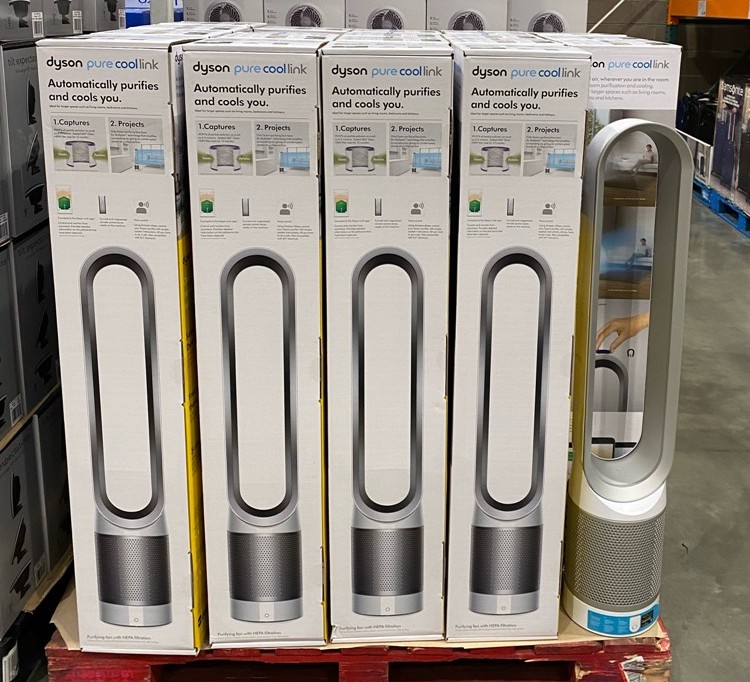 The Dyson Air Cooler and Purifier is $399.99

I love strolling the kitchen aisle for new good and I stumbled upon these mixing bowls. They are $17.99 for the set. I actually bought a set of these, they are really pretty.

They have a new style of beverage dispenser. I love that is has a tray to catch any drips. This is priced at $19.99.

This 3-piece serving set is $19.99.

These Skechers sandals are $19.99.

How fun is this Harry Potter Hand Lettering book? This would be great in an Easter basket.

These popular soaps are back and priced at only $9.99 for the 4-pack.

The best Easter candy EVER is at Costco!! Get a huge 42 ounce bag of Cadbury Mini Eggs for $11.49. I really wanted to bring this home with me!

Yum! I love these. We bought some a Christmas time and now they have them for Easter. I love the pretty pastel colors. These are priced at $13.49.

I found some new Ultimate Gummi Bears from Albanese. These have some fun flavor mixes. These are $6.99.

New crackers from Boudin bakery.
Monthly Savings

Woah! I was super excited to see this set marked down to $20!

These cute color changing cups were marked down to $4.

These 2-packs of Thermos were marked down to $8

Get a 3-pack of T-fal pans for only $19.99 (reg $24.99).

This Dyson vacuum is $60 off and priced $239.99.

This vacuum looks awesome! Is it normal to get excited over a vacuum? This one is pricey, but there is also a high value savings coupon. Get the LG Cord Zero vacuum with 2 battery packs and more for $349.99 (save $150).

This 3-pack of brooms and dustpan is priced great at only $6.99 (save $2).

Get Fila sweatshirts for women in pretty spring colors for only $11.99 (reg $14.99).

The eos lip balm is on sale for $10.99 (save $3).

Save $4 on the reef friendly sunscreen from Alba Botanica, it's on sale for $12.99.

Chicken nuggets are on sale for $8.99 (save $4).

You can also save $4 on the Annie's 12-pack of Mac & Cheese, it's only $9.49.

Wow! This big box of Chewy granola bars is only $5.59 (save $3).

Perfect for Easter! Save $4 and get this big canister of Jelly Belly's for only $10.99.

Rice Krispies Treats are on sale this month for $7.99 (save $3.50)

Yum! My favorite Sea Salt Caramels are only $6.49 (save $3).
Markdowns

Has anyone tried this? This Egyptian Magic set is marked down to $24.97.

This Epic Detangle and Dry Kit has been marked down to $4.97.

What an awesome deal on this Wet Brush set, it's only $4.97. That is less than it costs to buy one of these brushes.