We may earn money or products from the companies mentioned in this post.

What could be better than a frosted sugar cookie? A chocolate frosted sugar cookie! I'm a firm believer that chocolate makes anything better.
Chocolate Sugar Cookies:
1 cup butter (softened)
2 cups sugar
3 eggs
1/4 cup milk

4 cups flour
1 cup baking cocoa
1 TBSP baking powder
1/4 tsp salt
Frosting:
1/4 cup butter (softened_
1 tsp vanilla
1/8 tsp salt
4 oz cream cheese
3 cups powdered sugar
3 TBSP milk
Preheat oven to 350 and line cookie sheet with parchment paper or silicone baking mat.

Mix together the butter, sugar, eggs, and milk until well combined. In a separate bowl stir together the dry ingredients, flour, cocoa, baking powder, and salt. Gradually add dry ingredients to the butter/sugar mixture.

On a lightly floured surface roll out 1/3 of dough until 3/8 inch thick. Use desired cookie cutter and place cut outs on cookie sheet. Bake for 9-10 minutes until just set and cookies are barely cracked. Transfer cookies onto cooling rack and allow to completely cool before frosting.

To make frosting, mix butter and add cream cheese. Add remaining ingredients and beat together with mixer. Continue to mix until light and smooth. Add food coloring if desired. Add to cooled cookies and top off with sprinkles.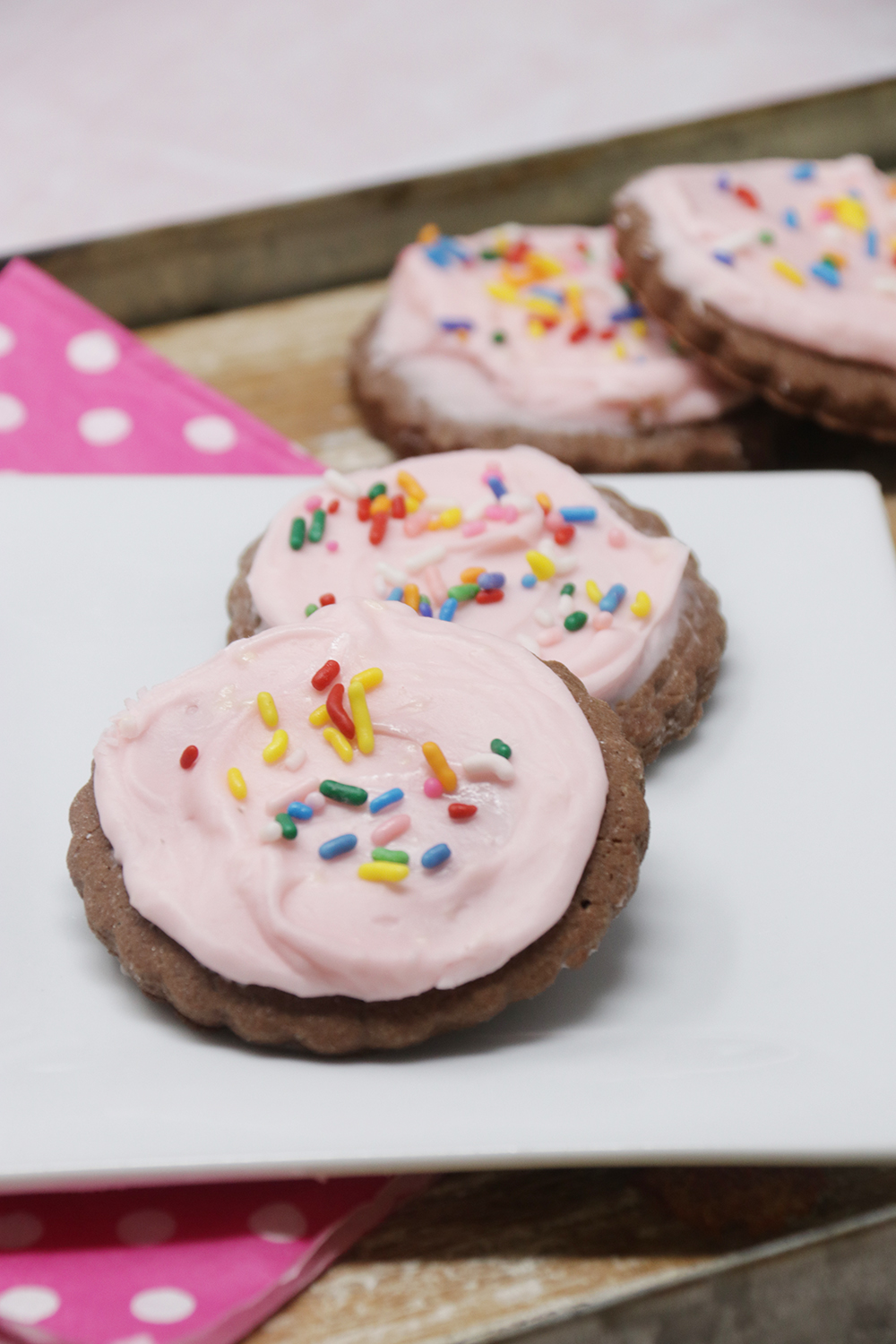 Print

---
Description
These Chocolate Sugar Cookies would make a fun dessert for spring!
---
1 cup

butter (softened)

2 cups

sugar

3

eggs

1/4 cup

milk

4 cups

flour

1 cup

baking cocoa

1 TBSP

baking powder

1/4 tsp

salt
Frosting:
1/4 cup

butter (softened_

1 tsp

vanilla

1/8 tsp

salt

4 oz

cream cheese

3 cups

powdered sugar

3 TBSP

milk
---
Instructions
Preheat oven to 350 and line cookie sheet with parchment paper or silicone baking mat
Mix together the butter, sugar, eggs, and milk until well combined
In a separate bowl stir together the dry ingredients, flour, cocoa, baking powder, and salt
Gradually add dry ingredients to the butter/sugar mixture
On a lightly floured surface roll out 1/3 of dough until 3/8 inch thick
Use desired cookie cutter and place cut outs on cookie sheet
Bake for 9-10 minutes until just set and cookies are barely cracked
Transfer cookies onto cooling rack and allow to completely cool before frosting
To make the frosting:
Mix butter and add cream cheese
Add remaining ingredients and beat together with mixer
Continue to mix until light and smooth (add food coloring if desired)

Add to cooled cookies and top off with sprinkles
---