We may earn money or products from the companies mentioned in this post.
Here is a peek at some of the new items, coupon savings and markdowns you can find at Costco in May. A new Costco coupon book was released and the coupon savings are valid through June 12th. Keep in mind that Costco prices may vary a little by region.

Here are couple of Costco tips for you: If an item ends in 7, it is Costco's version of a clearance item. Also, if you notice an asterisk in the top right hand corner of the sign with the price, that means it is a seasonal item and will not be stocked again (it may come back next year, but it won't be re-stocked after the current supply is depleted).
New Items

I saw this Rio Gear Swinging Hammock Chair that I thought was pretty cool, it's $49.99.

They have Zeppelin Inflatable Kayaks for $879.99. I know this seems like a lot of money, but these retail anywhere from $1200-$1400 so Costco really does have a great price on this item.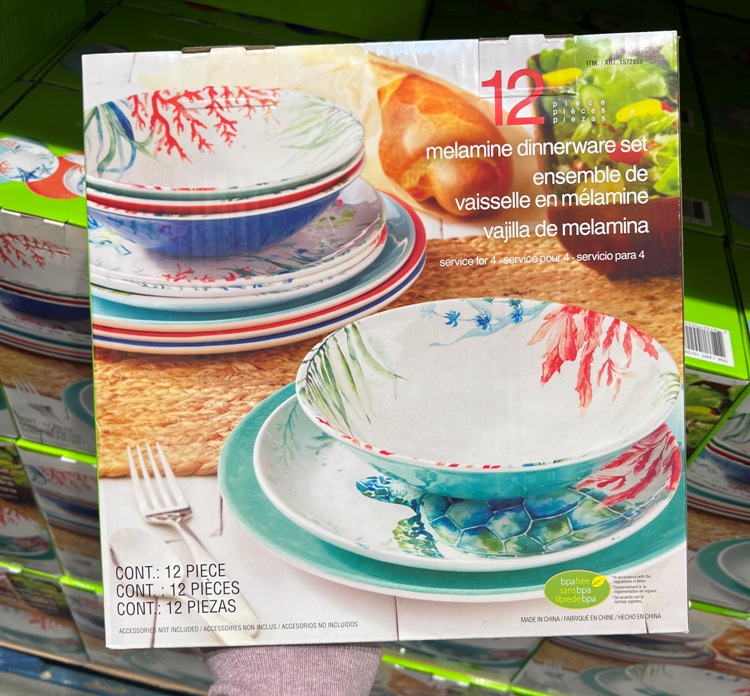 There are new Melamine 12-Piece Dinnerware sets for $24.99.

They also have a matching Melamine Serving Bowl with Utensils for $16.99.

These large Faux Wicker Basket were $29.99.

There are some new Waterfall String Lights for $49.99. I'm certain lots of teens would think these are cool.

Costco has a huge Shark Cave Inflatable Water Park for $369.99.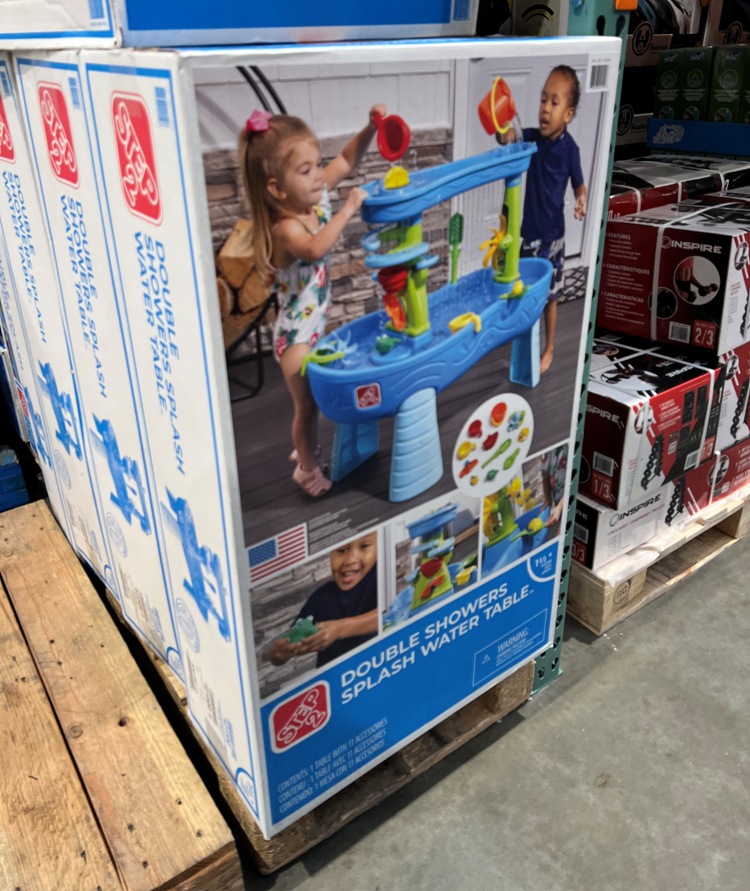 The Step 2 Double Showers Splash Water Table were flying off the shelves. It is priced at $68.99. I kid you not, I saw this in so many people's carts while I was shopping.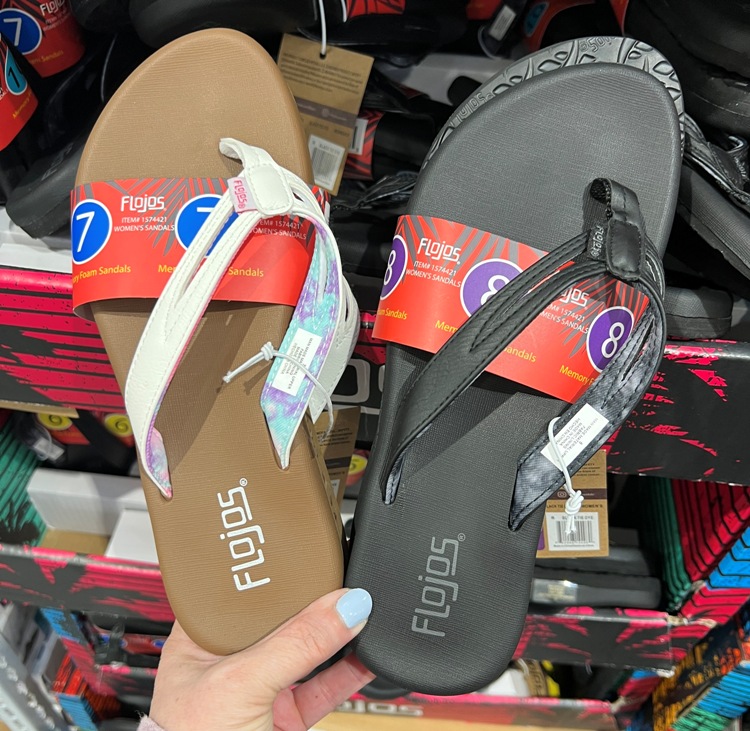 I saw some Flojos Flip Flops for men and women priced at $14.99.

The S'Mores Kits are back and priced at $11.49. I haven't done the math yet to see if this is even a deal, but Costco wouldn't lead us astray, would they?

They big and fun Ice Cream Party Box is back and priced at $19.99. Such an easy way to host an ice cream party.

Another item that is back this year are the Alden's Root Beer Float Cream Bars for $10.79. These are good, we really like them!

Another new item in the frozen section are these Yawa Mochi Matcha Frozen Dessert Cups for $8.99.

I found some new Mini Snickerdoodle Cakes for $8.99.

New in the bakery are these Cheese Buns for $8.49. Has anyone tried these yet? I'd love to hear your thoughts.

I found a new quick and easy meal from Del Real Foods, Chicken Pozole is priced at $7.99.

Huge containers of Bubbies Bread & Butter Chips is $7.99. I have never heard of this brand before, are they any good?

Ok this dip has my intrigued! It sounds amazing, but I"m not sure I want to try a huge container for the first time. If you've tried this Fried Pickle & Ranch Dip let me know your thoughts. It's prices at $6.39.

Lot's of people seem to be excited about the Bachan's Japanese Barbecue Sauce for $9.79.
Monthly Savings

Got company coming this summer? Get the Sealy Queen Size Airbed for $99.99 (reg $149.99) save $50.

Hang Ten Men's sun tees are on sale for $9.99 (reg $12.99), save $3.

Hang Ten Men's Hybrid Shorts are only $10.99 (reg $14.99) save $4.

Get a 2-pack of 32 Degrees Ladies Shorts for $10.99 (reg $14.99) save $4.

Save $6 and get the Harry's Razor Handle + 13 cartridges for $19.99 (reg $25.99).

Get a 2-pack of Alba Botanica Sunscreen for $12.99 (reg $17.99) save $5.

I always wait for this sale to pick up the Biotin Beauty Dietary Supplement, it's on sale for $7.99 (reg $11.99) save $4.

This is another item I usually wait for it to go on sale, this 8-Pack of Oral-B Toothbrushes is $9.99 (reg $14.99) save $5.

You can save $4.70 per pack on the Frontera Seasoned Fajita Chicken Kit. We've had this before, it's pretty good. It's a quick and easy way to make dinner.

The Drumstick Variety Pack is on sale for $7.49 (reg $9.99) save $2.50.

Yum! I love these Bark Thins Dark Chocolate & Almonds Snacking Chocolate, it's on sale for $7.49 (reg $10.69) save $3.20.

Super deal on Sheila G's Chocolate Chip Brownie Brittle, its buy one, get one FREE. These bags are $6.99, so they are only $3.50 each.

Another BOGO FREE item are these Dark Chocolate Keto Nuggets. These are priced at $9.59, so the final price = $4.79 each.

This is our favorite BBQ sauce! The 2-pack of Kinder's Organic Mild BBQ Sauce is on sale for $5.99 (reg $7.99) save $2. We always stock-up when it's on sale.
Markdowns

These 3-Piece Bowl Set was marked down to $9.97 at my store.

The FoodSaver Value Combo Pack was marked down to $24.97.

These Strawberry Hanging Basket were marked down to $8.

I found these Ladies Lucky Brand Graphic Tee marked down to only $4.97. My store had tons of different styles and sizes.

I found the men's Eddie Bauer Graphic Tee 2-Pack marked down to $12.97.

These ladies Hurley Shoes have been marked down to $12.

These socks are super soft!! This ladies Lemon Sock 6-Pack was down to $6.97.

I found the Pura d'or Shampoo and Conditioner marked down to $19.97.