We may earn money or products from the companies mentioned in this post.

There's nothing better than cheesecake with fruit, except maybe individual cheesecakes you can hold in your hand. These yummy little treats are perfect for a crowd.
Strawberry Crumble Mini Cheesecake
(Recipe found at Cakes Cottage – I substituted strawberries)
Crust:
1 1/3 cup graham cracker crumbs
1/4 tsp cinnamon
2 1/2 TBSP sugar
6 TBSP melted butter
Crumb Topping:
1/2 cup flour
1/4 cup quick oats
1/4 cup light brown sugar + 2 TBSP
1/4 tsp cinnamon
1/8 tsp nutmeg
1/4 cup cubed butter
Cheesecake Filling:
2 – 8oz cream cheese softened
2/3 cup sugar
2 eggs
1/4 cup sour cream
1 1/2 tsp vanilla
Strawberries:
1 tsp sugar
2 tsp flour
1 TBSP fresh lemon juice
1 cup chopped fresh strawberries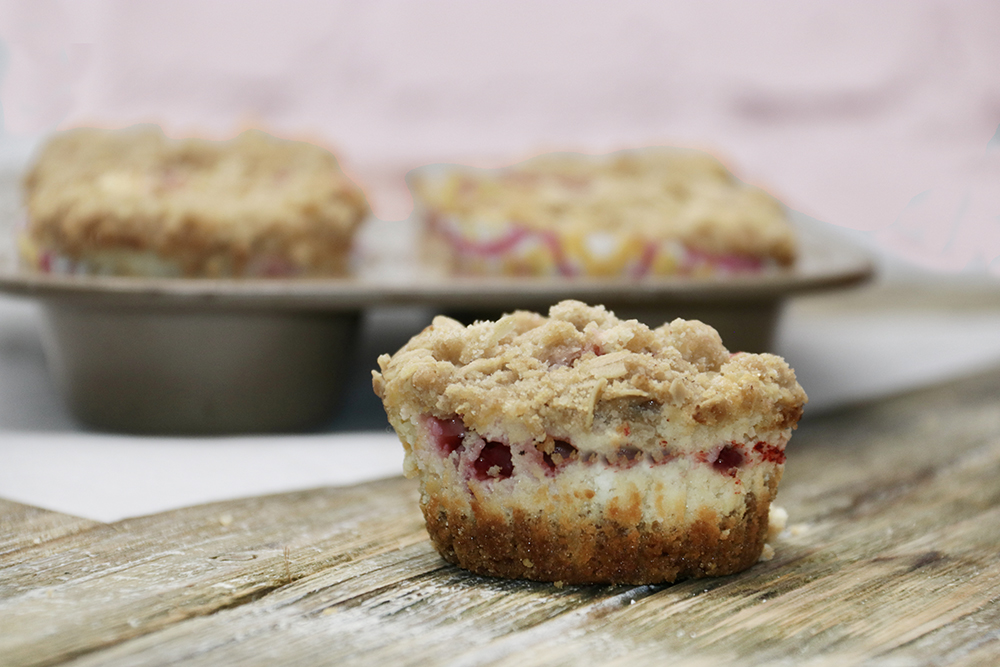 Preheat oven to 350 degrees, Line 16 muffin cups with liners. In mixing bowl add graham cracker crumbs, cinnamon, melted butter, and sugar and mix until combined. Add mixture to bottom of each muffin cup pressing down firmly to cover the bottom of each muffin liner. Bake for 5 minutes.

In the meantime in small bowl, combine berry ingredients, toss gently to combine, set aside for later.

In medium bowl, combine all ingredients for crumble topping. Cut the butter in with a pastry blender until mixture is coarse. Set aside.

In mixer beat cream cheese with sugar just until smooth. Beat in eggs, then blend in sour cream and vanilla. Once combined, pour on top of graham cracker crusts and fill to about 2/3 full.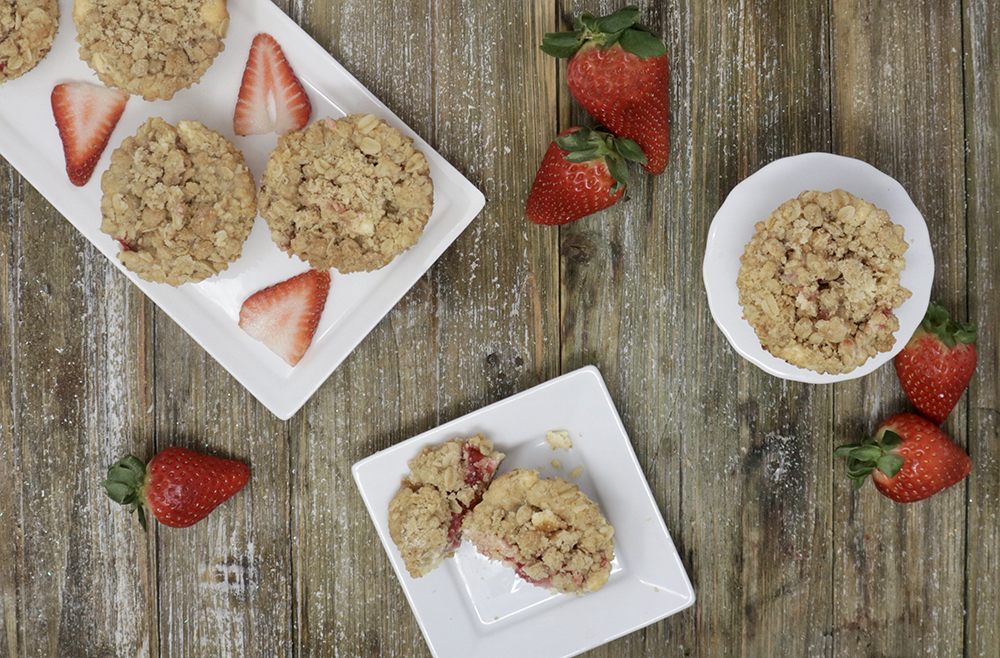 Place strawberry mixture over top of cheesecake filling, finish by sprinkling crumble toping over each cake. Bake at 350 for 25-30 minutes or until crumble is a light golden brown. Cool for 30 minutes then refrigerate for 4 hours or overnight. Enjoy!

Print

Strawberry Crumble Mini Cheesecake
---
Description
These Strawberry Crumble Mini Cheesecakes are sure to be a crowd pleaser!
---
Crust:
1 1/3 cup

graham cracker crumbs

1/4 tsp

cinnamon

2 1/2 TBSP

sugar

6 TBSP

melted butter
Crumb Topping:
1/2 cup

flour

1/4 cup

quick oats

1/4 cup

light brown sugar +

2 TBSP

1/4 tsp

cinnamon

1/8 tsp

nutmeg

1/4 cup

cubed butter
Cheesecake Filling:
2

–

8

oz cream cheese softened

2/3 cup

sugar

2

eggs

1/4 cup

sour cream

1 1/2 tsp

vanilla
Strawberries:
1 tsp

sugar

2 tsp

flour

1 TBSP

fresh lemon juice

1 cup

chopped fresh strawberries
---
Instructions
Preheat oven to 350 degrees, Line 16 muffin cups with liners
In mixing bowl add graham cracker crumbs, cinnamon, melted butter, and sugar and mix until combined
Add mixture to bottom of each muffin cup pressing down firmly to cover the bottom of each muffin liner.
Bake for 5 minutes
In the meantime in small bowl, combine berry ingredients, toss gently to combine, set aside for later
In medium bowl, combine all ingredients for crumble topping
Cut the butter in with a pastry blender until mixture is coarse (set aside)
In mixer beat cream cheese with sugar just until smooth
Beat in eggs, then blend in sour cream and vanilla
Once combined, pour on top of graham cracker crusts and fill to about 2/3 full
Place strawberry mixture over top of cheesecake filling, finish by sprinkling crumble toping over each cake
Bake at 350 for 25-30 minutes or until crumble is a light golden brown
Cool for 30 minutes then refrigerate for 4 hours or overnight
---