We may earn money or products from the companies mentioned in this post.

There is something about Red Velvet Cake that just makes things seem extra special. You're friends and family will love these cute little mini cakes. You'll love the fact that you don't have to do any cutting or serving, everyone gets their own little cake.
Red Velvet Mini Cakes
Recipe found at Sprinkle Bakes
Red Velvet Sponge:
4 eggs
3/4 cup sugar
1 TBSP vegetable oil
2 TBSP milk
1 tsp vinegar
1 tsp vanilla
1 oz or 2 TBSP red food coloring
3/4 cup flour
1/4 cup cocoa powder
1 tsp baking powder
1/2 tsp salt
Cream cheese whipped frosting
1 cup heavy cream
4 oz cream cheese
1/2 cup powdered sugar
1 tsp vanilla
Pre heat oven to 350 degrees. Grease a jelly roll pan with shortening and line pan with parchment paper.
Place the eggs in mixer with whisk attachment, and whisk for 5 minutes. Slowly add sugar and oil. Beat well. And milk, vinegar, vanilla, and food coloring Switch to paddle attachment.

Add dry ingredients (flour, cocoa, baking powder and salt) in bowl and mix. Then slowly add to liquid ingredients. Beat for a couple minutes until combined. The batter will be thin. Add a thin layer to the prepared jelly roll pan and bake for 15 minutes, Remove from oven and let completely cool. Using a circle cutter, cut out cake rounds.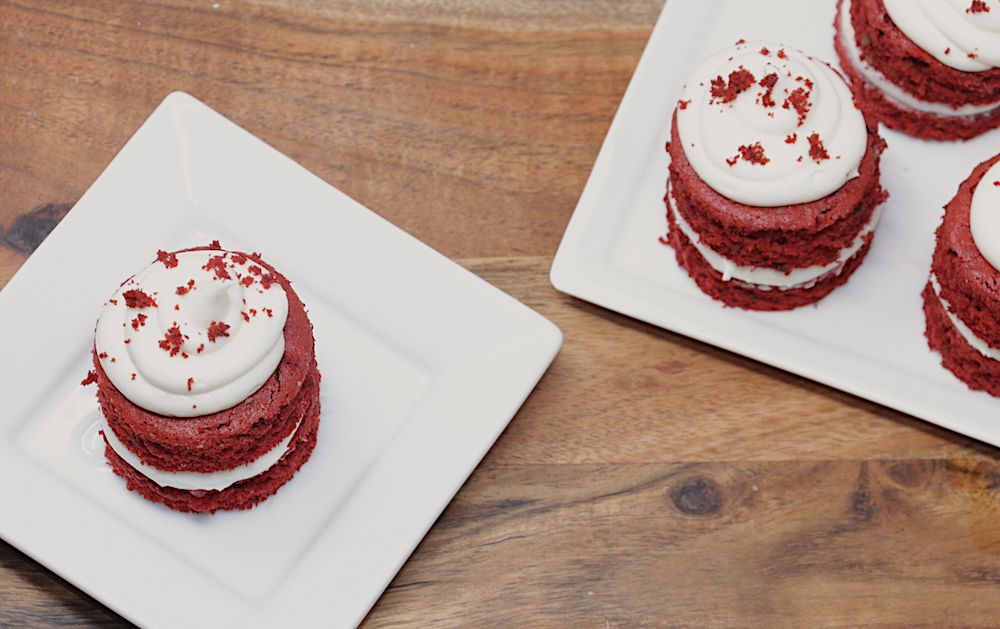 <
To make the whipped cream cheese frosting: Place cream cheese in bowl and whip until fluffy, Pour in heavy cream and beat on medium speed. Gradually add in powdered sugar and then the vanilla.

Assembly: Add base of the sponge cake, add and even layer of frosting and top with another sponge layer. Finish off with a layer of frosting and sprinkle with cake crumbles or powdered sugar. Cover cakes and refrigerate for 2 hours. Enjoy!

Print

---
Description
These Red Velvet Mini Cakes are perfect for Valentine's Day!
---
4

eggs

3/4 cup

sugar

1 TBSP

vegetable oil

2 TBSP

milk

1 tsp

vinegar

1 tsp

vanilla

1 oz

or

2 TBSP

red food coloring

3/4 cup

flour

1/4 cup

cocoa powder

1 tsp

baking powder

1/2 tsp

salt
Cream cheese whipped frosting
1 cup

(no s) heavy cream

4 oz

cream cheese

1/2 cup

powdered sugar

1 tsp

vanilla
---
Instructions
Pre heat oven to 350 degrees
Grease a jelly roll pan with shortening and line pan with parchment paper
Place the eggs in mixer with whisk attachment, and whisk for 5 minutes
Slowly add sugar and oil, beat well
And milk, vinegar, vanilla, and food coloring Switch to paddle attachment
Add dry ingredients (flour, cocoa, baking powder and salt) in bowl and mix
Then slowly add to liquid ingredients, beat for a couple minutes until combined (the batter will be thin)
Add a thin layer to the prepared jelly roll pan and bake for 15 minutes
Remove from oven and let completely cool
Using a circle cutter, cut out cake rounds
To make the whipped cream cheese frosting:
Place cream cheese in bowl and whip until fluffy
Pour in heavy cream and beat on medium speed
Gradually add in powdered sugar and then the vanilla
Assembly:
Add base of the sponge cake, add and even layer of frosting and top with another sponge layer
Finish off with a layer of frosting and sprinkle with cake crumbles or powdered sugar
Cover cakes and refrigerate for 2 hours
---