We may earn money or products from the companies mentioned in this post.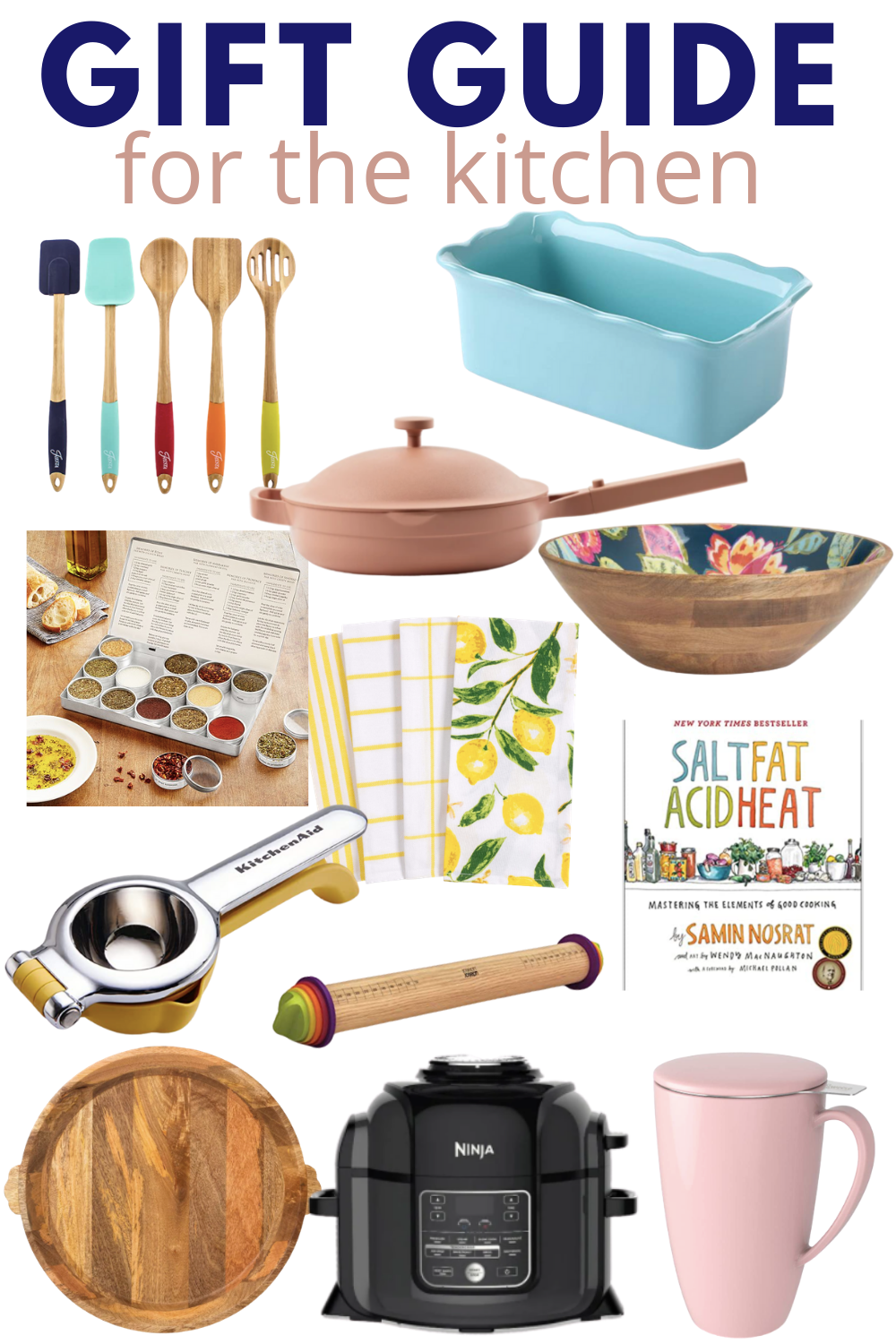 The kitchen is my favorite place in my home (especially now that I have a brand new remodeled kitchen). I love kitchen gadgets, appliances and cookbooks and I know I'm not the only one! I've compiled this list of some of my personal favorite items as well as items I think would make great gifts for those that love to hang out in their kitchen as much as I do.
KitchenAid Citrus Squeezer – I love using a citrus squeezer for all the times I make homemade salsa, guacamole and marinades. I kind of thought that they all were made the same, I was wrong! I absolutely love this KitchenAid Citrus Squeezer because there is no mess involved! I love the pour spout on the side of the press and it easily stands on your counter without falling over. I promise, any person that likes to cook with love this handy gadget.
Kitchen Towels – I love these pretty lemon kitchen towels and I think they would make a great addition to gift with the KitchenAid Citrus Squeezer. You can always use new kitchen towels so I think they make a perfect gift.
Always Pan – The Always Pan is the pan that most of the internet is raving about and I finally got myself one. This is such a clever pan that has food just slide right off, it doesn't stick. A true non-stick pan should be on everyone's wishlist, it's life changing! They say that the Always Pan replaces your fry pan, saute pan, steamer, skillet, saucier, saucepan, non-stick pan, spatula, and spoon rest. With the Always Pan you can braise, sear, steam, strain, saute, fry, boil, serve, and store. Plus, it comes in tons of pretty colors! They are currently having a sale on the pan where you can save $50 by using the code SUPERSALE the pan will be only $95. Make sure you check to see when the pan will arrive select colors are backordered.
Cookbooks – Cookbooks make awesome gifts! Here are a few of my personal favorite cookbooks and a few that are on my wish list too!
Fiesta Bamboo 5 Piece Silicone Utensil Set – I own this Fiesta Bamboo 5 Piece Silicone Utensil Set and I love it. I love the long handles and the bright fun colors.
Ninja Foodi – While everyone is in love with their Instant Pot I'm over here singing the praise of the Ninja Foodi! It pretty much does the same thing as an Instant Pot, but it's also an air fryer. This is the perfect kitchen appliance for those that love to cook! I think its much more user friendly than the Instant Pot too (I own both and I pretty much exclusively use my Ninja Foodi now).
Sweese – You can pretty much gift anything from Sweese and I am sure it will be loved. They have so many fun kitchen serveware in classic white or bright fun colors. This brand gets great reviews too. Some items I think would make great gifts are the Sweese Large Butter Dish (Porcelain Keeper with Beech Wooden Lid), the Sweese Porcelain Tea Mug with Infuser and Lid. and the cute Sweese Porcelain loaf pan for Baking (I love the scallop edge)
Joseph Joseph Adjustable Rolling Pin with Removable Rings – The Joseph Joseph Adjustable Rolling Pin with Removable Rings is super handy for baking. The Adjustable rings make rolling out your dough to the thickness you want really easy! I own this and it works well for rolling out pizza crust, cookie dough and more.
Hearth & Hand Oversized Carved Wood Tray – I think this oversized Carved Wood Tray from Hearth & Hand would make a beautiful decor piece on a kitchen island. Something like this or a big board for charcuterie boards would be a great gift idea.
Floral Amal Enamel Wood Servers Set & Bowl – The Floral Amal Enamel Wood Servers and Large Floral Amal Enamel Wood Bowl would be great to give as individual gifts or as a set. I love the pretty colors agains the wood. They are beautiful!
Gourmet Oil Dipping Spice Kit – Have a foodie on your Christmas list, I'm pretty sure they would be thrilled with this Gourmet Oil Dipping Spice Kit.
Pineapple Corer and Slicer tool – I highly recommend the Pineapple Corer and Slicer tool, it makes cutting a pineapple a snap and there is literally no mess! I own this one and use it all the time! This is one kitchen tool you never know you needed until you own one and then you are wondering how you lived with out it.