We may earn money or products from the companies mentioned in this post.

You can never go wrong with a classic sugar cookie for the holidays. This recipe is a fun twist on the sugar cookie in bar form. Of course, you always need some some fun holiday sprinkles too.
Holiday Sugar Cookie Bars:
Bars
1/4 cup butter
2 oz cream cheese
1/2 sugar
1 tsp vanilla
1 egg
1 cup + 2 TBSP flour
1/2 tsp baking powder
Frosting:
1/4 cup butter
1 oz cream cheese
1/4 tsp vanilla extract
1 1/2 cup powdered sugar
1 TBSP milk
Optional (not really, you kind of need the sprinkles):

Preheat oven to 350. Line 9×9 pan with parchment paper and spray lightly with non stick cooking spay. Mix together flour and baking powder in a medium bowl and set aside.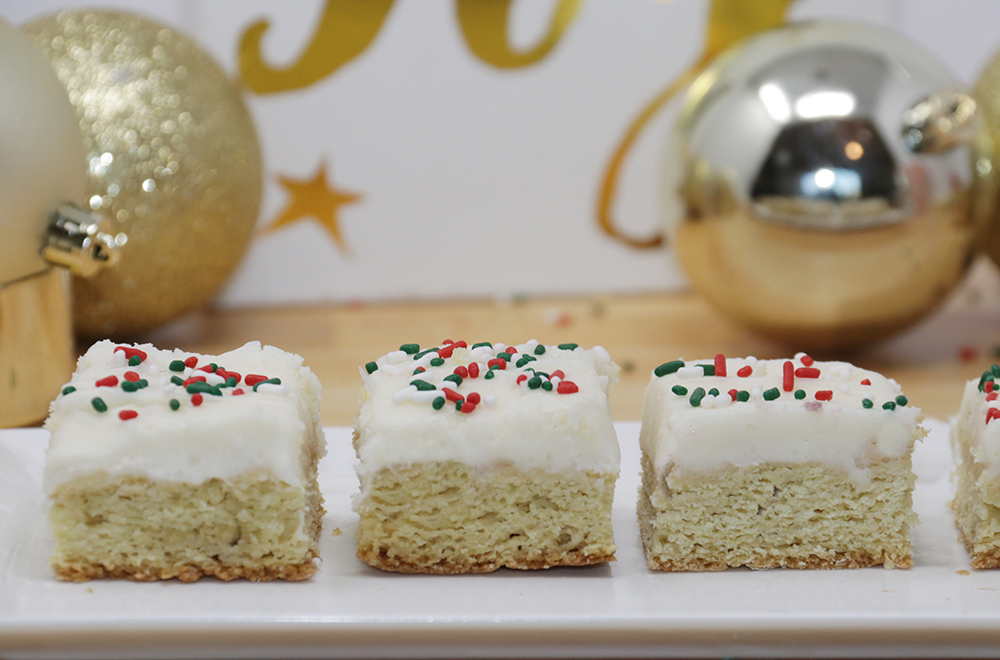 In large mixing bowl, beat together butter, cream cheese and sugar until fluffy. Beat in eggs and vanilla. Gradually add flour mix into butter mixture until it's all mixed in and combined. Add batter to prepared pan. Bake for 22-25 minutes. When done, it should be lightly browned ont top. Cool bars completely.

For frosting, beat butter then add cream cheese. Add vanilla. Gradually add powdered sugar. add milk and beat until light and fluffy. Frost the cooled cookie, and sprinkle with holiday sprinkles. Enjoy!

Print

Holiday Sugar Cookie Bars
---
Description
These Holiday Sugar Cookie Bars put a fun twist on the classic sugar cookie bar recipe.
---
Bars
1/4 cup

butter

2 oz

cream cheese

1/2

sugar

1 tsp

vanilla

1

egg

1 cup

+

2 TBSP

flour

1/2 tsp

baking powder
Frosting:
1/4 cup

butter

1 oz

cream cheese

1/4 tsp

vanilla extract

1 1/2 cup

powdered sugar

1 TBSP

milk
Optional (not really, you kind of need the sprinkles):
---
Instructions
Preheat oven to 350
Line 9×9 pan with parchment paper and spray lightly with non stick cooking spay
Mix together flour and baking powder in a medium bowl and set aside
In large mixing bowl, beat together butter, cream cheese and sugar until fluffy
Beat in eggs and vanilla
Gradually add flour mix into butter mixture until it's all mixed in and combined
Add batter to prepared pan
Bake for 22-25 minutes
When done, it should be lightly browned on top
Cool bars completely
Frosting:
beat butter then add cream cheese
Add vanilla
Gradually add powdered sugar
Add milk and beat until light and fluffy
Frost the cooled cookie, and sprinkle with holiday sprinkles
---