We may earn money or products from the companies mentioned in this post.

It's probably common knowledge that our family loves our Disneyland vacations. We also love to make fun Disney tees for our trips. If you own a Cricut machine, customizing your own Disney tees is such an easy thing to do. It can also be pretty cheap! I've made lots of our Disney tees out of t-shirts that I've picked up at the Dollar Store (for a dollar) or tees that I found on clearance at Target for 70% off.
Cricut has several licensed Disney and Star Wars designs, but I also like to search Etsy for some creative Disney svg designs that I can use on our vacation tees too. You do not have to purchase images, you can make your own or use free svg images found on the internet.
I recommend the Cricut Explore Air 2, it's an excellent machine to start you on your crafting journey. If you love to sew you may want to look into the Cricut Maker as an option, it cuts fabrics, leather, balsa wood and more with the expandable suite of tools. I also suggest getting one of the Cricut Air + Everything Bundle because it will truly give you everything you need to get started on making a bunch of different projects.
When it comes to purchasing my iron-ons, I buy from several location and I usually always wait for a sale when I am buying from Cricut or Michaels
Cricut – watch for sales!
Michaels – I purchase both the Cricut brand & Siser HTV
Etsy – I purchase here when I want several different color sheets
Here is a peek at several shirts I made for the next time we visit the Disney parks.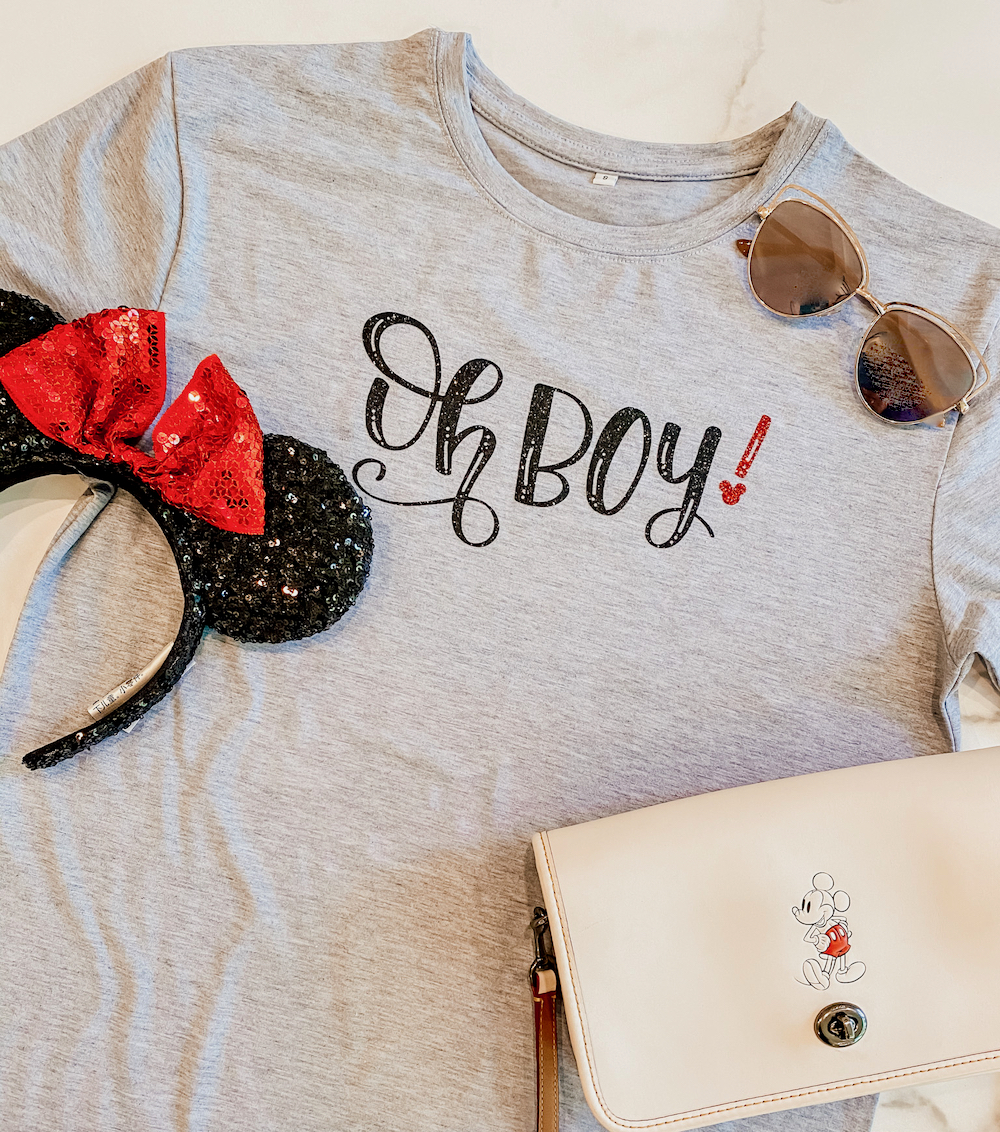 Oh Boy Mickey Tee

I'm Here for the Churros Tee
I'm Here for the Churros svg from Etsy
Siser EasyWeed Heat Transfer Vinyl Cream
Siser EasyWeed Heat Transfer Vinyl Tan
Siser EasyWeed Heat Transfer Vinyl Brown
Siser EasyWeed Heat Transfer Vinyl Chocolate Brown

Mos Eisley's Cantina Tee

Fixer Upper Tee

Space Ranger Tee
Deluxe Space Ranger svg from Cricut Disney – Toy Story 4 set
Cricut Teal iron-on
Cricut Green Apple iron-on
Here is a quick peek at how easy it s to make your own custom tees with the help of the Cricut machine.
You upload your design to the Cricut Design Space, it will pretty much walk you through the entire process. Most of the designs I chose used more than one color of vinyl so I will show you how to do multiple layers if you aren't familiar with how it works.

You can select what color you want each part of the design to be and design space will tell you when you need to load that color vinyl into your Cricut machine. When making iron on projects you need to always make sure you mirror the image, so it will be the correct direction after it is ironed onto your fabric. When laying your iron on vinyl on your Cricut mat, place the glossy side down. I like to cut the image out with cardstock first to make sure I have the correct size I want. This way I'm not wasting any vinyl.

When you use layers you will want to iron on the bottom layer first and then work your way up. With the Buzz Lightyear shirt that means I need to iron on the green part first.

I lined up the next layer (the teal one) on top of the green one and ironed that on. You can use a regular iron or the Cricut Easy Press. Once all layers are added, you are done! You have a cute Disney tee that was customized by you with the exact design and colors you want! Making Disney tees is almost as addicting as Disney vacations!
Take a peek a few of my other Cricut creations.