We may earn money or products from the companies mentioned in this post.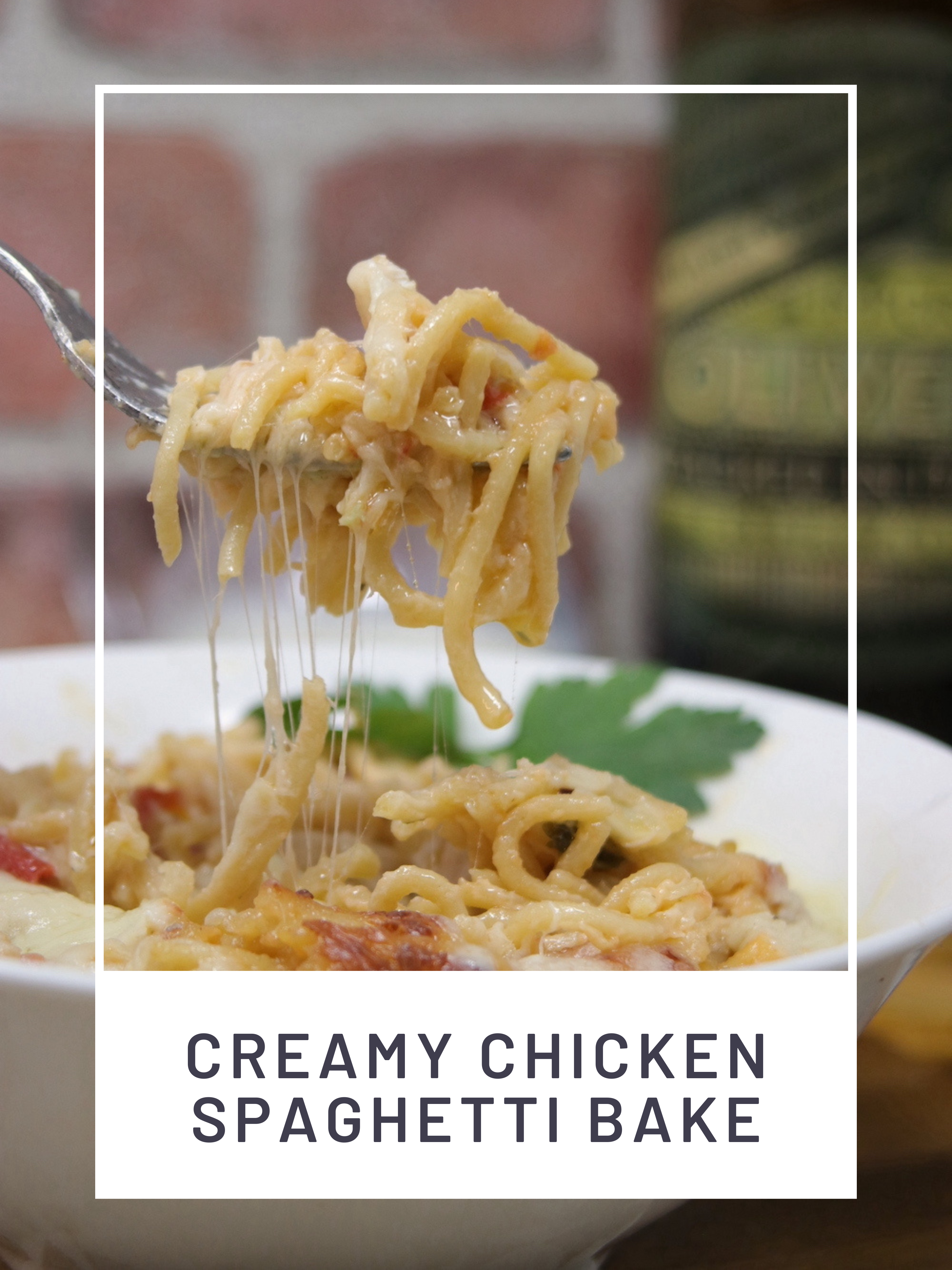 Looking for a unique take on a classic crowd-pleaser? This Creamy Chicken Spaghetti Bake is the perfect week night dinner idea! Velvety, Italian flavors in a cozy dish is what you'll find here. Plus, this spaghetti bake makes for great leftovers and reheats well the next day. While it looks like there's quite a few ingredients here, the process is actually pretty simple & can be easily mastered. Give this recipe a try this week!
Recipe from The Cozy Cook.
Creamy Chicken Spaghetti Bake:
2 chicken breasts
2 tsp Italian seasoning
2 TBSP olive oil
4 TBSP butter
1 small yellow onion, diced
3 cloves garlic, minced
4 TBSP flour
1 1/2 cups chicken broth
3/4 cup milk
4 oz cream cheese, softened
1 cup cheddar cheese
10 oz can diced tomatoes
8 oz thin spaghetti
1 cup mozzarella cheese, shredded
salt and pepper
red pepper flakes, optional garnish
fresh parsley, optional garnish
Start by cutting your chicken breasts in half so you have a total of four pieces. Season with Italian seasoning, salt and pepper. Add olive oil to a pan over medium heat and cook the chicken for 5 minutes on each side. Remove and set aside to cool slightly. Dice the chicken into bite size pieces.
To make the sauce, melt butter in the same pan over medium-low heat. Add the onions and cook until softened, about 4 minutes. Add the garlic and cook for 1 minute.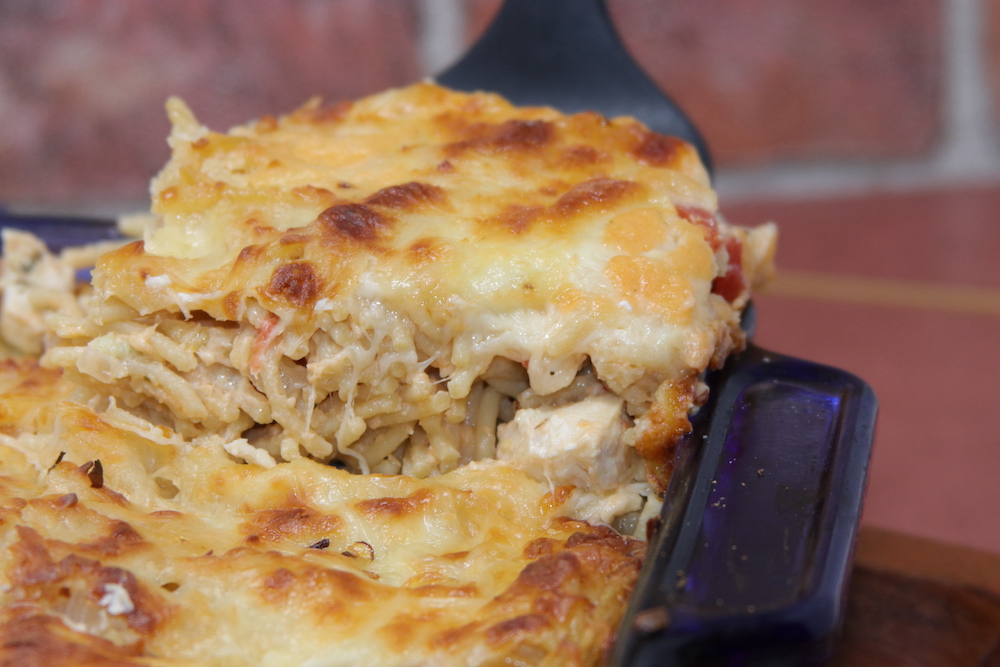 Sprinkle flour over the onions and toss to coat. Cook for an additional 2 minutes. Add the chicken broth a splash at a time, stirring after each splash. Gradually add the milk and whisk until smooth.
Add water to a large pan for cooking pasta, bring to boil and cook pasta as directed on box.
Continuing with the sauce, let the sauce simmer and reduce. Add softened cream cheese and stir continuously until melted and smooth. Reduce heat to low and let sauce cool a bit. Sprinkle in the shredded cheddar cheese and stir until combined. Add drained tomatoes and chicken and stir until combined.
Add cooked spaghetti to sauce and stir until everything is well incorporated. Add to a greased 9×13 pan. Top with mozzarella cheese and bake at 400 degrees for 15 minutes. Finish by sprinkling red pepper flakes and fresh parsley if desired. Enjoy!
Print
Creamy Chicken Spaghetti Bake
---
Description
This Creamy Chicken Spaghetti Bake puts a delicious spin on a classic spaghetti dish!
---
2

chicken breasts

2 tsp

Italian seasoning

2 TBSP

olive oil

4 TBSP

butter

1

small yellow onion, diced

3

cloves garlic, minced

4 TBSP

flour

1 1/2 cups

chicken broth

3/4 cup

milk

4 oz

cream cheese, softened

1 cup

cheddar cheese

10 oz

can diced tomatoes

8 oz

thin spaghetti

1 cup

mozzarella cheese, shredded
salt and pepper
red pepper flakes, optional garnish
fresh parsley, optional garnish
---
Instructions
Start by cutting your chicken breasts in half so you have a total of four pieces
Season with Italian seasoning, salt and pepper
Add olive oil to a pan over medium heat and cook the chicken for 5 minutes on each side
Remove and set aside to cool slightly. Dice the chicken into bite size pieces
To make the sauce, melt butter in the same pan over medium-low heat
Add the onions and cook until softened, about 4 minutes
Add the garlic and cook for 1 minute
Sprinkle flour over the onions and toss to coat
Cook for an additional 2 minutes
Add the chicken broth a splash at a time, stirring after each splash
Gradually add the milk and whisk until smooth
Add water to a large pan for cooking pasta, bring to boil and cook pasta as directed on box
Continuing with the sauce, let the sauce simmer and reduce
Add softened cream cheese and stir continuously until melted and smooth
Reduce heat to low and let sauce cool a bit
Sprinkle in the shredded cheddar cheese and stir until combined
Add drained tomatoes and chicken and stir until combined
Add cooked spaghetti to sauce and stir until everything is well incorporated
Add to a greased 9×13 pan
Top with mozzarella cheese and bake at 400 degrees for 15 minutes
Finish by sprinkling red pepper flakes and fresh parsley if desired
---