We may earn money or products from the companies mentioned in this post.
Here is a peek at some of the new items, coupon savings and markdowns you can find at Costco in January. January brings lots of furniture. A new Costco coupon book was released and the coupon savings are valid now through January 24, 2021. Keep in mind that Costco prices may vary a little by region.
Here are couple of Costco tips for you: If an item ends in 7, it is Costco's version of a clearance item. Also, if you notice an asterisk in the top right hand corner of the sign with the price, that means it is a seasonal item and will not be stocked again (it may come back next year, but it won't be re-stocked after the current supply is depleted).
New Items
This sectional is priced at $999.99. If you find some furniture you love, I don't recommend waiting too long, the furniture tends to go pretty quick and they don't get a restock.
This leather swivel chair set is $799.99. That seems kind of high to me, but I haven't ever shopped around for a chair like this.
This bed is priced at $549.99.
I think the $599.99 price for this table set is a great one.
How gorgeous is this console, it's priced at $479.99.
Another gorgeous console, this one is $599.99.
Here is a fun lamp for $99.99 and a bookcase priced at $199.99.
This is probably the coolest thing I saw at Costco this month. This Kohler Moxie showerhead and wireless speaker. The speaker magnetically docks into the showerhead. How cool is that? This sells for $189.99.
Two pack for Neatfreak! wall hook and track system. These were priced at $19.99 for the set.
There are lots of new items to help you get organized in the kitchen. This pack of 4 shelf organizers is $19.99.
Get a pack of 2 Copco professional turntables for $14.99. I'm not sure what makes these professional grade, but they must be extra sturdy. I have seen this brand on Amazon before and they get great reviews. These are a great price.
I found a new waterproof kitchen scale for $19.99.
There is also a new digital scale for your body (not food), this is only $14.99. That is a great price! Does anybody else find it weird that it cost more to weigh food that it does to weigh your body? Maybe because it has to be more accurate.
I don't think this is brand new, I'm guessing they probably brought them in for Christmas, but it's the first I have seen it. These are priced at $99.99. These massagers are hot right now.
I found new Queen and King size blankets by Pendlelton. Queen is $24.99 and King is $29.99.
I haven't heard of this brand before, but these shoes look super comfy. I love the fleece lining. These are $19.99.
New Shampoo and Conditioner set by Pura d'or, this is priced at $24.49. Yikes! I'm sure it's a deal for this brand though.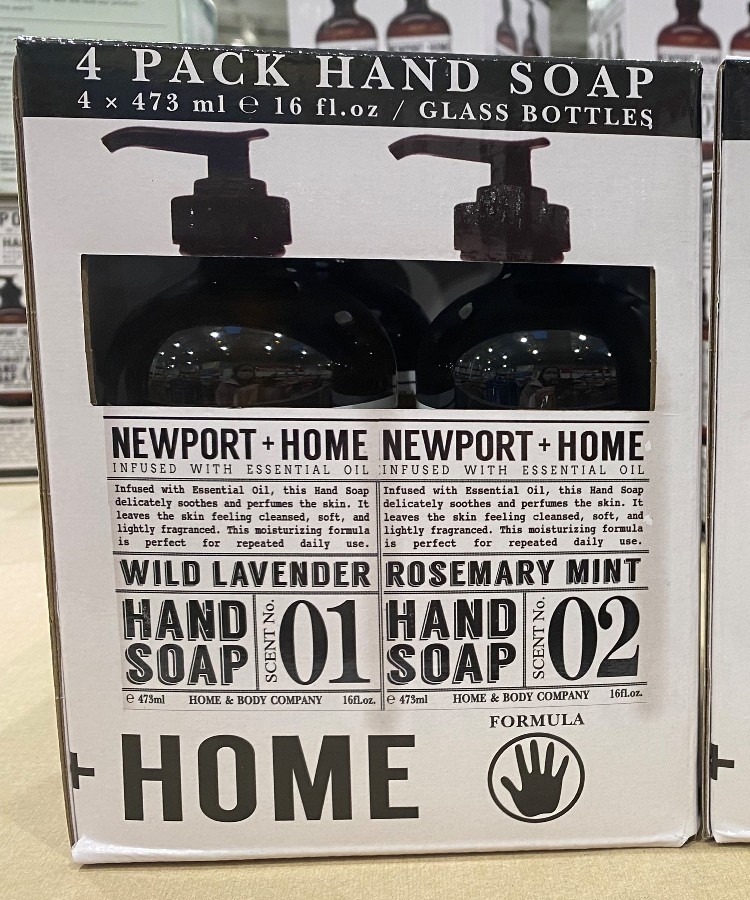 Costco has had these glass hand soap jars before and I love them! This 4-pack is priced at $9.99. I highly recommend this set if you see it.
You know I'll try anything covered in chocolate, except for maybe ginger. Let me know if anybody has had these before, I'm not even sure what ginger would taste like on it's own. These are $7.99.
Yum! These new Honolulu Cookie Company mini bites sound delicious.
Here's another yummy item! Get a 4-pack of Talenti Gelato Layers for $14.99. I bought these and they were pretty good!
Monthly Savings
We bought this hand truck for my husband years ago and he loves it! It's such a handy thing to have on hand. Now is the time to get one, the $20 savings is great!
There are a couple of different sheet sets on sale at Costco this week. This queen set is only $11.99 and King are $14.99.
This 680 thread count sheet is is on sale for $49.99 for Queen size.
Here is a sale the Home Edit would love! You've got to have your hangers all matching, you know! This set is $11.99.
These cardigans come in several pretty colors and are priced at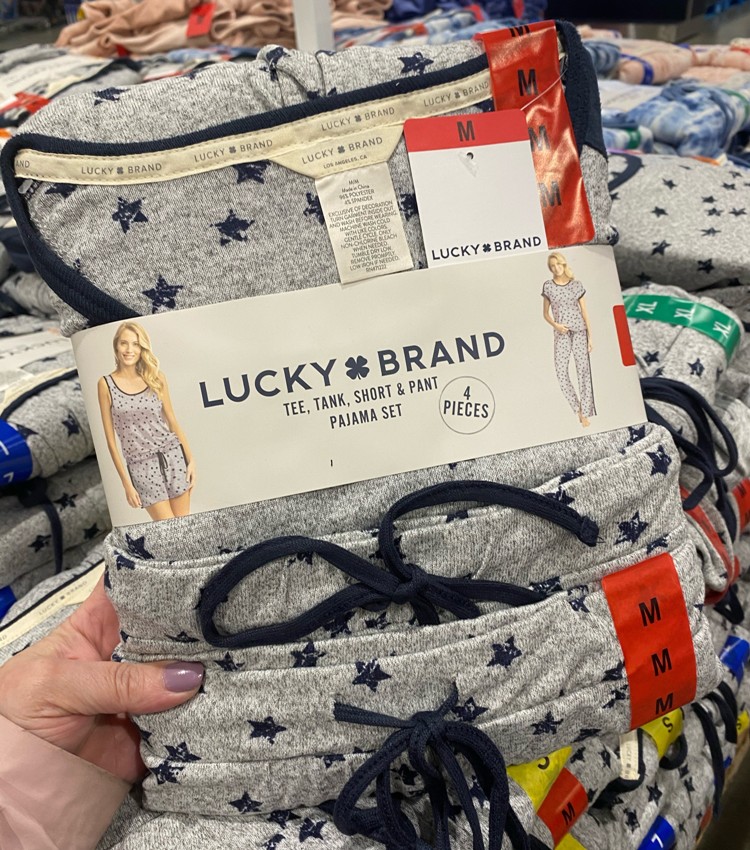 Super deal on this 4-piece Lucky pajama set, it's only $15.99 . Which makes each piece only $4 each.
Nice savings on the men's Eddie Bauer pajama pants too. Get the 2-pack for $14.99.
We bought one of these to send off with the college kids. Apparently Washington water tastes way better than water in other states and they needed their non-Washington college water filtered. Save a whopping $9 and get it for $20.99.
Nice sale price on Kleenex, get the 12 pack for $13.99, you save $4.50.
These sale on the Scotch-Brite sponges comes around quite frequently, so if you don't really need them now you can probably wait. These are $9.99 (save $3.40)
Great price on some awesome lotion! This is on sale for $13.99 (save $5)
There is nice savings on these anitbacterial hand soap, get them for $7.99 (reg $12.99)
if you need ANY vitamins, check Costco this month, there are so many on sale!
Get a 2-pack of Nutella for $8.99.
Buy this! It's so good! We love to put in on our baked potatoes before baking. We rub them in butter, sprinkle with this yummy goodness, wrap them up in foil and bake. The skin on the potato is so good with this seasoning. Save $2 and get it for $4.99.
This is a very large jar of green chilis, but I hear it's good on lots of things like tacos, eggs, etc. This is on sale for $5.49.
Save on Chobani this month, get the Costco sized pack for $8.99 (save $4).
We love these Pop Corners packs, this is on sale for $6.99 (reg $9.99)
Another sale on some snack options, these are $9.69.
This is another must buy in my book. They are delicious! It's $6.99 for the bag (save $3).
Markdowns
Now that the holidays are over, you can score a great deal on this roasting pan, it's marked down to $19.97.
This Mikasa serving platter and bowl were marked down to $12.97.
I love this brand! If you see these, I wouldn't hesitate to pick them up. If I needed new measuring spoons or cups I would gladly buy these. They were marked down to $16.97.
More holiday kitchen items marked down, these were only $16.97.
Screaming deal on the 3-pack of Contigo water bottles, these were only $9.97 for a 3-pack.
$14.97 for a 2-pack of ThermoFlask Stainless Steel water bottles.
The Tommy Hilfiger jackets for kids were down to $16.00.
Men's Eddia Bauer down jackets were $54.97
Kids Eddie Bauer jackets were down to $14.97. Such a great deal! These are reversible too.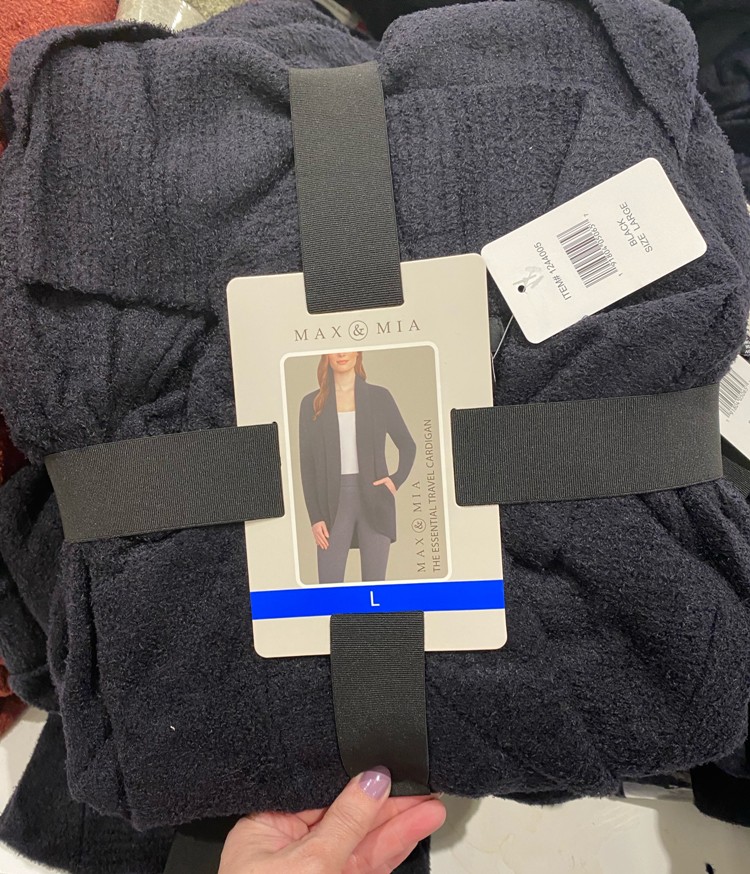 These cardigans for women were down to $9.97. It's super soft, it seems kind of like a Barefoot Dreams dupe to me (maybe not as thick).
Fleece jackets for kids were down to $9.97.
These socks are so soft and totally worth picking up for only $4.97.
These slipper socks are marked down to $6.97 for 2 pair.
I love these! These are marked down to $9.97 for all five.