We may earn money or products from the companies mentioned in this post.
Here is a peek at some of the new items, coupon savings and markdowns you can find at Costco in September. A new Costco coupon book was released and the coupon savings are valid through September 25th. Keep in mind that Costco prices may vary a little by region.
Here are couple of Costco tips for you: If an item ends in 7, it is Costco's version of a clearance item. Also, if you notice an asterisk in the top right hand corner of the sign with the price, that means it is a seasonal item and will not be stocked again (it may come back next year, but it won't be re-stocked after the current supply is depleted).
New Items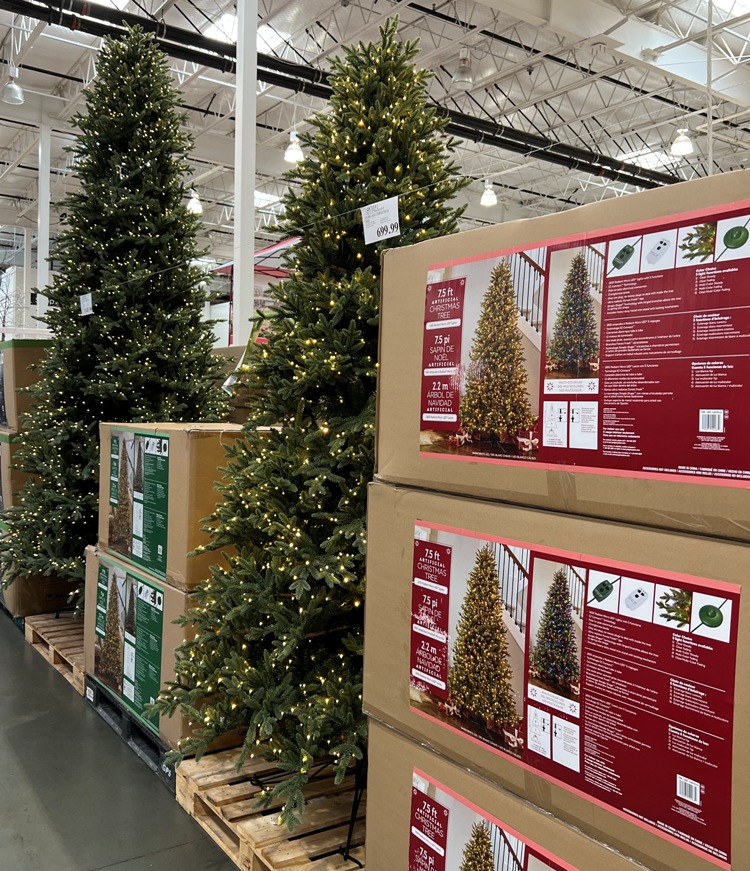 Christmas items are already showing up in stores if you want to shop early for your Christmas tree you can get the following sizes:
7.5 ft. Pre-Lit Christmas tree $499.99.
9 ft. Pre-Lit Christmas tree $699.99.
12 ft. Pre-Lit Christmas tree $1149.99.

This musical Disney Holiday House that lights up is $129.99. Yikes!! That's kind of pricey!

This Holiday Decorative Deer Set is $49.99.

When fall comes around, so does the Pendleton! Lots of new Pendleton items in stores right now. These Pendleton Stanley 1.5 qt Thermal Bottles are $23.99.

Get the 4-pack of Pendleton Collectible Mugs for $21.99.

I'm always into making my house more organized so I am happy when I find new item. This Idesign Packet Organizer 2-pack is $14.99.

Portable Lap desk with memory foam and ring light is $36.99.

Pendleton 5-piece Queen Comforter Set $99.99 and the 5-piece King Comforter set $109.99.

Pendleton Sherpa Twin Blanket is priced at $21.99.

Original Vintage Outdoor Blanket w/detachable hood is kind of cool and priced at $34.99.

New boots for women, these Staheekum Dry-Trek Chelsea Boots are $27.99.

There are SO MANY LEGO sets at Costco right now. I'm not even showing all the options, but here are a few of the ones available. LEGO City Police Mobile Command Truck set is $34.99.

LEGO Creator 3-in-1 Noodle Shop set $34.99.

LEGO Ninjago Ninja Dojo Temple set $79.99.

LEGO Harry Potter The Ministry of Magic set $79.99.

LEGO Infinity Saga Collection set $99.99.

LEGO Disney Princess Ultimate Adventure Castle Set $79.99.

LEGO Friends Olivia's Space Academy $54.99.

LEGO Ninjago the Crystal King $54.99

There are lots of other toys too in order to prep for the holidays. This NERF Elite 2.0 Ultimate Blaster Pack is $31.99.

Get an American Girl Wellie Wishers set for $99.99. The accessories are all the same in these sets but the dolls are different.

Cabbage Patch Kids Collectible Cuties $19.99.

Squishmallows All About Squish Activity Set $27.99.

This sounds yummy! Let me know if you've had this Avocado Cream Cheese Dip for $6.99.
Monthly Savings

Save $40 on the Ninja Foodi Smart XL 6-in-1 Indoor Grill and pay $149.99 (reg $189.99). I haven't met a Ninja appliance I don't love.

Get the Nordic Ware Baking Sheets 3-pack for $19.99 (reg $24.99). I own this set and I am quite pleased with it. I love the fact that it comes with a smaller pan that I can use in my Ninja Air Fryer.

Kohler Stainless Steel Step Trash Bin is on sale for $59.99, you save $20.

Eddie Bauer Ladies 3-piece Lounge Set is on sale for $15.99 (reg $19.99). Save $4. There are tons of colors and pattern options.

Here is a super deal! Get the 32 Degrees Men's Vest for only $11.99 (reg $14.99).

There are some pretty big savings on the Kind Nut Bars Variety Pack, save $6 and pay $15.69.

Skinny Pop Organic Popcorn is a staple at our house, it's on sale for $4.19 (reg $6.69). Save $2.50.

Amylu Andouille Paleo Sausage is $4 off and priced at $11.59. These sounds yummy! I haven't tried them yet, if you have let me know what you think.

Sonoma Creamy Alfredo Sauce 2-Pack $8.49 (reg $11.69). Save $3.20.

This month, if you spend $100 on P&G products you'll get a $25 Costco shopping card. The great thing is that so many of the P&G items are also on sale. Here are a couple of items that are part of the special promotion. Olay Essentials Botanicals Body Wash 3-pack $10.99 (reg $14.99). Save $4.

Oral-B Advanced Toothbrushes $9.99 (reg $14.99). Save $5. I often pick these up when they go on sale to have them on hand for when people visit.
Markdowns

This Tramontina Cast Iron Fajita Set is marked down to $15 now. This is a great Christmas gift idea!!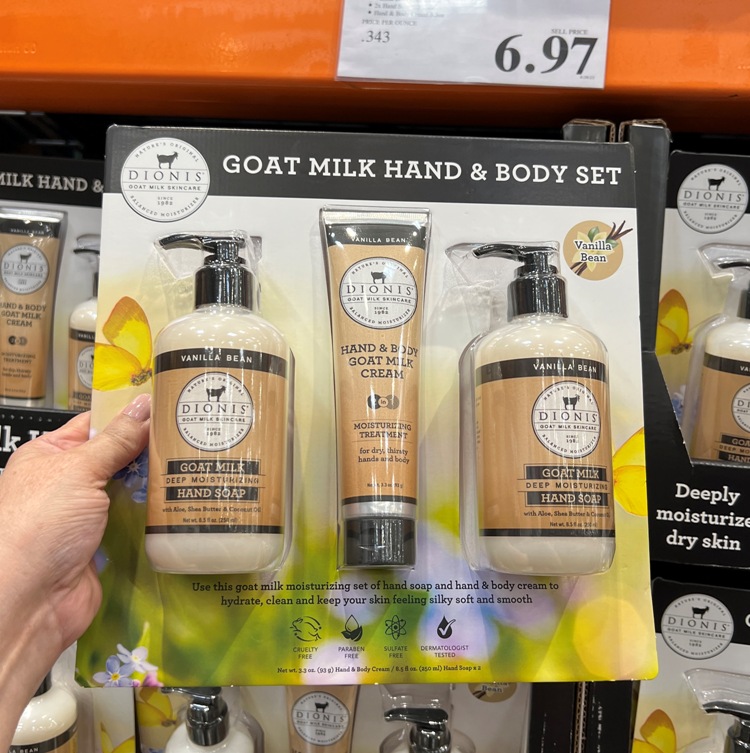 I found Dionis Goat Milk Hand & Body Set marked down to $6.97.

My store had tons of the Coppertone Complete SPF 30 Sunscreen 2-pack marked down to $9.97.