We may earn money or products from the companies mentioned in this post.
Here is a peek at some of the new items, coupon savings and markdowns you can find at Costco in October. October brings lots more merchandise for the holidays! A new Costco coupon book was released and the coupon savings are valid now through October 25, 2020. Keep in mind that Costco prices may vary a little by region.
Here are couple of Costco tips for you: If an item ends in 7, it is Costco's version of a clearance item. Also, if you notice an asterisk in the top right hand corner of the sign with the price, that means it is a seasonal item and will not be stocked again (it may come back next year, but it won't be re-stocked after the current supply is depleted).
New Items
Costco has Pyrex containers with Mickey, Star Wars and The Child from the Mandalorian. These are priced at $17.99 for a set and THEY WILL GO QUICK!! These were on Costco.com, but they have already sold out.
I love this new Bake & Store set from Ello, it's priced at $21.99.
Another items that will probably go quick are these 4-piece kitchen bins thanks to The Home Edit on Netflix. These are $19.99. They have had these in once before (I know because I bought them a year ago).
Another hot item (there was a pun there) are these hot color-changing cups. These are $14.99 for the 12-pack. They had some cold cups in the summer and they went super quick.
Hello! Costco has UGG boots! I only found this navy color at my store, but these were priced at $109.99.
Some new Lucky Brand sweatshirts for the kids, these have warm fleece on the inside and are priced at $12.99.
I thought this women's Lucky Brand flannel was pretty. And hey! It matches my nail polish. It's priced at $12.99, there are other color options, but I loved this one the best.
How cute is this women's sleep set? It is $19.99.
Wow! These men's holiday sweater are priced at only $14.99. That's crazy!
American Girls are once again back at Costco. There are 3 different girls to choose from and they are $119.99.
The cute American Girl camping set is ****
They also have Wellie Wishers in three different styles too, these are $99.99
The Wellie Wishers vehicle set is $69.99.
Bitty Baby set is $79.99.
Frozen II doll set is $34.99.
Disney Princess Doll & Me Tea Cart is $39.99.
The price on the LOL Surprise pack is a surprise because I forget to take a pictures of the price tag! If I remember correctly (and I usually do because my brain is trained to remember prices) I think it was $44.99.
What a fun LEGO set, this is $38.99. Is it just me or does it seem like the price of LEGOs have gone way up?
Fun Magformers set with wheels is priced at $29.99.
This 3-pack Vex Robotics set is $29.99. You could take this apart and make it 3 gifts!
Playskool Heroes set totally reminds me of something my youngest would have played with when he was little. He's 16 now. Yikes! This is $16.99.
The Paw Patrol car is $99.99.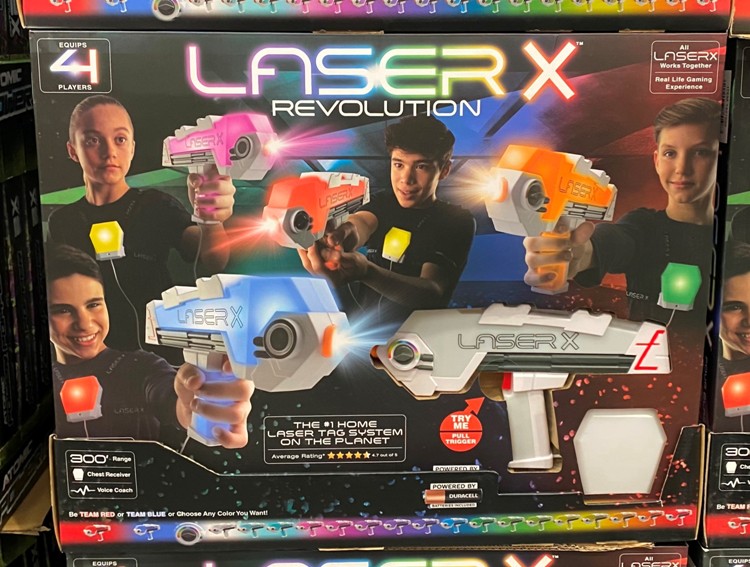 Laser X laser tag set for 4 people is $49.99. A laser tag set has always been one of the most played with toys at our house, Highly recommend it!
You can't go wrong with Hot Wheels, this set is $19.99.
Are kids still make slime? This set is $14.99.
This fun Barbie set is $42.99.
Huge Harry Potter puzzle (they also have Frozen) is $24.99.
Plush accent rug is $14.99.
Of course we have lots more fun stuff for the holidays.
These 6 lightbulb pathway lights are priced at $29.99.
I adore this cute advent calendar for $29.99.
Costco has some awesome tree collars priced at $29.99. This is a great price, these usually go for $50 or more at other stores.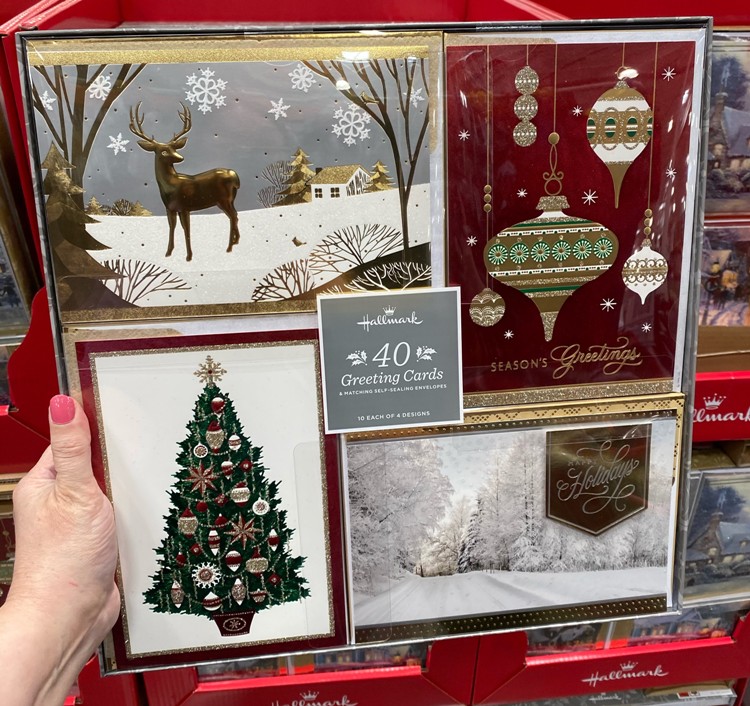 They have a fun mix of Hallmark Christmas cards for $14.99,
I love this OttLite Wireless Charging LED Table Lamp. It looks great! It's priced at $44.99. I already know someone on my Christmas list who would love this.
The Pendleton Weighted Blankets are back this year. They are priced at $69.99.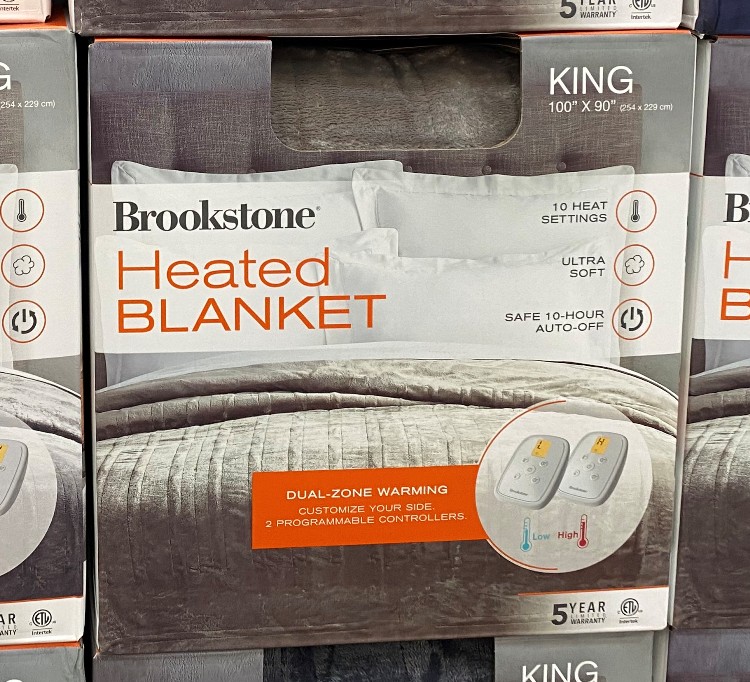 We also have Brookstone heated Blankets and throws. This blanket is $69.99 for queen and $79.99 for king.
The throws are $29.99. I think there is a decent chance we may see these go on sale next month.
During the holidays we always see lots of throws that are great for gifting! These are $16.99.
I love checking out the books at the holidays they bring in so many great sets. You know how I love to gift books at Christmas time!
Um…I want this set for myself! What a fun set for a teen or tween that also loves Disney.
Beautiful sticker book for adults. Sign me up!
I love this Whish Natural lip balm. You could divide this set up and use them as individual gifts or stocking stuffers. It's $16.49 for the set.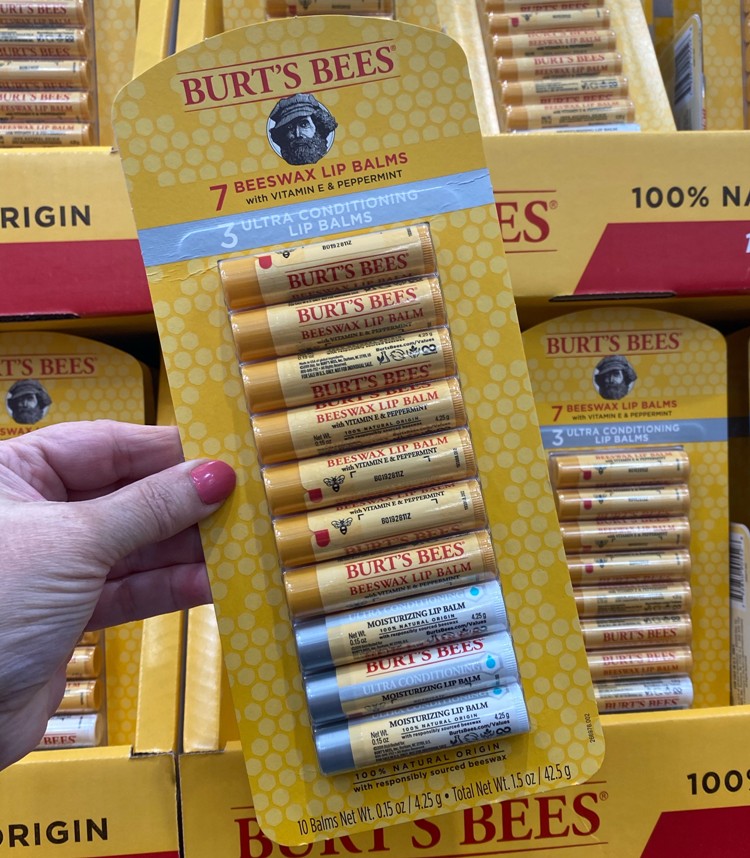 There are also packs for Burt's Bees for $16.99, that's only $1.69 per lip balm.
Cute set of RealHer makeup for $13.49
This would make a great gift, it's priced at $19.49
The return of Christmas Crack! I mean Snack Factory White Chocolate & Peppermint Pretzel Crisps. These are $6.99. I'm 99.9% sure we'll see them on sale before the holidays.
These Hershey Kisses are dressed up like santa hats and trees.
We go straight from chocolate to Fish Skins! What the heck? I have never heard of these, I don't plan on buying them EVER, however if you have tried them I'd love to hear your thoughts.
Yum! Loaded Baked Potato soup from Ivar's. I'm in the state where Ivar's is based so I am not sure if these is a local thing or not.
Have you tried these Smart Sweets yet? We really like them. These are priced at $9.99.
These aren't really new, but they are new to me. I bought them for the first time last week and I am hooked! We make a Caesar Salad (minus the parmesan cheese), add it to the wrap, add some leftover Costco deli chicken and some cherry tomatoes and we have a dinner that is low in carbs. Give them a try! Such a great alternative to tortillas. They are not cheap, they are $8.29 for a 10-pack, but totally worth it.
Frieda's Young Coconut are at Costco now. A gentlemen struck up a conversation with me regarding these coconuts, so I will give you the skinny! He primarily buys them for the coconut water on the inside, the actual meat of the coconut is very thin. These aren't like the coconuts you buy. at the grocery store. There you go! Your coconut lesson for the day. These are $2.49
Monthly Savings
First up! I don't have a photo, but I wanted to let you know about an amazing price on the Ninja Blender (my store was out). You save $20 off the regular price and get it for only $49.99. In all honestly, I think this is probably the lowest we will see this go, even with the holiday sales coming up. However, don't get made at me if a cheaper price comes up. It does look like it is available online at Costco.com.
2-pack of ThermoFlask are only $15.99 (save $4)
The popular round wood tray is back this year and it's on sale! Get is for only $23.99.
Glow stick + flashlight 8-pack is $9.99 (save $4)
Heavy duty flashlight is $17.99, save a whopping $7.
Skullcandy wireless headphones are $49.99 (save $30). I'm thinking this may be the lowest we see these go before the holidays. This is a great option of your teen wants AirPods, but you aren't ready to go there yet.
Buy this pack of scissors! We love them and you can't beat the price. Only $5.99, you save $4.
The tape is also $4 off and priced at $7.99. My hand looks kind of creepy in this shot. Sorry, not really a hand model.
There is a great deal on these men's insulated shirt jackets, they are only $13.99 (save $5).
The Moon Cheese is BOGO FREE this month, you can get 2 bags for $8.99.
Make your own charcuterie board without all the prepping. This meat and cheese tray is $9.99, you save $4.50.
Skinny Pop on sale for $3.99.
Save $4.50 and get a big box of Go Go Squeez for $10.49.
Noosa yogurt is on sale for $5.89, you save nearly $3.
Variety pack of full-size fruity candy is $15.99 (save $4)
Markdowns
These fun Ziploc bags are now only $4.97.
Women's Sherpa vests have been marked down to $9.97.
These cute PJ sets are marked down to $12.97.
Men's dress shirts are down to only $4.97
Eye trio set is down to $9.97.
Anti-Aging cream is down to $14.97.