We may earn money or products from the companies mentioned in this post.
Here is a peek at some of the new items, coupon savings and markdowns you can find at Costco in June and July. A new Costco coupon book was released and the coupon savings are valid through July 24th. Keep in mind that Costco prices may vary a little by region.

Here are couple of Costco tips for you: If an item ends in 7, it is Costco's version of a clearance item. Also, if you notice an asterisk in the top right hand corner of the sign with the price, that means it is a seasonal item and will not be stocked again (it may come back next year, but it won't be re-stocked after the current supply is depleted).
New Items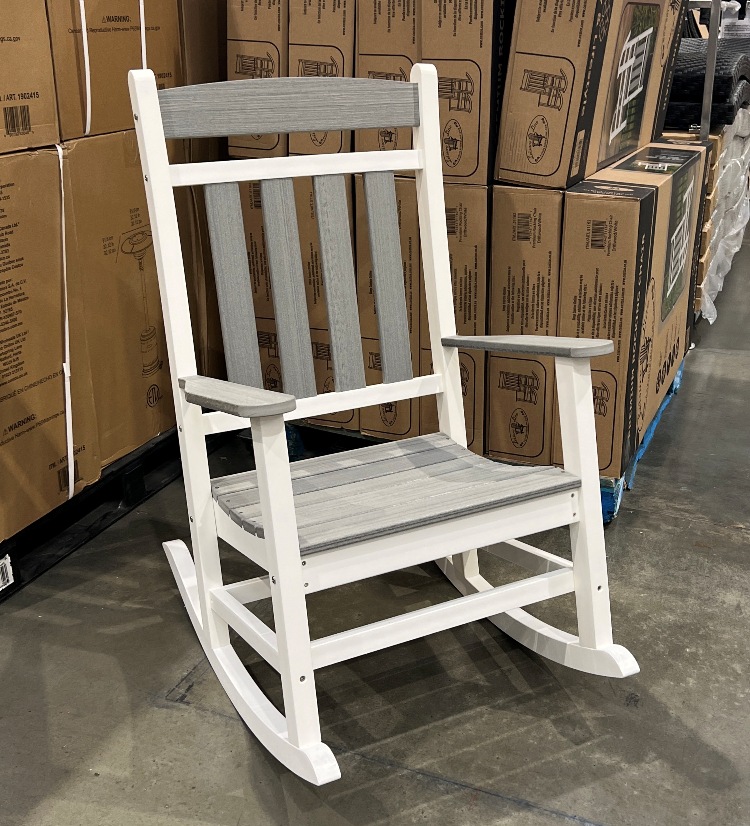 I love the look of this Leisure Lane Rocking Chair, it would be great on a front porch, it's priced at $189.99.

I found a Frigidaire Ice Maker for $89.99.

There are new styles and colors of the Reduce Cold 1 Mug 2-Packs for $26.99.

This Alptrek Outdoor Adventure Blanket is $25.99. It's water resistant so it would be great here in the rainy northwest.

Everyone raves about these WooZoo fans. They are priced at $39.99. If you are looking for a fan or air conditioner at Costco, you will need to buy them sooner rather than later, they tend to go quick once summer starts.

This Step 2 Pump & Splash Activity Water Table looks like a ton of fun, its $179.99.

Pick up a 3=pack of youth Levi's Graphic Tee for $14.99.

Costco is a great place to pick up fireworks for the 4th of July, My store had Jake's USA Party Time Poppers pack for $29.99.

New dry shampoo option with the Eva.NYC Dry Shampoo 2-Pack for $17.49. A few years ago I didn't even know dry shampoo existed and now it's a staple for me.

These Mini Raspberry Cakes look so good, they are really pretty too. Get a 6-pack for $8.99.

I found something new in the freezer section, get tehse Crispy Shredded Chicken Tacos for $13.99. I bought them and they are pretty good, especially with sour cream and fresh pico de gallo.

First there was cauliflower rice and now there is Broccoli Rice. It comes with 6 pouches for $10.99.

Yume! Thee Sorbabes Frozen Dessert Bars look amazing. They are dairy free and priced at $10.99.

I have never tried the Buffalo Wild Wings Parmesan Garlic Sauce, but it sounds delicious, a 2-pack is priced at $8.99.

Costco now carries our favorite Kinder's BBQ Sauce, but with Zero Sugar for $5.69.
Monthly Savings

I love these storage containers and this is such a great price! Get the OXO Softworks 9-Piece Food Storage Set for $49.99 (reg $69.99). Save $20.

Another OXO item we love. Is it weird to love a toilet brush? Probably! The OXO Toilet Brush 2-Pack is $16.99 (reg $21.99). Save $5. They are so handy, because the brush has somewhere to sit.

Costco has a great price on the 3-pack of Duracell Headlamps, it's $14.99 (reg $19.99). Save $5.

If you need new kitchen towels with 8-pack of Gourmet Cuisine Towels looks like a great option. It's on sale for $11.99 (reg $14.99). Save $3.

Get the Scrubbing Bubbles Bathroom Combo Pack for $9.99 (reg $13.99). Save $4. This works really well.

There is a high value $12 coupon on the Perricone MD Firming Eye Cream, get it for $19.99 (reg $31.99).

Save $10 on the Nexxus Shampoo & Conditioner pack and get it for $19.99 (reg $29.99).

Another sale price on shampoo & conditioner is on Super Nature, you will save $5 and get a giant bottle for $9.99.

We love these Healthy Choice Organic Bars and usually pick them up when they are on sale. You can save $3.50 and get these for $7.49.

The popular Cretors Cheese & Caramel Mix is on sale for $5.59, you save $2.30.
Markdowns

I found the 4 qt Tramontina Braiser Cast Iron cookware marked down to $29.97.

This set of 3 striped bowls was only $9.97. This is such a great deal, it makes each bowl only $3.33 each.

They had youth Spyder 2-piece Swim Sets marked down to $7.

Another markdown was thee Ladies Skechers Sandals for $15.97.

This would make a great gift for the hard to buy for guys on your list, This Precision Professional Stud Finder was marked down to $29.97.

Another great gifting option would be Goat Milk Bath & Body Set $6.97.

I found this StriVectin Vitamin C Moisturizer marked down to $29.97.

These Raspberry Lemon Keto Bites were only $3.97. We've bought these a couple of times, we like them.