We may earn money or products from the companies mentioned in this post.
Here is a peek at some of the new items, coupon savings and markdowns you can find at Costco in July. July brings the start of back to school supplies, new furniture and more. A new Costco coupon book was released and the coupon savings are valid from June 24th – July 26th. Keep in mind that Costco prices may vary a little by region.

Here are couple of Costco tips for you: If an item ends in 7, it is Costco's version of a clearance item. Also, if you notice an asterisk in the top right hand corner of the sign with the price, that means it is a seasonal item and will not be stocked again (it may come back next year, but it won't be re-stocked after the current supply is depleted).
New Items
One of the hottest items at Costco this month is this 12-pack of color changing cups with straw for only $14.99. The items number is 1371847. These go super fast, so if you want them and you see them in stock at your store, I would grab them.
There is a great stainless steel reusable straw set with cleaning brushes and and pouch. These are $9.99.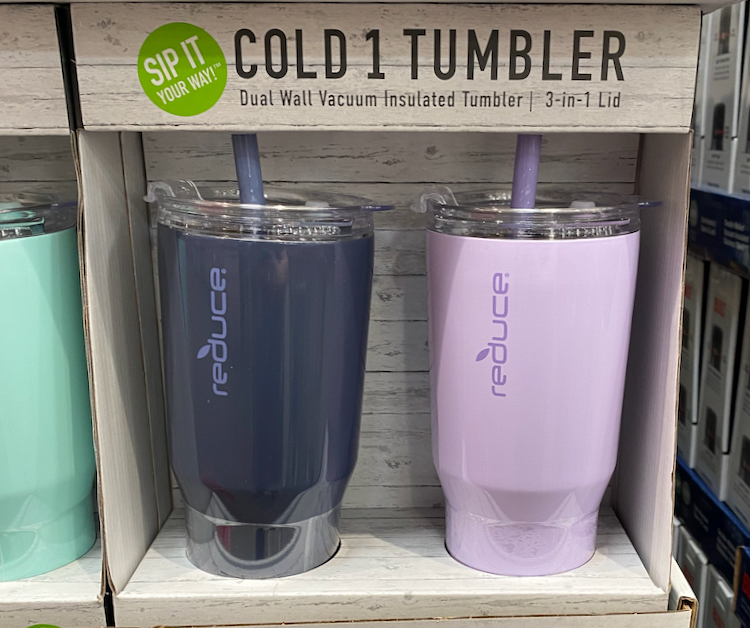 Costco has a new set of insulated tumblers in some really pretty colors. These are $16.99.
I really liked the look of this serving set, it's $18.99.
I found some Clean Elements moisturizing body wash. It's $9.99 for 3-pack. I bought these and have tried the coconut oil body wash and I wasn't super impressed with it. The scent wasn't strong enough for my liking and the wash wasn't very thick.
The popular Make Up Eraser is back at Costco. These are amazing! The cost is $19.99.
New Skechers for women. I love these memory foam shoes for when I go on vacation or have lots of walking to do. They are super comfy and you don't really need to break them in. These are $29.99.
Lucky Brand tops are $14.99.
New lightweight jacket for women, it's $19.99.
Pretty succulent planters are $19.99.
Costco has lots of new furniture pieces in, including lots of new bedding options. Bunk bed $549.99.
Upholstered King size bed $399.99.
Queen bed with storage $549.99
I love checking out the book, this one for kids looks like it would be great!
This book looks cool too!
Pocky sticks now come in a variety pack with chocolate, vanilla and strawberry for $8.99.
OOH! Something new from Hawaiian Hots, Matcha Chocolate Macadamias.
New Izze sparkling lemonade for $14.99.
Monthly Savings
I would love to hear if anyone has used these sheet sets before, because the price is amazing!!! This King set is only $15.99 (reg $19.99)
The Charisma Queen sets are only $12.99 (reg $15.99)
There is a nice sale on storage totes, get these for $6.99 (reg $8.49).
This 6-pack of stackable storage bins from Iris is $11.99 (reg $14.99). This is a great brand, they are super sturdy!
I loves these OXO Pop Containes. Save $12 on the 9-piece set and get them for $47.99 (reg $59.99).
There is big savings on this Kitchenaid blender, it's $40 off and one sale for $159.99.
Save $5 on this Built Stainless Steel set, it's only $12.99 (through 7/17).
According to Costco it's time to start thinking about back-to-school. This Funtainer lunch set is on sale for $12.99 (reg $16.99).
Save big on this lunch box, it's $6 off the regular price, It's only $9.99.
You can also save $6 on these Puma backpacks and get them for only $18.99.
We bought one of these speakers last year and it's awesome! Save $40 off the regular price and pick it up for $99.99.
It's a great time to stock up on paper plates for the summer, these are on sale for $13.29 (reg $16.99)
It's also a great time to stock up on aluminum foil, it's on sale for $13.69 (reg $17.69).
I usually always grab these Q-tips when they go on sale, it's $6.99 for this large 3-pack.
Here is something I picked up! The sale totally came in handy because we were out. This Band-Aid pack is $3.50 off the regular price, making it only $9.49. It's a great deal!
My son was thrilled that I brought home the 4-pack of Panera Mac & Cheese, it's his favorite!
We absolutely love these Sparkling Ice drinks and Costco has them for a super price! The Lemonade variety pack is only sale for only $8.09 for an 18-pack.
Now is a great time to pick up Honey Maid graham crackers for summer S'mores making. They are on sale for $5.49 (reg $7.99). Speaking of S'mores, we have a fun twist on S'mores that I will be sharing on the blog soon. They are so yummy! So, keep you eyes peeled for that!
Another family fave are the Stacy's Pita chips. They are only $3.99 (reg $6.79).
We also love the Healthy Choice Fudge bars that on sale for $7.49 (reg $10.99).
Skinny Pop is also on sale this month, it's $3.99 (reg $5.99).
Another nice food item that is on sale is the Chobani yogurt, get 16 cups for $8.99. You save $4.
The Kinder's BBQ Sauce is a must buy in my book, it's so good! Even better, it's on sale for $5.49 through 7/12.
Markdowns
Bamboo Anti-Breakage Thermal Protectant Spray was marked down to $4.97.
This cute Honeydew PJ set was marked down to $12 (reg $16.99).
These J Sport sandals are now only $9 (reg $16.99).
I found lots of luggage marked down at my Costco. I guess they figure people aren't really looking to travel right now. This Samsonite Tech Two set was down to $149.97.
This Samsonite set was marked down to $99.97.
This huge outdoor lantern was $69.97.