We may earn money or products from the companies mentioned in this post.
Here is a peek at some of the new items, coupon savings, and markdowns you can find at Costco in December. I noticed lots of markdowns in the toy department, I assume we'll see even more markdowns as it gets closer to Christmas. A new Costco coupon book was released and the coupon savings are valid through December 24th. Keep in mind that Costco prices may vary a little by region.
Here are a couple of Costco tips for you: If an item ends in 7, it is Costco's version of a clearance item. Also, if you notice an asterisk in the top right hand corner of the sign with the price, that means it is a seasonal item and will not be stocked again (it may come back next year, but it won't be re-stocked after the current supply is depleted).
New Items

These Live Spruce Trees in a basket are so cute. I love that this can be used in your home for the holidays and later you can plant it outside. It's $36.99.

This pretty Holiday Garden is $24.99. It's perfect for a hostess gift.


I am in love with these glasses, they are absolutely stunning! The set of 8 Fortessa Jupiter clear tumblers is $36.99.

Ooh! I spotted this Columbia Ladies Pullover for $31.99. It also comes in a solid black and a cream color.

This Weatherproof Ladies Vintage Fairisle Sweater comes in a couple of great colors and is priced at only $15.99.

the 65-pack of Sharpie Ultimate Collection Markers is $29.99. Great gift idea for a teen.

There are so many new books at Costco right now that would be great for gifting! Get Joanna Gaines The Stories We Tell for $18.99.

Inside Bridgerton is $26.99.

This cookbook is HUGE! We own a ton of American's Test Kitchen cookbooks and they are so goo. The Complete America's Test Kitchen TV Show Cookbook is $29.99.

For the Harry Potter fan! Get Harry Potter The Magic of Minalima book for $29.99.

Another great option for Harry Potter fans!. This Harry Potter Baking Book looks like a ton of fun and is only $12.99.

You can't go wrong with LEGO! The LEGO Ideas and Game Collection is $22.99.

The Learning Library Sets are $13.99. I actually found these sets back with the toys.

Gift idea for the puzzle loving fans in your life. This 4-pack of Dowdle mini wooden puzzles is $29.99.

The big Sledz Mega Disk Sled is priced at $44.99.

Looking to stay warm this winter? Costco has the Vornado Automatic Whole Room Vortex Heater & Fan for $89.99.

Just buy these! The Fannie May Peppermint S'mores are so good! They are $10.89.

Great gift idea with the Lindt North Pole Friends Chocolate $14.49.

Cute Mini Gingerbread Cakes $9.99.

Interesting new find…White Rabbit Ice Cream Bars for $11.99. Has anyone had these?

Another new food find for you…Lobster Rolls $44.99.
Monthly Savings

I own this and I love it! My favorite feature is that if folds up so it doesn't take up a ton of counter space. Get the Ninja Foodi 9-in-1 Air Fry Toaster Oven for $139.99 (reg $179.99). Save $40.

Another great Ninja item. The Ninja Foodi Premium 12-piece Non-stick Cookware Set is on sale for $199.99 (reg $249.99). Save $50.

Snapware 18-piece Pyrex Glass Food Storage Set is $5 off and priced at $19.99 (reg $24.99).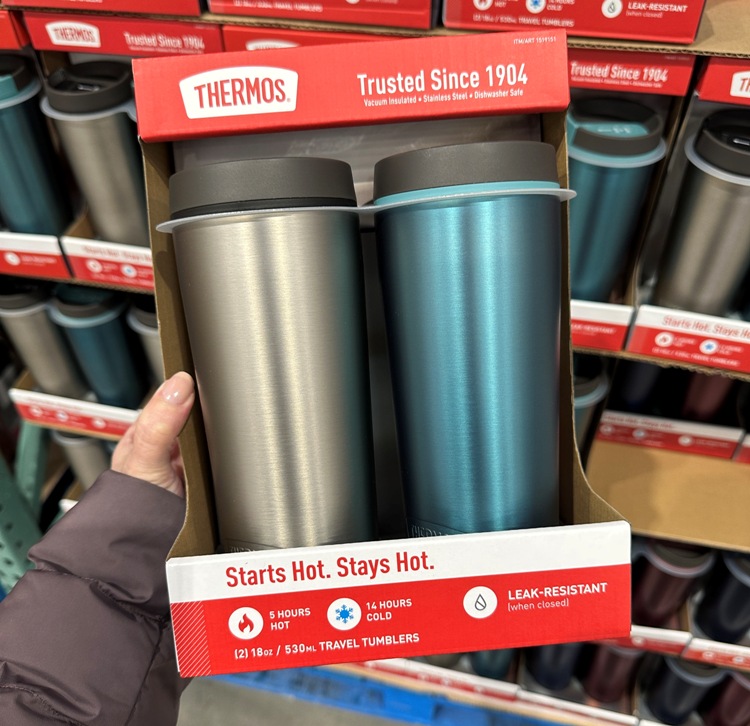 Nice $6 savings on the 2-Pack of Thermos Travel Tumblers $16.99 (reg $22.99).

These throws would be great for gift. The Monte & Jardin Plush Throw Blankets are priced at $12.99.

Nice price on the Spyder Core Conduct Gloves, they are$11.99 (reg $15.99). Save $4.

Get 5 pairs of Weatherproof Vintage Men's Crew Socks for $8.49 (reg $11.49). Save $3.

2-pack of Aquaphor Advanced Therapy Healing Ointment + 1 Lip Repair Stick is priced at $12.49 (reg $17.99). Save $5.50.

9-pack of eos lip balms for $11.99 (reg $14.99). Save $3. You can also choose from an 7-pack of the eos Sphere lip balm at the same price.

Yum! Ghirardelli Chocolate Assortment Squares are on sale for $9.99 (reg $13.49). Save $3.50.
Markdowns

Some of the Christmas decor has been marked down, this set of 2 Holiday Deer Decorative Figures is now $29.97.

This is a super deal!! Get a Cricut Joy Bundle for $79.97. The set includes the Cricut Joy, Cart Mat, Starter Tool Set, Fine Point Pens, Smart Iron-on, Smart Vinyl, Innsert Cards & Transfers tape.

Some LEGO sets have been marked down, one of the sets marked down at my store is the LEGO Star Wars Obi-Wan Kenobi vs. Darth Vader for $29.97.

There are tons of markdowns in toys, the Laser X Blaster 4-Player Set is now $39.97.

The NERF Elite 2.0 Ultimate Blaster Pack is marked down to $19.97.

Fun gift idea for the kiddos! Marvin's Magic 400 Tricks & Illusions is $19.97.

I found the Star Wars Grogu The Child Bundle marked down to only $9.97.

WOAH! Huge $40 savings on the KidKraft Treehouse Retreat Mansion Dollhouse, it was $99.97, but now only $59.97

Disney Encanto Mirabel & Isabela Doll set is now $19.97.

The Story Magic 2-in-1 Dress-Up Doll Playset is marked down to $14.97.

I found this 2-Pack of Olay Serum marked down to $19.97.