We may earn money or products from the companies mentioned in this post.
Here is a peek at some of the new items, coupon savings and markdowns you can find at Costco in August. A new Costco coupon book was released and the coupon savings are valid through August 28th. Keep in mind that Costco prices may vary a little by region.
Here are couple of Costco tips for you: If an item ends in 7, it is Costco's version of a clearance item. Also, if you notice an asterisk in the top right hand corner of the sign with the price, that means it is a seasonal item and will not be stocked again (it may come back next year, but it won't be re-stocked after the current supply is depleted).
New Items

I found some fun Halloween themed hot cocoa bombs, these White Chocolate Cocoa Bombs are priced at $19.99.

It's August, so of course there's going to be Halloween costumes, right?

You can pick up these Harvest Decorative Throw Pillows for $10.99. There are several different designs.

Costco has several cute accent rugs priced at $19.99.

This Harvest Pumpkin set is….$74.99. I think that price is crazy high, I"m not sure why they are so expensive. They are larger then they appear in the photo, but I'm not sure they are worth $75.

More holiday decor with this 28″ Berry Wreath priced at $59.99.

This candle is huge and priced at $19.99. It comes in two different scents.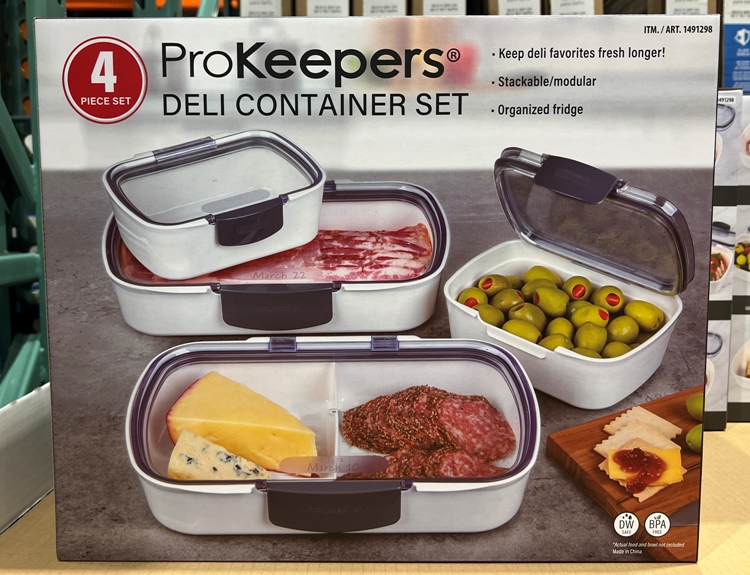 I picked up this Prokeepers Deli 4-Piece Container Set for $24.99. I've actually been wanting these for awhile now and I was thrilled to find them in a set at a great price.

There's more refrigerator storage items, get the Mesa Covered Egg Holder 2-pack for $13.99.

Cute new Munchkin 18-piece dinnerware set is $19.99.

These 32 Degrees Ladies Packable Vest are a great deal at only $13.99.

We're seeing more fall clothing showing up, this Sage Ladies Plush Shirt Jacket is $14.99. It comes in several great plaid colors.

This Eddie Bauer 1/4 zip plush pullover is $16.99.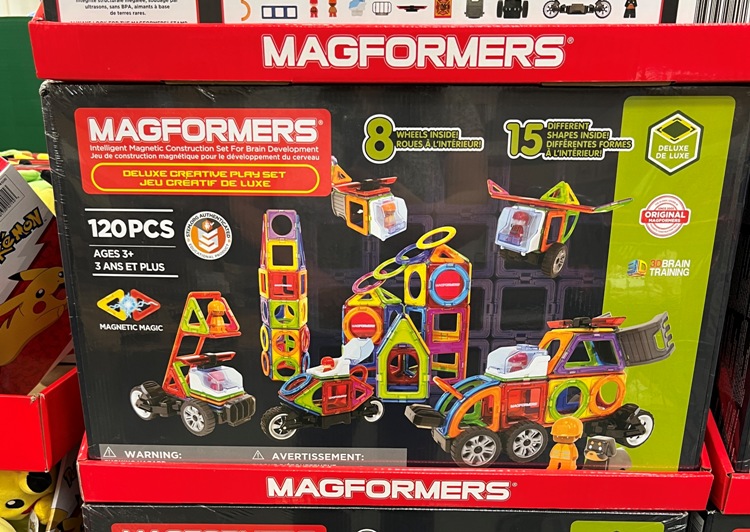 We are starting to see some new toys, this Magformers 120-piece Set is priced at $99.99.

This fun LEGO Classic 1700-piece Set is $54.99.

Get the cute Play-Doh Kitchen Creations Ice Cream Truck Bundle for $89.99. This looks like fun, but I'm not so sure on the Play-Doh aspect of this toy.

This Craft & Main Westbury Accent Console is gorgeous and priced at $699.99. You can actually switch out the panels in the front to solid or glass.

Another furniture item I love! This table set is $879.99.

Here's a dupe for the Brazilian Bum Bum Cream, this 2-pack of Nutrius Brazilian Body Butter is $19.99.

Yum! These Alden's Organic Orange Cream Bars are new and are priced at $10.79. We've had their Root Beer Ice cream bars and we love them, so I picked up a box of these.

There is a new muffin flavor…Coffeecake Muffins.
Monthly Savings

This month they have a great deal on this Pyrex 8-piece Glass Mixing Bowl Set, it's on sale for $12.99, you save $5.

There is also a great deal on the ThermoFlask 2-pack Water Bottles, get them for $13.99 (reg $17.99).

Berkshire Life Down Alternative Blanket is only $16.99 for the King size and $13.99 for the Queen size, you save $8.

These men's Weatherproof Flannel Shirts are priced great at only $10.99 (reg $13.99). Pick up a couple and get some Christmas shopping done early for some of the guys on your list!

I always wait until there is a sale on Ziploc bags to buy them at Target. Get the Ziploc Variety Pack 347-count for only $12.89 (reg $16.39).

There is a $2.70 coupon for the Clorox Disinfecting Mist & refills, it's only $10.79

WE love this lotion and use it regularly! Aveeno Daily Moisturizing Lotion 2-pack has coupon savings of $4.50. They are on sale for $11.99.

Rip Van Wafels are a low sugar alternative to regular cookies. Get the bag for $5.99 with the $3 savings. I bought these, they are heavy on the cookie portion and light on the filling, so they are a little dry, but they aren't bad. I'm liking them for when I want a little something sweet but I don't want all the sugar.

These we love!! But I'm trying to eat less sweets, so I'm sticking with the Rip Van Wafels I mentioned above, but I would much prefer to eat these Coconut Almonds with Dark Chocolate. This month you can save $4.20 and get them for $9.79.

I also picked up the The Laughing Cow Light Spreadable Cheese Wedges for $5.99 (reg $9.49). Save $3.50.

I haven't tried this pasta sauce before, so if you have let me know what you think. The Victoria Organic Marinara Sauce 2-pack is $8.29, you save $3.20.

We pretty much love everything Kinder's makes and we love this Kinder's The Blend Seasoning, get it for only $4.49 (reg $5.99).
Markdowns

These Cast Iron Fajita Sets were marked down to $24.97 at my store. This is a great gift idea!

I found these Champion Unisex slides marked down to $9.97.

This Solar Escape Sun Protection Hat was only $5.00.

I found a 2-pack of DKNY Seamless Bralettes for only $7.00.

Here's a great deal! The 3-pack of Tom's of Maine Children's Toothpaste was $5.97.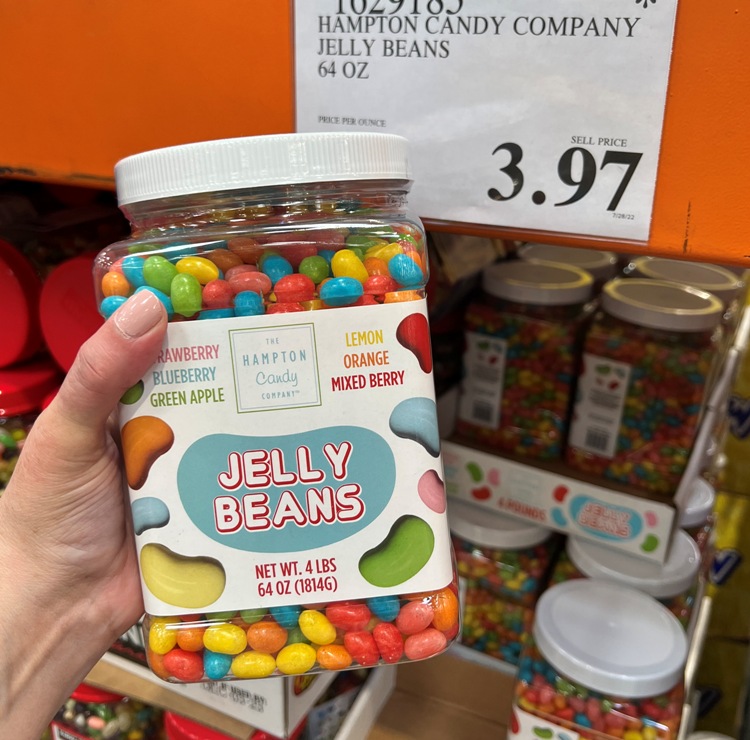 The Hampton Candy Company Jelly Beans was marked down to $3.97.