We may earn money or products from the companies mentioned in this post.
Here is a peek at some of the new items, coupon savings and markdowns you can find at Costco in August. August brings some furniture and the start of the fall items! This is a big month for clearance in the clothing department too! A new Costco coupon book was released and the coupon savings are valid now through August 30th. Keep in mind that Costco prices may vary a little by region.

Here are couple of Costco tips for you: If an item ends in 7, it is Costco's version of a clearance item. Also, if you notice an asterisk in the top right hand corner of the sign with the price, that means it is a seasonal item and will not be stocked again (it may come back next year, but it won't be re-stocked after the current supply is depleted).
Not a Costco member?There is an awesome Costco membership offer on Groupon if you are a new member (or if your membership cancelled prior to April 2020). Get a year membership to Costco for $60 and get a $40 Costco Cash card (gift card) and a coupon for $40 off $250 purchase online at Costco.com. I have been a Costco member FOREVER and I love it so much. It's one of my favorite places to shop. The deals are great and they have an awesome return policy. You are essentially paying $60 for the membership and getting $40 back in a gift card. If you have been thinking about a Costco membership I would jump on this deal! In order to qualify for the extras you must new members must sign up for auto-renewal of the Costco membership using a Visa credit or debit card.
New Items
Here is a peek at some of the new items I found at Costco this month.
There is a lot of new furniture at Costco right now. I fell in love with this dining room table! It even has a leaf built inside the table so it gets even bigger. We have a large family so we need a big table. I was planning on buying it, but unfortunately my husband is tall and the way the legs were under the table made it uncomfortable for him. I figure I could get a new husband or choose a different table. It was a hard decision, but I decided to look for a different table.
Another table option for $899.99.
I loved the look of this Accent Console, it was $399.99.
I thought this fireplace console was an interesting combination. It's priced at $499.99.
The LED Wax Candles are back! These show up every year just before fall. They are currently $29.99, but we usually always see a coupon sale on these at some time.
There are some new OXO Pop Cereal containers. These are $19.99 for a set of two.
Some new tropical plants for only $16.99.
Branches with lights for $22.99.
Halloween is in the house! This huge pumpkin with lights is $27.99.
Banjo playing skeletons (I'm sure these are on everyone's list) are $79.99.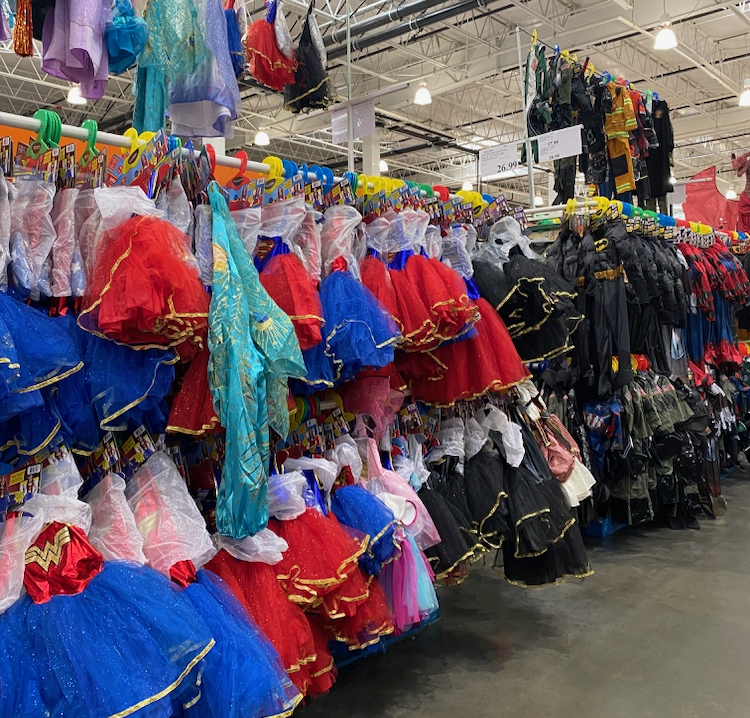 Of course, we also have all the fun Halloween costumes. I'm curious, how many people think trick or treating will be a thing this year?
Get a 8 pack of Life Gear reusable glow sticks for $13.99.
This was an interesting new item I found, the Cubii Compact Elliptical. You can work from home and get a workout at the same time. This isn't cheap, it's price at $169.99.
I found a fun new Avengers LEGO set for $24.99.
These Calvin Klein Dip-Dye hoodies are cool and priced at $19.99.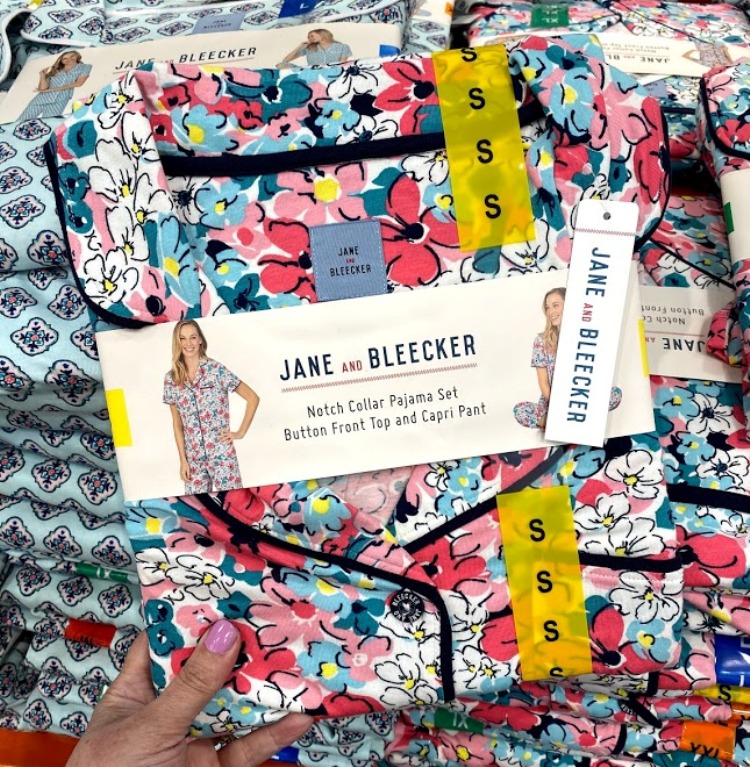 Fun new pajama sets from Jane and Bleecker for $16.99. They are super soft and come in several different prints.
There was a plush throw for our favorite college team! This was $24.99.
New Chenille Throws from Nautica for $19.99.
Here is a peek at some of the new food items I spotted at my Costco this month. We love the Nature's Bakery Oatmeal Crumble bars so I was happy to see these. They are $9.99 for the box.
These are new…PeaTos! You get "junk food" taste made from peas. If anyone has had these, let us know how they are. They are priced at $6.69 for the bag.
Chocolate gets me every time! I brought home these Unreal Dark Chocolate Coconut Minis, they are pretty good. They are $9.89.
Monthly Savings
Take a peek at some of the savings this month at Costco.
This 8-piece glass mixing bowl set is only $11.99, you save $3.
Save $4 on the Snapware 38-piece set and pay only $15.99.
Need a new blender? This NutriBullet set looks like a great option. It's $79.99 (save $20).
Costco has a super deal on these women's Adidas shoes, I own them and love them! Save $8 and get them for only $21.99.
These Adidas sweatshirts are also a great deal, only $17.99 after the $7 instant savings.
The color in the photo is way off on these, they are black and navy. Women's Fila Joggers are $9.99 (save $3).
Plackers flosser are only $6.99 (reg $9.99).
There are lots of deals on Ziploc sandwich and freezer bags. Prices range from $8.99 – $10.89.
Super price in the Ecos laundry detergent, 225 loads for $9.49 (save $3.50).
YUM!!! We love these and they are part of the coupon savings this month. The Coconut Almonds with Dark Chocolate are on sale for $8.99 a bag, you save $3.90.
Black Forest Gummy Bears are also on sale for $8.99 (reg $12.99).
I'd love to hear your thoughts on these RXBars if you've tried them. I'll probably buy one at the grocery store to see if we like them first before I commit to an entire Costco sized box (does anyone else do that)? These are on sale for $14.49 (reg $19.99). That's some pretty big savings.
The Gnocchi Skillet Kit has returned and has a savings of $2.50. We tried this and liked it, it is a nice change of a side dish rather than potatoes or rice.
Gotta love Veggie Straws! These are on sale for $5.49, save $2.
Are you kids heading off to school or staying at home? My son told me he still wants me to buy Capri Sun even though he's doing school at home this year. I only ever let him use them in his school lunches and now he figures he has no chance of having them if he's not heading to school. LOL! These are on sale this month for $6.99 (reg $9.99).
Chicken Melts are on sale this month too. Save $3 and pay $7.89.
This sale was perfect timing for me, we were out of mayo. Save $2 and pay $4.75.
Markdowns
These are the markdowns I spotted at my Costco. Keep in mind these will vary from store to store. Make sure you check out the clothing department, I found so many amazing deals. They are clearing things out to make room for new fall merchandise.
Crest White Strips packs were $29.97.
Crabtree & Evenlyn Shower Get set was down to $14.97.
Box Grater and Mandolin was down to $19.97.
Contigo 3-pack of water bottles is a super deal for $9.97.
This serving tray was down to $19.97.
This 5-piece serving set is now $9.97.
Stoneware bowls from Mikasa $9.97
Adidas backpacks for $19.97.
Adidas Lunch bags for $9.97.
5-pairs fo women's socks for $4.97.
Wow! This was a steal! Men's Izod shoes were only $7.97.
Sperry men's flip flops were $14.97.
These women's Gloria Vanderbuilt Amanda jeans were down to only $4.97!!!! That is crazy low.
These sweater tanks were also only $4.97.
Skeckers Ladies Knot Tee also only $4.97. So many deals for the ladies!!
Ladies v-neck tees. Guess how much? $4.97!!
Two-piece sleeper set for only $6.97.
English Laundry pants for men for $14.97.
Urban Star denim for men $12.97