We may earn money or products from the companies mentioned in this post.

These cookie bars are a crowd pleaser! The m&m's on top give them a festive touch, in fact, you could switch up the colors to match whatever holiday you are celebrating!
Christmas Cookie Bars
For the crust:
3 cups flour
1 1/2 cups sugar
1 tsp baking powder
1 cup butter
2 eggs
1 tsp almond extract
For chocolate filling:
2 cups semi sweet chocolate chips
8 oz cream cheese, softened
2/3

cup milk
1 cup slivered almond or chopped walnuts
1 cup red and green mini M&M's
Grease 9×13 pan with shortening or use non-stick cooking spray. Set aside

Mix together flour, sugar, and baking powder and set aside. Cut butter into small pieces. With mixer beat on low speed blend butter, eggs and almond extract. Mix together, until just combined do not over mix. Add 2/3 of flour mixture and gently press down the mixture into bottom of prepared 9×13 pan. You will be saving 1/3 for the top of the cookie bars.

For Filling, add cream cheese, chocolate chips, and milk in a microwave safe bowl. Microwave for 30 seconds, stir and continue to microwave in 30 second intervals until completely mixed. Add nuts and pour chocolate filling over prepared crust.

Sprinkle remaining 1/3 crust mixture evenly over the top. Sprinkle M&M on the top and gently press down into crumb mixture. Bake at 350 degrees for 45 minutes, let cool and cut into small squares. Store in Refrigerator. Enjoy!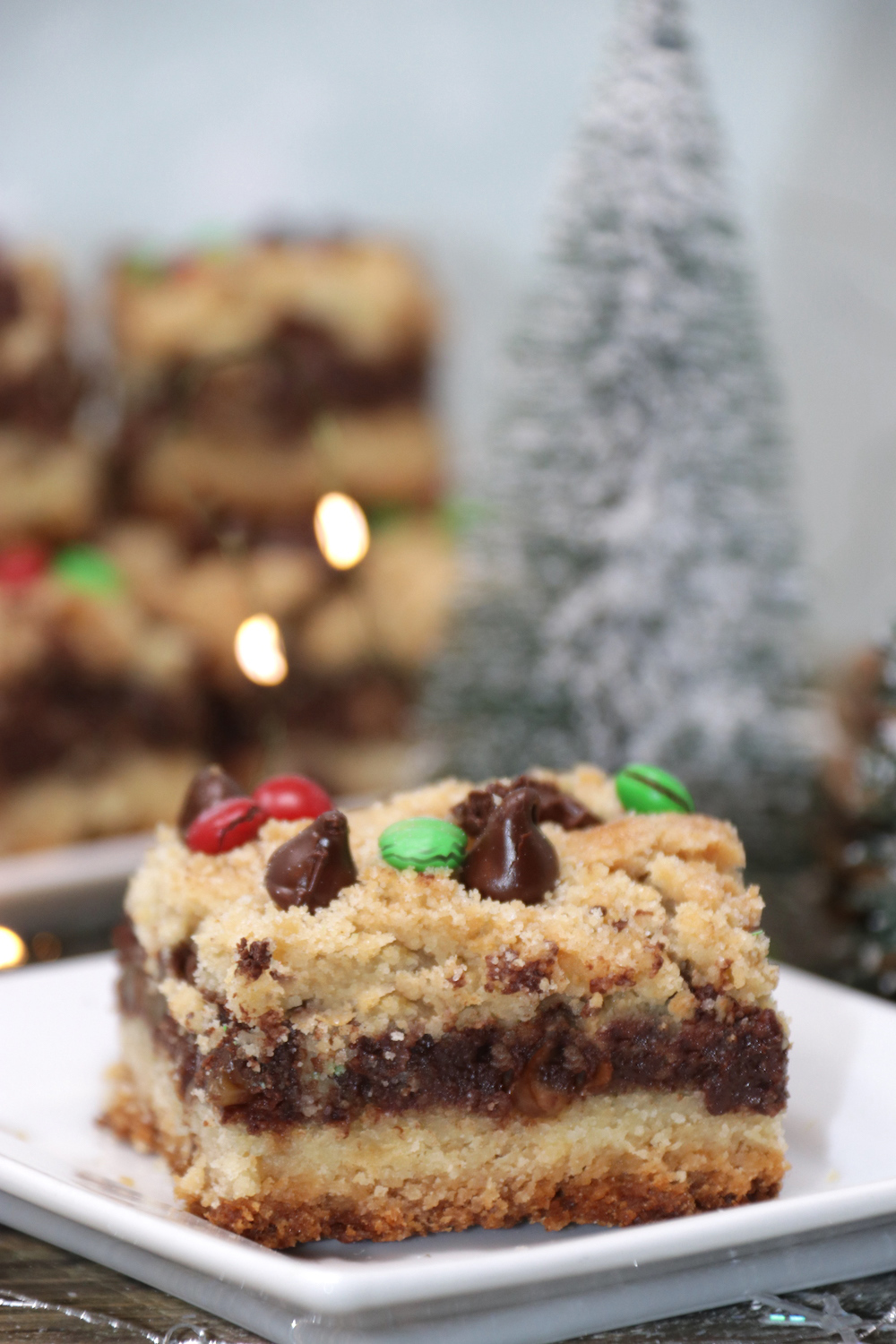 Print

---
Description
These Christmas Cookie Bars are sure to be a crowd pleaser!
---
For the crust:
3 cups

flour

1 1/2 cups

sugar

1 tsp

baking powder

1 cup

butter

2

eggs

1 tsp

almond extract
For chocolate filling:
2 cups

semi sweet chocolate chips

8 oz

cream cheese, softened

2/3

cup milk

1 cup

slivered almond or chopped walnuts

1 cup

red and green mini M&M's
---
Instructions
Grease 9×13 pan with shortening or use non-stick cooking spray (set aside)
Mix together flour, sugar, and baking powder, set aside
Cut butter into small pieces
With mixer beat on low speed blend butter, eggs and almond extract
Mix together, until just combined do not over mix
Add 2/3 of flour mixture and gently press down

the

mixture into bottom of prepared 9×13 pan
For Filling
Add cream cheese, chocolate chips, and milk in a microwave safe bowl
Microwave for 30 seconds, stir and continue to microwave in 30 second intervals until completely mixed
Add nuts and pour chocolate filling over prepared crust
Sprinkle remaining crust mixture evenly over the top
Sprinkle M&M on the top and gently press down into crumb mixture
Bake at 350 degrees for 45 minutes, let cool and cut into small squares
---