We may earn money or products from the companies mentioned in this post.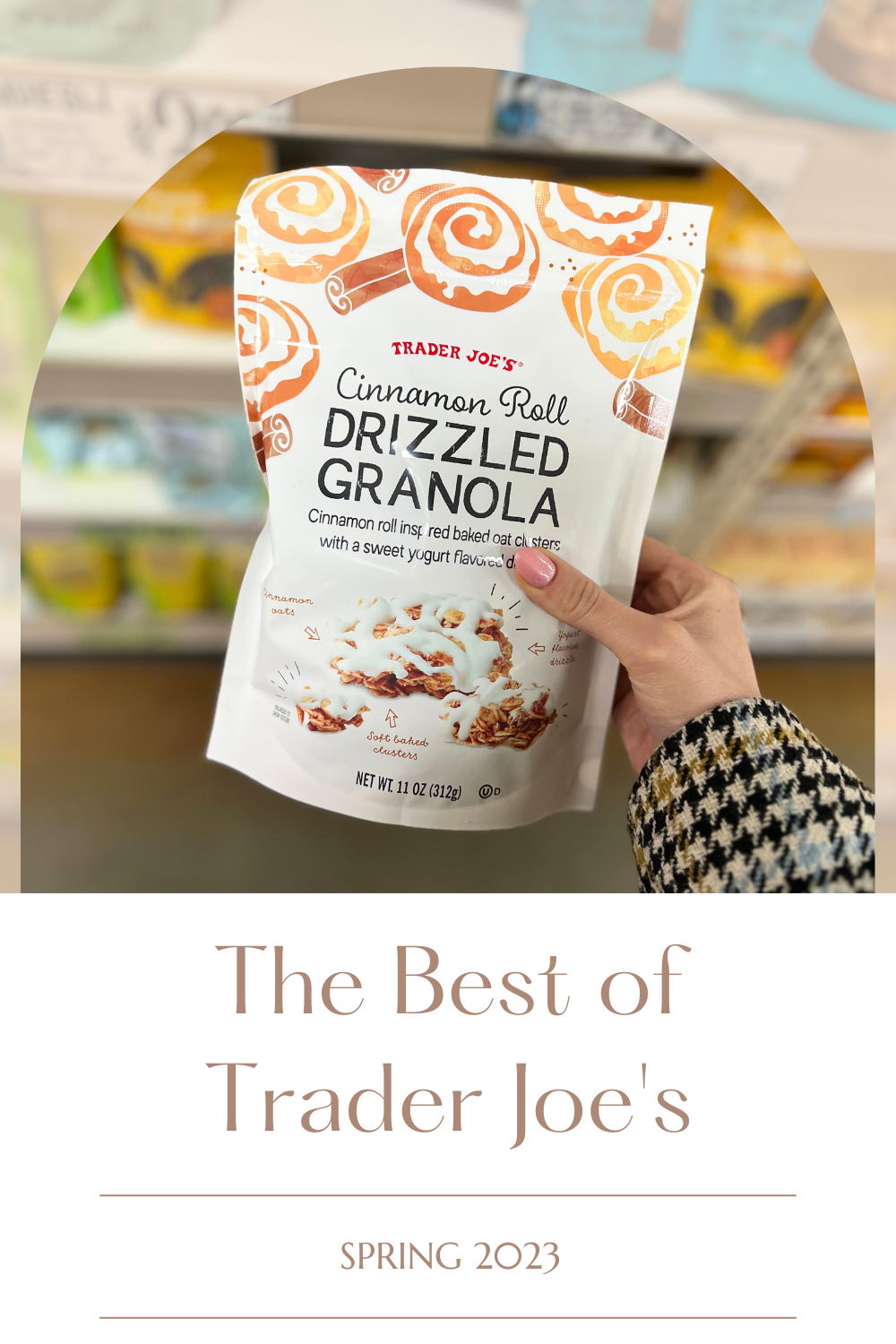 Most days, grocery shopping feels like a chore. An item on the to-do list that gets put off for far too long. (Shoutout to my cereal for dinner people!) That is unless I'm making a Trader Joe's run. This is a sentiment that I think many people can probably relate to. The fact that you're even reading this blog post in the first place means that we are kindred spirits. Grocery runs at Trader Joe's are just different than regular shopping trips. It always feels a bit like a treasure hunt. It seems that every time I go, I discover something new and delicious that I've never tried before. While this is definitely exciting, it can sometimes even feel overwhelming. Where do I start? What's worth a taste? This is where I come in. Your Trader Joe's guru, if you will. I've been branching out and trying tons of new items recently and have collected a list of a few items that are definitely on my repurchase list!
Cinnamon Roll Drizzled Granola: Whether it's topping a parfait or eaten straight out of the bag, this is one of my favorite Trader Joe's finds! Sweet, crunch, and absolutely worth a buy!
Tomato & Burrata Ravioloni: I can't even tell you how many times I've bought this. It cooks quickly and come with a creamy and savory filling that I just can't get enough of. The only downside is that it doesn't come with much. One package feeds two people.
Chili & Lime Rolled Corn Tortilla Chips: Meet my latest addiction. Excellent crunch and the perfect Chili Lime flavor. I prefer these over other chips like Takis because they are less powdery and artificial tasting. An absolute buy in my opinion!
Tomato & Red Onion Focaccia: What I love about this is how fresh everything tastes despite it being frozen. The tomatoes pack an insanely juicy punch and the flavors are way stronger than you would expect! An excellent addition to your shopping cart.
Chocolate Lava Cakes: Whenever I grab these, I always make sure to pick up a container of raspberries as well. These cook in the microwave in just minutes and aren't overly rich the way that some lava cakes are. One of my favorite desserts from Trader Joe's!
Sparkling Juice Beverages: I've seen these in a variety of flavors and every single one that I've tried has been so refreshing!
Cheesecake Inspired Truffle Collection: Creamy, delicious, and surprisingly similar to an actual cheesecake!
This Coconut Brings Chocolate on a Date Bar: First of all: just the most fun name. And secondly, a great texture and healthy, chocolately flavor that has me coming back for a box every single time.
I'll hopefully be sharing some fun Trader Joe's finds once.a quarter, or maybe even more. I'd love to hear some of your favorite Trader Joe's items so I can give them a try too!