We may earn money or products from the companies mentioned in this post.
Hey all! Here is an amazing deal from Prime Day I don't think you should miss, especially if you or your kids love to read. Prime members can sign up for 4 months of Kindle Unlimited for FREE. You save $39.96! This offer is valid even if you have used Kindle Unlimited before, you just can't be a current subscriber or already redeemed this specific offer.
You don't need a Kindle device to read with Kindle Unlimited, you can use your phone or tablet. However, if you are an avid reader I highly recommend the Kindle Paperwhite. The Kindle ereader has been a life changer for me. I love having tons of books on one device and I love that I can read in bed without having to turn the light on. The Kindle Paperwhite is $50 off right now too!
Kindle Unlimited lets you "check out" 10 books at a time. They have a library of over one-million books. I have heard that some people don't think there are enough "best sellers" with Kindle Unlimited and while there may not be many current best sellers on the list, it does include the entire Harry Potter series and The Hunger Games series and tons of books published by Amazon that are totally worth checking out. I think it's also fun to try new authors. The thing I love the most is I can get a book, give it a try and if I don't like it I can return it and choose a new one instantly. It's so easy! You will find tons of Kindle Unlimited books with very high ratings.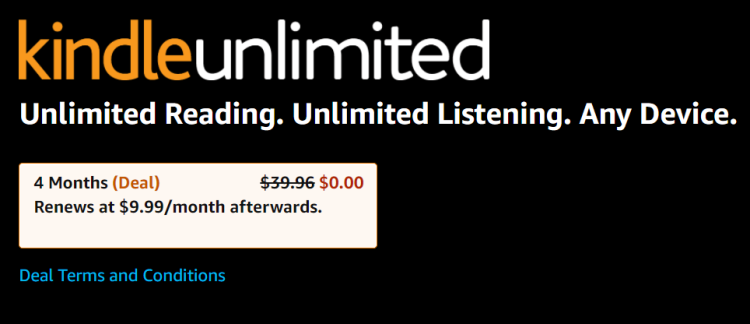 You can't go wrong giving the Kindle Unlimited service a try, especially when you can get 2 months for FREE! Here are some book recommendations that are available via Kindle Unlimited, you can also check out all the Kindle Unlimited books that are currently trending.
I have been a Kindle Unlimited subscriber off and on for over 5 years. I don't purchase the yearly plan because I go through waves of when I want Kindle Unlimited books. I use them when we have a vacation planned and I know I will do a lot of reading or if there is a lull in the books I put on hold from the library.
Keep in mind you are signing up for the service, so if you don't want to continue past the 4 month trial you will need to cancel your membership! It's super easy to do. You can even cancel right after you sign up and still get the four free months. If you love the service and want to continue you will be charged $9.99 a month. Happy reading friends!