We may earn money or products from the companies mentioned in this post.

These yummy Scones are extra sweet with the addition of fresh strawberries. They are the perfect in the summer.
Strawberry Shortcake Scones
2 1/4 cup flour
1/2 cup sugar
1 TBSP baking powder
1/2 tsp baking soda
1/2 tsp salt
8 TBSP cold butter, cubed
1 tsp vanilla
3/4 whole milk (or half and half)
1 cup finely chopped strawberries
Icing:
1 1/2 cup powdered sugar
1/2 tsp vanilla
pinch of salt
4 TBSP milk (or half and half)

In mixing bowl, add flour, sugar, baking soda, baking powder, and salt, mix, add cubed butter and mix at high speed until mixture is crumbly in texture. Add vanilla, and gradually add milk at a slower mixer speed.

Add dough to floured surface and fold in strawberries. The moisture from the fresh strawberries with make the dough sticky, you can add a bit more flour until it can easily be handled.

Shape dough into 2 rounded domed shaped and then cut each round into fours (total of 8). Place in fridge and allow to chill for 1 hour.

To make the icing add powdered sugar, vanilla, salt and gradually add milk.

Bake scones at 400 degrees for 16-18 minutes. Allow to cool and then drizzle with icing. Enjoy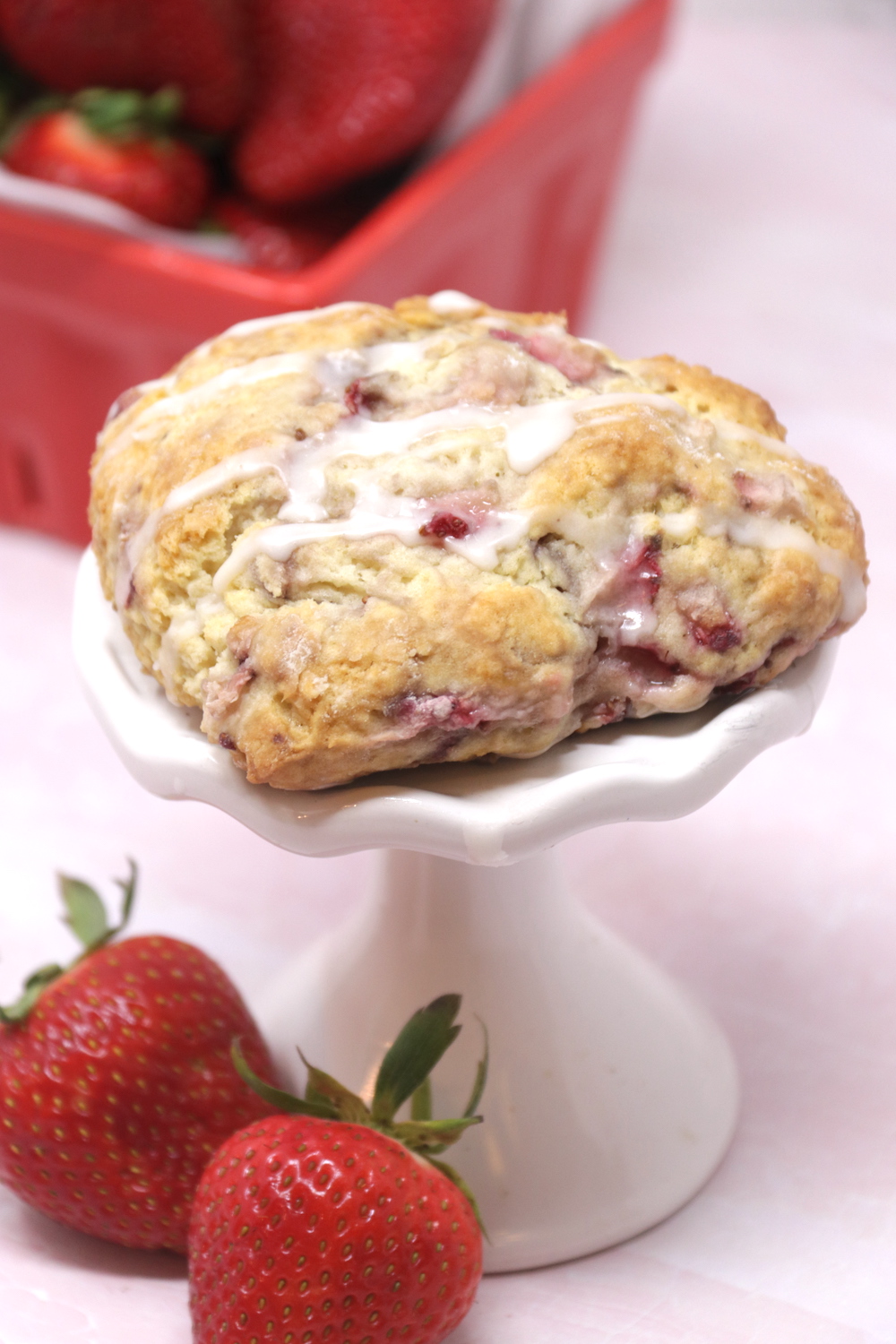 Print

Strawberry Shortcake Scones
---
Description
These Strawberry Shortcake Scones make a sweet treat you can enjoy year round.
---
2 1/4 cup

flour

1/2 cup

sugar

1 TBSP

baking powder

1/2 tsp

baking soda

1/2 tsp

salt

8 TBSP

cold butter, cubed

1 tsp

vanilla

3/4

whole milk (or half and half)

1 cup

finely chopped strawberries
Icing:
1 1/2 cup

powdered sugar

1/2 tsp

vanilla
pinch of salt

4 TBSP

milk (or half and half)
---
Instructions
In mixing bowl, add flour, sugar, baking soda, baking powder, and salt, mix,
Add cubed butter and mix at high speed until mixture is crumbly in texture
Add vanilla, and gradually add milk at a slower mixer speed
Add dough to floured surface and fold in strawberries
The moisture from the fresh strawberries with make the dough sticky, you can add a bit more flour until it can easily be handled
Shape dough into 2 rounded domed shaped and then cut each round into fours (total of 8)
Place in fridge and allow to chill for 1 hour
To make the icing add powdered sugar, vanilla, salt and gradually add milk.
Bake scones at 400 degrees for 16-18 minutes. Allow to cool and then drizzle with icing
---