We may earn money or products from the companies mentioned in this post.
Since Costco is one of the stores I can shop at here in Washington (we have a stay at home order through June), I put on my face mask and tackled some of my grocery shopping.   I also took some photos so can can share some of the the new items, coupon savings and markdowns you may find at Costco in May and June.  Please note I was very careful, I only stuck to the aisles I was shopping and I didn't touch anything I wasn't personally buying.  This list may not be as extensive as it usually is every month, but it will give you a peek at some of the best deals this month.  A new Costco coupon book was released and the coupon savings are valid now through June 14th.  Keep in mind that Costco prices may vary a little by region.
This time of year we see some great plants and lots of summer things for water activities, camping and more.  I haven't been to Costco on a regular basis, so some of these items may not be new to you.  I am covering a couple months worth of Costco newness.

Here are couple of Costco tips for you: If an item ends in 7, it is Costco's version of a clearance item.   Also, if you notice an asterisk in the top right hand corner of the sign with the price, that means it is a seasonal item and will not be stocked again (it may come back next year, but it won't be re-stocked after the current supply is depleted).
New Items
I love buying plants from Costco, they always looks so good and the priced are great!  These lavender plants are $14.99.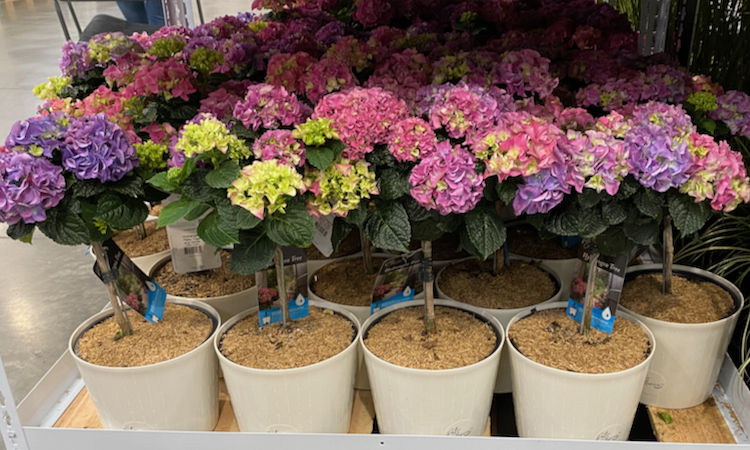 These hydrangeas are gorgeous and the pot them come in is really pretty too.  These are $29.99.  Keep in mind that the plants tend to go quick at Costco.
I loved these planters they brought in for Memorial day, and at $14.99, they are a great price.
Every summer we see a new water table at Costco.  I highly recommend these type of tables, they kept my little kids entertained for hours.  This one is priced at $38.99.
Costco brought in several LEGO sets for Easter and they still have quite a few at my store.  How cute is this Nature Glamping Friends set, it's $22.99.
Here is a new item that I think is kind of cool, especially if you entertain in your backyard a lot.  It's called a Bevy Bar and is priced at $99.99.
Kayaks and paddle boards are now at Costco.  We bought three of these Pelican Mission 100 Kayaks last year and we love them.  These often go on sale at some point, so if you aren't in a hurry to get them, I'd wait for a sale.
Lots of camping gear is in-stock including this Coleman tent for $114.99.
There is a pretty new set of canisters for $21.99.
How cute is this Mason Jar Beverage Dispenser?  I love it!  If I didn't already have something similar, I would pick this up.
I found an interesting under the sink storage caddy priced at $14.99.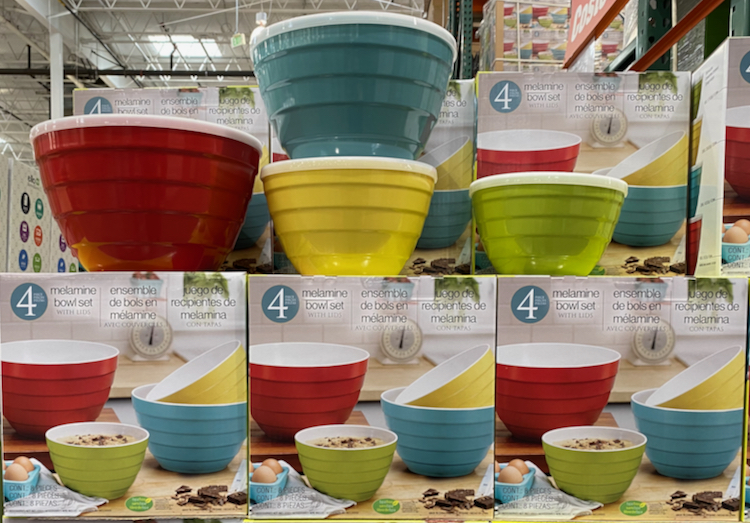 Costco always seems to have a new set of mixing bowls every quarter.  These are $19.99, but this is often an item that has a markdown every once in awhile.
Costco has a new smaller 9-piece set of the OXO Pop Containers for $59.99.  We own these and I love them.
I think this NutriBullet Baby set is new.
I'm in love with this garden fountain for $229.99.
There are some new books including the new Hunger Game novel.
I highly recommend both of the Magnolia Table cookbooks, this is the 2nd edition.
How fun are these reusable make-up and accessory bags from Ziploc.  You get a 15-pack for $9.99.
The Mane Magic 10-in-1 Primer is back in stock at Costco!   I love this stuff!!  You can get this set for $9.99.  The regular retail price of the full-size bottle is $11.99.
I was thrilled to find these Hand Soap Refills from La Tasse.  I know many of you love this brand and the 4-pack of soap dispenser Costco gets in the spring.  Now you can refill the bottles for $9.99.
Get a 4-pack of Mrs. Meyer's hand soap for $14.99.
I have never heard of this brand, but the fact there there is 1 sold every 3 seconds worldwide is intriguing.  You can get a 3-pack for $19.49.  I'd love to hear if you have any experience with this lip cream, I love a good lip balm.
NARS has some products at Costco right now.  Get the Duo Eyeshadow for $19.99.
They also have NARS Velvet Lip Glide.
I spotted some new shoes for summer!  These IZOD sandals are only $14.99.
Of course, I found all the new chocolate items!  These dark chocolate Almond Butter Cups are devine!   They are $9.69.
There is a new flavor of Brookside dark chocolate covered fruit.  This one is Strawberry & Passion Fruit and it's priced at $10.69.
More chocolate!  If you have tried these before, let me know.  They look yummy too.  These are $15.99.  (Update! Turns out not many people are a fan of these bars, so you may want to try a single one from the grocery store before you buy an entire Costco sized box)
My husband and son have both spend some time living in France so our family loves french food.  I thought this pull apart cheese bread would be great for my son's birthday dinner.  It was $11.89.
I'm trying this new Organic Mexican Street Corn from the freezer section.  It was $11.79,
Ok, friends, if you buy just one thing at Costco this month make it this BBQ sauce!  (Is there anyone that can buy just one thing at Costco?  That was a silly statement) This BBQ sauce is so good and it only comes around for the summer.   I have stocked up so it will last us all year.  It is $6.99 for 2 large bottles.
Monthly Savings
The awesome towels are once again on sale at Costco.  The last time they had them marked down I replaced all our old towels and I love these so much!  They are $4.99 each and they come in several different colors.  You have $3 per towel.
The Charisma King sheet sets are also on sale.   You save $10 off the regular price and get these for $39.99.
I love the savings on these Built NW stainless steel water bottles, they are regularly $17.99, but you save $5 and get them for only $12.99.
There is also some big savings on the Shea Moisture shampoo and conditioner, which we love!  Save $6 and get a bottle for $11.99.
Save $4 on the Glide dental floss and get a 6-pack for $9.99.
Super deal on Boom Chick Pop kettle corn, it is BOGO FREE!  You can get 2 bags for $5.89.  Such a steal!
Another great BOGO FREE offer is on the Brownie Brittle, get 2 bags for $6.79.
Save $3.20 on this back of Dark Chocolate Nuggets and get them for $6.79.
Clif Bars have $5 savings, you can get a box for $14.89.
Here is another item our family loves, especially when they are on sale.  Get a big bag of Pretzel Crisps for $3.99 with the $2.90 savings.
This Picnic Pack is perfect for summer and only $4.99 with the $3 savings.
The butter has been marked down at my store BIG TIME!  This isn't a monthly savings deal, but make sure you check out the price next time you head to Costco.  A 4-pack of butter is now only $6.49 at my Costco.   That's a screaming deal!
Markdowns
This bamboo and metal tray has been marked down to $9.97.
My store had a lot of these Bamboo Salad Bowls marked down to $9.97.
Nice drawer organizer set also marked down too $9.97.
This 2 pack of ThermoFlask bottles were marked down to $12.97.
These HGUE ThermoFlask containers were marked down to $16.97 for the set.
These Stoneware Round Cocotte's from Le Creuset are so cute!  They are marked down to $69.97 for a set of 4.
Have you been to Costco lately?  I'd love to hear about your shopping experience and any of your favorite products or deals!