We may earn money or products from the companies mentioned in this post.
Here are some of the best deals we found for Amazon!! You will always find the newest deals at the top of the list. Keep in mind that Amazon prices can change at anytime, all of these prices were valid when posted. Make sure you double check the price before you make your purchase. If you don't see a coupon that we mention, it could be that the coupon is no longer valid or that you already used it at one point, most Amazon coupons are one-time only.
Amazon has Epic Deals everyday! You can save big on tons of items, devices, electronics, toys, books, apparel and more. Make sure you take some time to browse around.
New Deals
You can save 30-40% on several of the popular Summer Bridge Workbooks. These books are great for keeping kids on track during the summer months! The Summer Bridge Activities 4-5 Grade Workbook is priced at only $9.
The Paint by Sticker Kids: Mermaids & Magic! is 40% off and priced at $5.99.
You can pre-order the Paint by Sticker Kids: Rainbows Everywhere! This one looks like a ton of fun! This will be released in October.
Gilmore fans! You can pre-order the Gilmore Girls: The Official Cookbook now! This includes fun recipes from the popular show and will be released on May 10th!
This Farmhouse Interchangeable Wall Decor Sign would be great to pick up and display all year round. It's $14.97 and includes 10 fun designs.
Clop the $20 coupon to get a set of 4 Floating Shelves for $19.99. These would look great in any room in your house.
Get a highly rated Large Bamboo Wood Cutting Board for $11.04. This come with 3 handy built in compartments.
Clip the $3 coupon to get a set of 8 Refrigerator Organizer Bins for $22.99. I own a set similar to this one and they are a life saver!
Get a 24-piece Airtight Food Storage Container Set w/Labels & Marker for $21.24. I own this set and it is great! I have no complaints at all!
Clip the $5 coupon to pick up the OontZ Angle 3 Portable Bluetooth Speaker for $19.97. We own this one and it is awesome! Plus, it gets crazy amount of reviews!
Oh my, how fun is this Mom Tote Bag? It's only $10.79 and totally relatable!
How cool is this Women's If You Don't Like Tacos I'm Nacho Type Graphic tee? This would be fun to wear on taco Tuesday!
The LEGO Classic Medium Creative Brick Box is a great set for LEGO fans! It's 20% off and priced at $28 (reg $34.99).
Star Wars fans, get the LEGO BrickHeadz Star Wars The Mandalorian & The Child for only $15.21.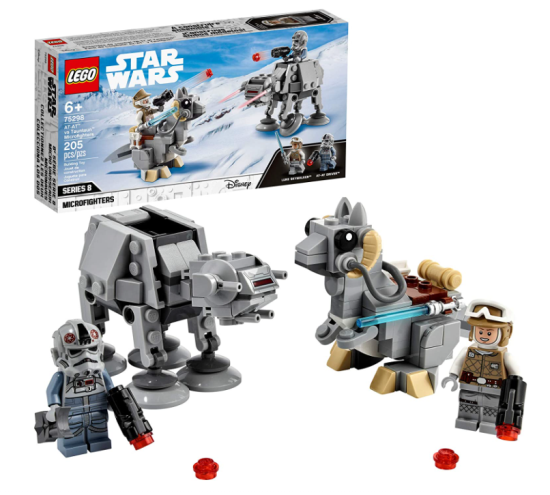 You can save 20% on the LEGO Star Wars at-at vs. Tauntaun Microfighters Set, it's $16 (reg $19.99).
Oh my goodness! How cute is this LEGO Succulents Set? This includes 771 pieces and is gorgeous!
The LEGO Orchid Plant is also beautiful and would be great to display in several rooms in your home or in the office.
Speaking of LEGO, you can get the LEGO Minifigure Faces 1000-Piece Jigsaw Puzzle for only $9.99.This would be great for kids or adults.
You can get a great price on the Lite-Brite Ultimate Classic Retro and Vintage Toy, it's $9.99.
There is a sweet price on the super cute Barbie Florist Playset, it's only $12.99.
The Barbie Stroll 'n Play Pups Playset is marked down to $12.23.
Clip the coupon to save 70% on a set of 2 Big Pop Games with Dice and pick these up for $8.99.
Get the essie Art of The Manicure Nail Care Trio Kit for $13. This includes Base or Top Coat, and Cuticle Oil.
Get a 3lb bag of Dr Teal's Pure Epsom Salt Soak, Black Elderberry with Vitamin D for $3.91 when you apply the $.96 coupon.